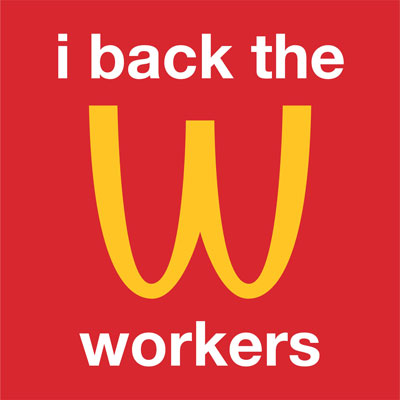 Multinational corporations don't come much powerful than McDonald's, which is one of the world's biggest employers. But pay and conditions vary considerably across the globe. Workers at McDonald's in Denmark, for example, are paid over $20 an hour, thanks to a collective bargaining agreement reached because the company has to recognise a trade union. McDonald's remains a commercially viable operation in Denmark, but not at the expense of denying their workers a decent living wage.
As we have reported over the past few years, a global fightback has taken place by fast food workers getting organised to demand a decent living wage and the right to union recognition.
The Fight for $15, backed by the SEIU union in the US, has already won significant pay rises for over 22 million workers. Their campaign marked by a determined and militant form of mass direct action, linking up workers with community groups in a fight for social justice.
In New Zealand, too, the UNITE union has successfully forced through the abolition of zero-hours contracts.
Until now, McDonald's UK has not seen a single instance of strike action against its employment practices. Not coincidentally, pay often remains signficantly below £10 an hour, and the company has yet to make good on its promise to allow all its workers the chance to move off zero-hours contracts onto fixed hours. Significantly, too, the lack of a recognised trade union means that McDonald's staff often feel bullied and intimidated by management, with no real recourse for their grievances.
Now, finally, staff at two stores – in Cambridge and Crayford – have had enough. Through their union, the Bakers Food and Allied Workers Union (BFAWU), they balloted for strike action and received an overwhelming 95.7 per cent vote in favour. The workers are going on strike this Monday, 4 September, and have already received the support of Labour leader Jeremy Corbyn, John McDonnell MP and other senior Labour Party and trade union figures and campaign groups.
Shen Batmaz, a McDonald's worker at the Crayford store, said: "We can't afford not to take action. We have decided to strike because of the bullying we have faced and we know McDonald's workers face every single day all around the world.
"We have come together, and are ready to fight to have the money we need to live and to have respect in our job. We are ready to make history: McDonald's, the second largest employer in the world, sets the global standard for how companies treat their workers; when we win it will be a victory for all low-paid workers everywhere."
Ian Hodson, president of BFAWU, said: "For the first time in UK history, McDonald's workers and supporters of our movement will step out from the dark shadow of impoverishment cast by Ronald McDonald's golden arches, and call for the rights they are entitled to – a £10 an hour minimum wage, secure employment contracts, and the recognition of their right to join a trade union.
"For far too long, McDonald's have taken advantage of its workers, taken away their voice, and taken away their freedoms. But this abhorrent behaviour can go on no longer – and it won't. Their facing a global movement – whether it's here in the UK, the US, Brazil, New Zealand – you name it. Workers are standing up."
For more information on how to support the #McStrike go to Fast Food Rights.