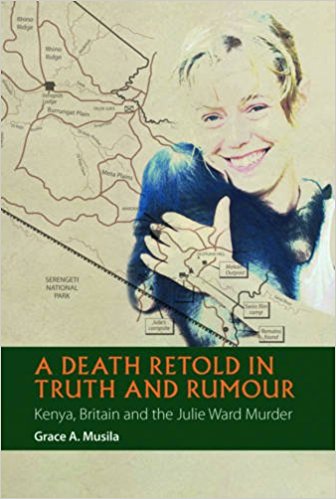 In 1988, Julie Ward, a young British tourist and wildlife photographer, was reported missing in Kenya, having been last seen in the Masai Maara game reserve. A week later, her burned and dismembered remains were discovered by a search party that included her distraught father, John Ward. Her skull was not recovered until a month later, when a police officer delivered it to her father's hotel room at night, in a plastic shopping bag.
Kenyan officials originally suggested she had committed suicide, setting herself alight after failing to hack herself apart. They later insisted she had been attacked by lions, altering a post-mortem report to describe bones gnawed rather than cut. The British Foreign Office and MI6, meanwhile, pushed the theory that she had been struck by lightning.
Three game wardens would eventually be tried and acquitted for her murder. Meanwhile, Kenyan popular opinion traced similarities between her murder and a series of high-profile assassinations, surmising that she had been killed by a 'big man' close to the government.
This brutal murder, still unsolved nearly 30 years later, forms the basis of Grace Musila's complex and fascinating book, A Death Retold in Truth and Rumour. Rather than trying to solve the case, however, Musila reads it, teasing apart the many knotted strands gathered in this crime. As Musila writes, 'In the course of speculating on the circumstances surrounding Julie Ward's death, the narratives on the case comment on race relations in post-colonial Africa, wildlife tourism and conservation in Africa, perceptions on female sexuality, the workings of state power and modern state institutions in Africa and Britain, and transnational power as a mediating factor in relationships between empire and former colonies.' Musila locates Ward's death within a history of Kenyan assassinations and cover-ups, unfolding a history that will likely be unfamiliar to many British readers.
A Death Retold is, in part, the story of Julie Ward's father, who has spent years investigating her death. Musila follows the gradual shifts in his beliefs, from his initial faith in British state integrity, towards his realisation that political and economic interests far outweigh official concern for his daughter.
This is a sensitive, sophisticated and subtle work, in which Musila's theoretical arguments unfold with the taut urgency of a thriller, achieving a rare combination of scholarly rigour, critical originality and highly accessible readability. Crucially, this is a work that refuses easy resolutions. Just as Julie Ward's murder remains unsolved, Musila's arguments focus on the complex, uncertain and ambiguous nature of knowledge and reality. Readers interested in modern African politics, the legacies of colonialism or the ethics of development will benefit greatly from Musila's insights.