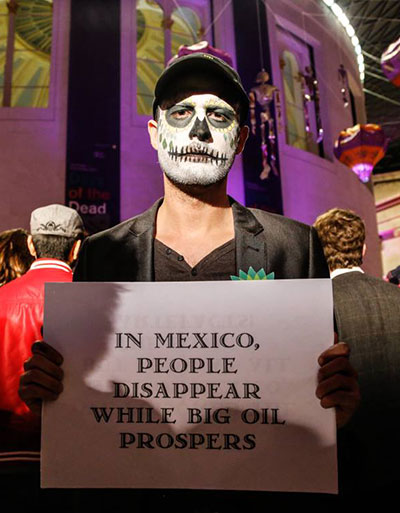 'BP, BP, BP must go! Justicia para México!'

Last night this bilingual song echoed through the British Museum's mighty Great Court, bouncing off the gleaming marble and reaching hundreds of ears. It was the museum's Day of the Dead festival and revellers had crowded in on a Friday evening to have their faces painted, marvel at the gigantic art installations, watch a programme of performances and knock back tequila cocktails.

Photo: Diana More

The problem was, the event was sponsored by BP and the Mexican government. So a large posse of protesters had crashed the party, in quite some style.

Theatrical protest group BP or not BP?, of which I'm a member, was approached a few weeks ago by the London-Mexico Solidarity group, to see if we would like to join forces. They were concerned that the Mexican government is on an international charm offensive, touting its economy to foreign investors and multinationals, while state repression and human rights abuses remain rampant. Tens of thousands of people have been killed or "disappeared" for standing up to government corruption and corporate greed.

One of the Mexican government's most controversial recent acts is the privatisation of its oil and gas sector. Controlled by state-owned oil company Pemex until very recently, Mexico's untapped fossil fuel reserves are thought to include 107.5 billion barrels of oil — as much as the proven reserves of Kuwait – and the world's 6th largest reserves of shale gas.

BP wants access, particularly to new deepwater leases in the Gulf of Mexico which will be up for grabs in spring next year. Clearly undeterred by its record fines following the catastrophic Deepwater Horizon spill, BP is using its sponsorship of the British Museum to cosy up to the Mexican government, and prepare the ground for its drilling bids to be accepted. After all, while the US imposed the biggest punitive fines in corporate history, the communities and ecosystems along Mexico's Gulf Coast that were also poisoned by BP's record-breaking spill have gone uncompensated and ignored.

Our group have been performing 'guerrilla theatre' interventions in the British Museum since 2012, in protest at their oily sponsor. So we met with London-Mexico Solidarity, and together decided to gatecrash the museum's party, with the aim of exposing the true faces of BP and the Mexican government.

Last night's performance began in front of the museum's Sainsbury wing, as around 50 Latin American and UK activists created a 'living shrine'. Holding up photos of murdered environmentalists, missing students, grieving parents, oil-choked wildlife and areas in Mexico threatened by fossil fuel extraction, we immediately gathered a crowd.

Then five zombie-esque 'BP executives' stalked in to push the living shrine into the shadows, all sinister face-paint and sharpened fangs. Their boisterous new best friend, the Mexican president, soon entered the scene, to slap BP's backs while they stuffed his pockets with their oily money. His increasingly aggressive attempts to silence the protesters may have just been theatre, but the reality of the violence in Mexico that he was mirroring was clear for everyone to see.

Ultimately, the living won out over the deadly in our agit-prop tableau. Now we decided it was time to take the stage – a large cordoned-off area in front of the museum's circular Reading Room.

Security were determined that we weren't going to invade their performance space, but a group of us made it through. As the audience saw the banners saying 'BP: world's biggest corporate criminal' and 'Ayotzinapa' (a reference to the 43 Mexican students who were kidnapped last year and are still missing) they broke into spontaneous applause and cheering.

It was an electric moment, very emotional for many of our Mexican comrades. Someone shouted 'BP go home!' and the crowd took up the chant. For a while that was all that could be heard.
The communities and ecosystems along Mexico's Gulf Coast that were poisoned by BP's record-breaking oil spill have gone uncompensated and ignored
In the end, in the face of such support from the audience, the British Museum security team decided to give us an official slot in the schedule when they would turn off all amplified sound and let us perform next to the stage. We made the most of the opportunity.

Over the evening we gave out a thousand flyers and spoke to hundreds of people. The response was overwhelming. While one or two had a grumble about us spoiling their Day of the Dead party by reminding them of the dead, the vast majority were on-board. Even the official dancers who followed our stage invasion tried to display our banner during their performance (but were sadly prevented by museum security).

I hope the British Museum was taking note. Museum-goers do not like to see unethical sponsors' logos all over their beloved culture. The global movement to divest from fossil fuel companies is gathering pace, and the campaign for 'cultural divestment' - dropping oily arts sponsors – is one of its fastest-growing wings, with campaigns in the UK, Norway, Australia and the US.

In the next few months, the British Museum will decide whether to renew its five-year sponsorship deal with BP. Although looming cuts to arts funding are deeply worrying, they make it more important than ever that funding decisions are guided by an ethical policy.

In return for only 0.8% of its annual income, the British Museum is giving BP a priceless platform from which to project itself as caring, responsible and cultured. In reality it is greedy, destructive and ruthless. It has lobbied against climate action more energetically than any other company in Europe. It has colluded with oppressive regimes from Mexico to Azerbaijan to Colombia. It plans to frack and drill the climate beyond the point of no return. Does the British Museum really think this is an appropriate partner to still be branding its exhibitions in 2020?

Our group will continue invading oil-sponsored spaces and using creativity and performance to undermine these cosy elite relationships. Meanwhile the oil industry is under attack from multiple other angles – from the blockadia movement against new pipelines, to the global campaign to kick Shell out of the Arctic, to the low oil prices that are making fracking and tar sands uneconomical.

As renewables surge and more and more struggles against fossil fuel extraction, human rights abuses and environmental racism find common ground in the run-up to the Paris climate talks, we could be on the cusp of a dramatic shift away from the age of oil. The British Museum needs to decide which side of history it wants to be on.

Jess Worth is a member of BP or not BP? To get involved in future performances, email info[at]bp-or-not-bp[dot]org