26 February 2013: Tim Baster and Isabelle Merminod report on the third police operation in 12 months against trade unionists in Turkey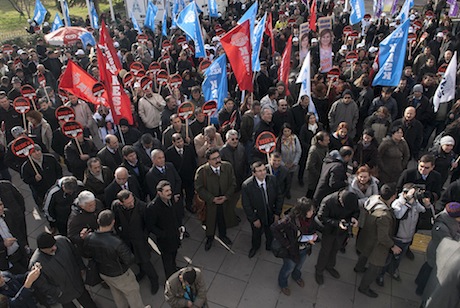 A solidarity demonstration outside the court in Ankara. Photo: Isabelle Merminod.
At five in the morning on 19 February, police raided homes across Turkey arresting 169 trade unionists, all members of KESK, the independent confederation of public service unions in Turkey.
The police said this operation was related to DHKP, a banned left wing party which claimed responsibility for the bombing of the American Embassy on 1 February. But Lami Özgen, president of KESK, pointed out that those arrested were members or officials, of unions affiliated to KESK. He stated that this is: '…a new operation to blockade and defeat KESK.'
This is the third operation against KESK trade unionists in 12 months. Police took 73 members in two previous operations in February and June 2012. These trade unionists were charged with involvement in the KCK (the Union of Kurdish Communities) alleged to be an urban wing of the PKK (Kurdistan Workers Party) the armed Kurdish movement fighting for autonomy.
Between 7,000 and 10,000 people are in prison in Turkey facing terrorism trials. On 22 February, Amnesty International issued a statement calling on the Turkish government to: '…amend the vague and overly broad definition of terrorism in Turkish law, to bring it into line with international standards regarding legal clarity and legal certainty.' Amnesty International reports that terrorism convictions are obtained solely: '…on the basis of people's writings, association with certain recognised political groups or participation in peaceful demonstrations.'
Tim and Isabelle will report in greater depth on the repression the AKP is unleashing on the left and Kurdish groups in the April/May print issue of Red Pepper. Get a trial subscription for just £5.
share

A new party of the left comes one step closer Salman Shaheen of Left Unity, the group supporting Ken Loach's call for a new left party in Britain, reports from its first national meeting

Diary of a 'wannabe MP': local elections, UKIP and the left Davy Jones is Green Party parliamentary candidate for Brighton Kemptown at the next general election and a member of Red Pepper's board. This is the second of a series of regular blogs on his campaign

South Africa's poor resist home attacks Amid Britain's decision to cut aid for South Africa by 2015, Caroline Elliot hears from poor shack dwellers who vow to resist the destruction of their homes.

Open House begins this weekend in London A nine-day event bringing together people facing the housing crisis across London to organise and take action around our collective housing needs

Call to protect Colombian human rights defender On 10 October 2012, a man pushed a gun into the chest of Alfamir Castillo and told her that both she and her lawyer were going to die.

Beyond the Fragments is more than history The book was part of challenging the left's methods of organisation, writes Alice Robson - and that struggle continues today as it is republished

Meet Red Pepper's new co-editor, Michelle Zellers Michelle Zellers introduces herself, her reasons for wanting to be part of Red Pepper and her hopes for its future

Bedroom tax: Lessons in morality from Iain Duncan Smith Kara Moses reflects on the experience of protesting at the Tory minister's mansion – and offers a glimpse of the luxury he enjoys while lecturing us about 'fairness'

Reviewing the NHS – speaking ill of the dead Junior doctor Paul Teed says patient satisfaction surveys give an illusion of 'choice' in the NHS – but bad reviews don't create more capacity or employ more staff

We need to challenge the myths that poison attempts at progressive change Hilary Wainwright introduces the first in a series of mythbusters produced by Class, in collaboration with Red Pepper.
latest from red pepper

The Brighton pay dispute: the union view GMB union organiser Rob Macey puts the workers' side of the argument

The pay dispute at Brighton council: a Green view Davy Jones, Green Party parliamentary candidate for Brighton Kemptown, gives his view of a dispute that has caused huge debate among Green Party members in the city and across the country

Jeremy Hardy thinks… about the right to exist 'We'd all say a person has a right to a home, but we wouldn't say their home has rights.'

Back to the fragments Lynne Segal, one of the authors of the seminal 1979 socialist-feminist text Beyond the Fragments, reflects on its lessons for today

Turkey: A people imprisoned Once seen as a moderate party, the AKP government in Turkey is using anti-terrorism legislation to unleash a wave of repression against the left and the Kurdish movement. Tim Baster and Isabelle Merminod spoke to activists in the country
Red Pepper is a magazine of political rebellion and dissent, influenced by socialism, feminism and green politics. more »

Get a free sample copy of Red Pepper

ads
The UK's leading supplier of
Fair Trade
products
get updates
Get our email newsletter, with news, offers, updates and competitions.
help red pepper
Become a Friend of Red Pepper
Help keep Red Pepper afloat with a regular donation
Watch films online
See free trailers and support Red Pepper by streaming the full films:
Cocaine Unwrapped
The War You Don't See