22 November 2012: Join the protest against Israel's attacks on Gaza and the occupation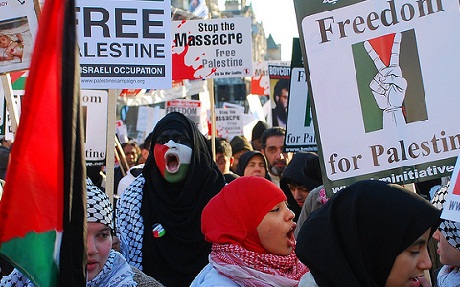 Photo: gmoorenatir/Flickr
This post has been updated with the latest information.
With over 130 Palestinians dead, Israel has stopped the bombing - for now. But the march planned for this Saturday is going ahead, to demand that Israel implements the ceasefire terms and ends its siege of Gaza, and to demand justice for those killed and injured in Israel's attack.
Join the national demonstration in London this Saturday 24 November, starting 12 noon at Downing Street. See Palestine Solidarity Campaign for more info.
You can also write to your MP and to tell them the UK must stop arming Israel.
share
1 comment

Dawkins vs democracy Leigh Phillips looks at Richard Dawkins' proposal to put scientists instead of bishops in the House of Lords

The Spark of learning Morten Thaysen Laurberg previews a week of workshops, skill shares, organising, and talks in London in the lead up to the G8

Right-to-buy in the great rip-off economy On the Woodberry Down estate in Hackney, all the council homes are being demolished in a £1billion regeneration project. It is a perfect illustration of why we have such a housing shortage says Koos Couvée

Fasting to support Guantanamo Bay hunger strikers We spoke to Maya Evans during her fast over the weekend in solidarity with Guantanamo Bay hunger-strikers

A new party of the left comes one step closer Salman Shaheen of Left Unity, the group supporting Ken Loach's call for a new left party in Britain, reports from its first national meeting

Diary of a 'wannabe MP': local elections, UKIP and the left Davy Jones is Green Party parliamentary candidate for Brighton Kemptown at the next general election and a member of Red Pepper's board. This is the second of a series of regular blogs on his campaign

South Africa's poor resist home attacks Amid Britain's decision to cut aid for South Africa by 2015, Caroline Elliot hears from poor shack dwellers who vow to resist the destruction of their homes.

Open House begins this weekend in London A nine-day event bringing together people facing the housing crisis across London to organise and take action around our collective housing needs

Call to protect Colombian human rights defender On 10 October 2012, a man pushed a gun into the chest of Alfamir Castillo and told her that both she and her lawyer were going to die.

Beyond the Fragments is more than history The book was part of challenging the left's methods of organisation, writes Alice Robson - and that struggle continues today as it is republished
latest from red pepper

Confronting the Climate Crisis: Graham Petersen interview On Saturday 8 June the Campaign Against Climate Change Trade Union Group is holding a conference bringing together climate scientists, trade unionists and environmental activists. Red Pepper's environment editor Kara Moses speaks to Graham Petersen, UCU environment and Greener Jobs Alliance co-ordinator

Tapping the resistance in Greece A combination of opposing privatisation and putting forward practical alternatives is helping water campaigners mount an effective challenge to austerity in Greece. Hilary Wainwright reports

The seven faces of Michael Gove Mike Peters looks at how the Tory education secretary uses the words and ideas of the left to win support for his policies

The Brighton pay dispute: the union view GMB union organiser Rob Macey puts the workers' side of the argument

The pay dispute at Brighton council: a Green view Davy Jones, Green Party parliamentary candidate for Brighton Kemptown, gives his view of a dispute that has caused huge debate among Green Party members in the city and across the country
Red Pepper is a magazine of political rebellion and dissent, influenced by socialism, feminism and green politics. more »

Get a free sample copy of Red Pepper

ads
The UK's leading supplier of
Fair Trade
products
get updates
Get our email newsletter, with news, offers, updates and competitions.
help red pepper
Become a Friend of Red Pepper
Help keep Red Pepper afloat with a regular donation
Watch films online
See free trailers and support Red Pepper by streaming the full films:
Cocaine Unwrapped
The War You Don't See