Ignore the critics, Labour is right to consider a basic income
A universal basic income isn't something for nothing, but rather a recognition of a right to a meaningful life beyond the needs of the market, writes Andrew Dolan

February 2016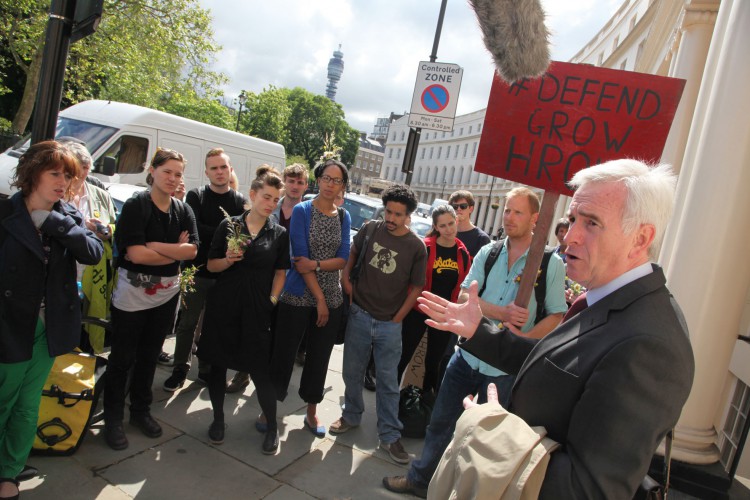 John Mcdonnell with residents and supporters of Grow Heathrow outside Central London County Court. Photo: Jonathan Goldberg/Flikr

Jeremy Corbyn bags available in the Red Pepper shop

Shadow chancellor John McDonnell has announced that as part of its new economic policy the Labour Party is considering a universal basic income (UBI)—a regular payment from the state to each of its citizens, without means testing or work requirements. The news will no doubt be greeted by a chorus of complaints decrying the idea of 'free money' and the something-for-nothing mentality that supposedly underpins the left's approach to welfare.

Yet we should remind them and ourselves that we already live in a something-for-nothing society, just not the one that most people might think of. Far from the near-mythical figure of the welfare scrounger, talked about with a toxic combination of glee and contempt by the tabloid press, there's no bigger winner when it comes to 'state handouts' than big business.

Be it the billions spent by the treasury on subsidising poverty wages, or companies such as Virgin Rail that rely on the taxpayer to turn a profit, or the corporate undervaluation of state assets that frequently precedes their privatisation, the modern corporation is the premier specialist in taking from the public and giving to the shareholder.

What we are told we get in return are of course jobs, and with it the opportunity to live a secure and meaningful life. The reality, however, is far from the utopia of work we are readily sold, even if employment is rising. Instead what we have is an explosion of low-skill, low-pay jobs, with minimal stability and limited career progression. For many the market fails to deliver on its promise of a good life. To achieve it we must look elsewhere.

Enter a UBI, a form of unconditional welfare that offers the possibility of reducing the reliance of the individual on waged work, providing security where employment cannot. This gains added significance when we consider the likely job-destroying effects of technological development, with as many as 11 million jobs in the UK at risk of being automated by 2036.

Indeed, whilst a UBI should be based on the principle of redistribution, its premier value is in recognising a right to life in the face of tremendously disruptive technological change. Rather than something for nothing, a UBI is a much-needed and potentially transformative response to one of the contradictions of contemporary capitalism—dependence on work that is disappearing—and one that McDonnell is right to consider supporting.

Of course, when considering the dominance of negative attitudes to welfare, building widespread support for a UBI is undoubtedly an uphill task. But what political goal worth pursuing isn't? Already there is an emerging network of institutions throughout civil society working towards changing the debate around welfare and attempting to push the idea of a UBI into the mainstream. Its adoption as policy by the Greens and its growing support within the Labour Party is evidence of their success, and the increasing attraction of a UBI.

If support for a UBI continues to grow, so too will the racket made by its detractors, and the ideological figure of the welfare scrounger will re-emerge with renewed vigour. Yet we should respond by pointing to the fact that we already have a something-for-nothing society, just one that works for the few. A UBI will go some way to changing this.
---
1 comments