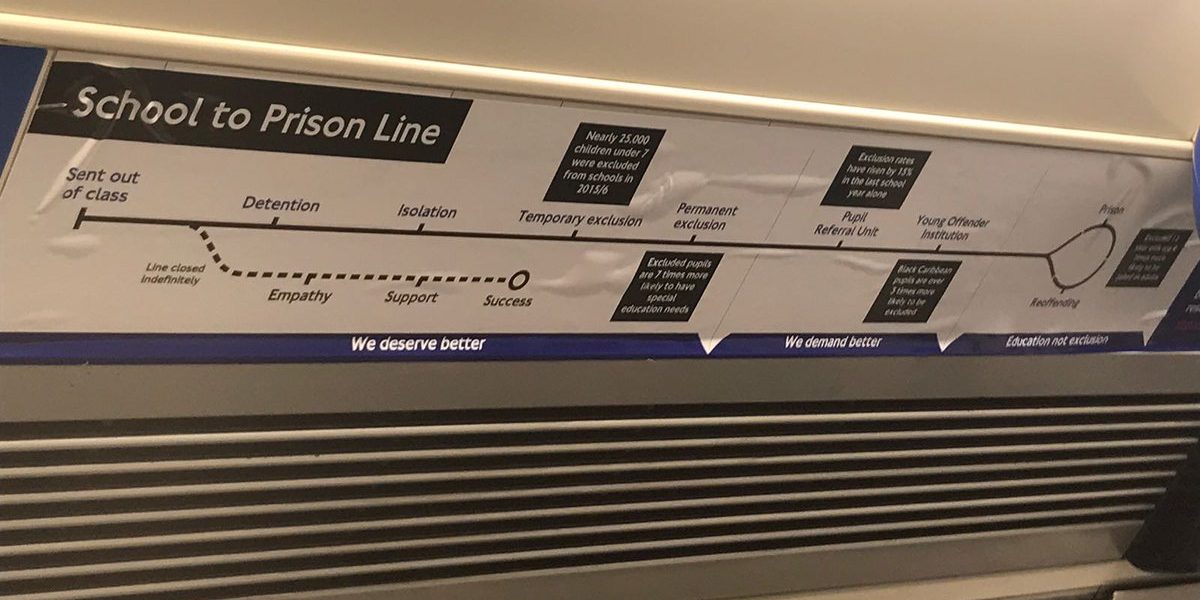 On the same day as the infamous GCSE results day, where many students are either overjoyed or deeply disappointed, posters illustrating the school to prison pipeline appeared all over northern line tube carriages in London and for good reason.
They came in the form of 'subvertisement' posters: a political messaging which takes over space usually occupied by advertisers. They seek to mimic a commonly known brand or company, but replace the normal messaging with provocative ones. In this case, commuters found themselves confronted with an image which looks like a normal tube map – but on closer inspection, shows itself to be a depiction of how a young person can go from being a pupil to being incarcerated.  
Alongside the image was a message from south London students. They call for something to be done in the form of more financial support for schools and teachers and for there to be a more compassionate disciplinary process.
I spoke to one of the young people involved, who asked to remain anonymous.
"Collectively as a group we know friends and family members and some of the people in our group have been affected by this. As young people going through this system right now it's important not to be apathetic. We've experienced this, we are the ones who knows the system we have a responsibility to change it"
When I asked why they decided to take this direct action, they responded:
"We decided that it needed to be something where people would see it. A place that is very popular that normal people use every single day. It's a site of routine and we wanted to disrupt that […] this is an important issue to the general public not only to us because we can see within the prison systems 63% of the people have been temporarily excluded. When you can see students getting fed into the prison system how can you not want to change that".
Research by the University of Edinburgh found that pupils who are excluded from school at aged 12 are four times more likely than other children to be jailed as an adult.  The study also found that boys, children living in single parent families and those from the poorest communities were most likely to be excluded. An important aspect of the findings to highlight: pupils from affluent areas and those from two parent families whose behaviour is just as bad are far less likely to be expelled due to the leniencies' by the institution, which, contributes to a wider issue of classism.
The majority of our prison population is made up of people who were at least temporarily excluded – the link is undeniable. The school to prison pipeline is not only caused by a lack of meaningful engagement with pupils that act out but also the way the institution handles such behaviour, which exacerbates the problem.
This is usually a mixture of a lack of resources to provide suitable support, and disciplinary processes that are incapable of seeing past the 'bad' behaviour in of itself. Such approaches are unable either to understand, let alone address, what students may be carrying into classroom with them on a day to day basis .
Pupils don't end up in prison due to misguided disciplinaries alone. For many it is a complex web of poverty, mental health issues, an underfunded welfare state and a criminal justice system, which lacks an emphasis on rehabilitation. To start breaking the cycle of poverty, it's essential that our schools are willing and able to approach students disruptive behaviour with compassion, patience and understanding at such a formative time in their lives.
However, we should be careful not to set a low bar. Preventing young people ending up in prison wouldn't totally tackle the effects of this pattern of punishment. We also know that only 1% of excluded children achieve the necessary amount of GCSEs required to get onto a training or apprenticeship once they leave secondary school. This lock those already too often excluded, into poverty. The situation is proportionally worse for people of colour, who are far more likely than their white peers to be in low-income households.
These conversations aren't new. They happen in the classroom, between parents and at home – but it's time to take those conversations to the highest levels of power. We need action, because the situation getting worse not better. 6,685 students were permanently excluded from schools in England between 2015-2016 with the majority of them in the run up to their GCSEs. This was a 40% increase on the last 3 years prior.  
The think tank IPPR suggests figures might be even higher than this; pupils are missed as they are forced out by informal methods. With child poverty going up alongside mental health issues amongst school aged children, schools struggle to cater to broader and more complex needs IPPR said.  Black pupils from a Caribbean background are significantly overrepresented in pupil referral units, but most are white British at 70%.
This is the current situation our most vulnerable young people face in schools. With underfunded schools resulting in larger class room sizes, in work poverty going up for many families, a lack of support for young people with complex needs; there has to be drastic action to stop this trend in its tracks.