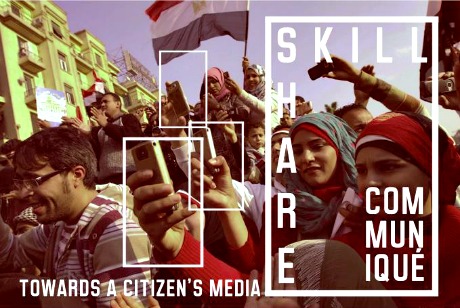 Radical and independent media platforms have flourished in recent years; however these are often produced by the movement, for the movement, and can have limited impact on wider public consciousness.
If we are to have a strong anti-capitalist movement, we must seriously compete with the existing institutions of the capitalist class – mass media, corporate advertising and social networks – finding new ways to communicate our narratives in a fresh and relevant fashion.
Communique is a new media project launched by the International Socialist Group in Scotland, which is attempting to redefine radical media practise as the heart of a strategy for new left renewal.
It recognises that in addition to creating our own independent media platforms, we must be highly-skilled at seizing existing media and social networks to our own advantage.
In order to develop these skills amongst activists, Communique recently held its first 'Skillshare' event, which included workshops on 'Branding', 'Press Strategy' and 'Social Media Engagement'. The workshops were not just about how to use a hashtag or create a logo; instead, they focused on how we conceptualise radical political ideas using these tools.
The left has a problem with aesthetics
How many times have you had a crumpled black and white A4 flyer, filled with illegible text, shoved into your hands at a demonstration, with the word 'RESISTANCE' in huge bold letters at the top as a summary? How many placards, flyers, websites, posters, banners and logos have you seen with a big, red, clenched fist?
When Nestle creates a new product, it doesn't say to its consumer, 'This is just another product which will give you nutritional sustenance.' Each new product has its own brand that explains why not only will the product satisfy your hunger, but why your whole life will be considerably better for having purchased it.
Mahmoud Mahdy, brand designer of the viral 'We are all Hana Shalabi' campaign, explained in the branding workshop how we must think like Nestle – branding, packaging and selling our radical political ideas – if we are going to seriously compete.
He argued that we must challenge the traditional imagery and out-dated language of the left, and imagine that we have to communicate anti-capitalist ideas to someone standing 5 feet away from us using only images and text.
What press strategy?
The left has a problem with press strategy – it doesn't have one. In some campaigning circles, engaging with the mainstream media has come to be seen as a bourgeois activity, with any journalists who do take an interest being held under great suspicion. When big actions or demonstration take place, we fire off generic press releases at all times of day to as many news desks as we possibly can, with the hope one will bite.
Robin McAlpine, former Press Officer to the Leader of the Scottish Labour Party and now editor of the Scottish Left Review, ran a session on the day that was less of a skill-share, and more a rattle-speed tour of just exactly how much we didn't know about media strategy.
He explained that few people really understand the process of putting a daily newspaper together, have a good feeling for the news values of a specific newspaper, know how to develop an idea in a way that gets it in the right form for that newspaper and then have decent contacts to actually make it happen. He emphasised that it was essential to have a dedicated press contact for any new campaign, who can manage relationships with journalists and maintain a consistent narrative that the media can use.
Twitter inconsistency
The left has a problem with Twitter – it is active, but its interventions are inconsistent and incoherent. Campaigners simultaneously proclaim that Twitter was the driving force behind the Egyptian revolution, whilst bemoaning that political apathy is caused by the new 'clictivism'.
As an activist within the International Socialist Group who has written on the role of Twitter in social movements, I hosted a Twitter workshop that encouraged people to see beyond Twitter as an organising tool, and to understand its power as a creator of meaning and narrative.
A successful Twitter strategy must recognise that we are competing with both the 'conscious' right-wing, and the most 'common sense' reactionary views in society. I explained how in the aftermath of the Woolwich attack, the EDL peddled their narrative that this was not an attack on just one soldier – but instead Islam's attack on us all. This narrative has stuck and galvanized the EDL's street movement, as we have seen in the recent attacks on the Muslim community.
Twitter has been called 'the first draft of the first draft of history' – if the left is going to intervene with our narrative of history, it ignores Twitter at its peril.
With thanks to the speakers and participants of Communique Skillshare, whose lively participation and debate helped inform this article. For more information on Communique, visit our Facebook page and watch out for our new website coming soon.