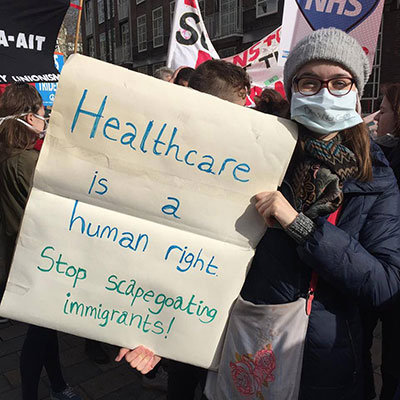 Sitting in clinic, I note down the location of the bruises and scars on her legs as I listen to her story of sustained domestic violence. Too scared to seek help due to her immigration status, she has been trapped in a cycle of domestic abuse for years. It is a heart-breaking story, and as a doctor I should be here to help her, but changes in legislation mean I am increasingly forced to be part of the system that is working against her.
The government's plan to introduce immigration checks for all NHS patients, with up-front charging for people who don't qualify for free care, is the latest measure being used in their campaign against migrants. Like many recent policies, it will exacerbate health inequalities, putting women of colour and undocumented migrant women at greater risk.
There is a deliberate cruelty in choosing maternity care as the pilot area for these checks, as the government continues to target the most marginalised in society expecting they will offer the least resistance.
It is well documented that women of colour, particularly undocumented migrant women, are at greater risk in pregnancy and have increased rates of maternal and perinatal mortality compared with the rest of the population.
Undocumented migrant women are more likely to be living in poverty and have unstable housing situations, and are less likely to access appropriate antenatal care during pregnancy further increasing the chance of complications or death. This situation is likely to get worse as racial profiling and discrimination become the standard experience for these women, pushing them further away from accessing NHS care.
Pregnant migrant women are often demonised by the press and blamed for the NHS funding crisis – but the figures don't add up. At most, so-called 'health tourism' only accounts for 0.3 per cent of the NHS budget. Furthermore, the costs of providing emergency treatment to migrant women excluded from regular antenatal care far outweigh the cost of providing that care for free.
As the government rolls back its previous commitment to never deny access to maternity care on account of a woman's inability to pay, more and more pregnant women find themselves threatened with bills between £5,000 and £7,000, and as a result stop accessing care. Let's be clear – this is systematic discrimination and persecution of a group of already marginalised women.
Working in a GP surgery in an area with a high proportion of migrant women I find myself in an impossible position. I strive to provide the best for my patients, to support and empower them, and to ensure we provide a place of safety. Yet immigration checks and enforced data sharing with the Home Office are destroying the doctor-patient relationship and creating a system that is incompatible with the ethical duty of doctors to treat their patients without discrimination.
I believe that we have a moral obligation to speak out against these changes and to stand up for the right to access health care for everybody. That's why I am joining Docs Not Cops on 30 September to end the government's plan to implement passport checks and up-front charging in the NHS. I want to see #PatientsNotPassports.
This Saturday (30 September) three blocs will meet at 11.30am to converge on a secret location in London. More info at Docs Not Cops. Facebook, Twitter
Dr Joanna Dobbin is an academic foundation trainee based at the Royal London hospital. She is a member of the Medact Refugee Solidarity Group.