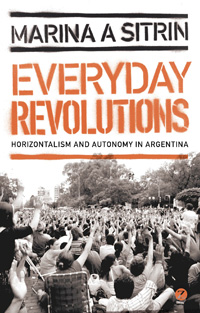 Horizontalism has been the defining feature of the movements that emerged across the world in 2011. Meeting in streets and squares, people sought ways of organising that would allow everyone to participate and break from the exploitative relations that dominate daily life under capitalism. Ten years earlier in Argentina there were similar encounters on a massive scale involving indigenous people, the unemployed, factory workers and the middle class organising together to take control of their lives. These autonomous movements created a way of organising and thinking about revolution that broke with previous practices focusing on the state as a site of change.
These new practices and ideas are being continued today in Argentina and further afield and it is in this context of global unrest that Marina Sitrin's timely book allows us to learn and reflect on the experiences of the Argentinian movements. Sitrin's detailed and sensitive analysis explores the different ways in which these movements are creating revolution on a daily basis in themselves and in their communities. They are concerned with developing horizontalism as a process and social relationship, and self-managing projects such as bakeries and schools.
Sitrin illustrates these practices with stories from her observations, including that of a young girl who attended an assembly to raise the issue that her mother was shouting at her too much. Stories such as these, where people feel able to take control of their lives, illustrate vividly the power and beauty of these revolutions. Sitrin combines her analysis with voices of the movement participants, explaining what they are doing and what it means to them.
The movements' experiments encountered challenges, with their relationship to the state being a particularly interesting one, as well as critiques from outside the movement. Sitrin describes how they dealt with these issues, providing valuable insights for other movements elsewhere. Ultimately it is the movement participants' reflexiveness and commitment to their processes, along with an openness to changing these processes, that has been key to their continuation and success.
That instinctive feeling – that we will not tolerate being told what to do any longer – is still palpable. The desire to practice horizontalism continues across the world, influenced in part by the experiences of Argentina. Reading Sitrin allows a dialogue between then and now, and here and there, enabling us to learn from each other.