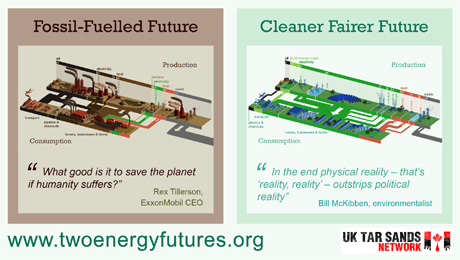 We need fossil fuels to fuel the world. We don't have the technology available now to meet the energy demands of the world with clean energy. We need to 'bridge the gap' between now and the time when these technologies are fully developed, with things like shale gas and new nuclear. Don't we? This familiar rhetoric is challenged by an innovative interactive infographic and website launched today by the UK Tar Sands Network. Based on the latest research, the online resource demonstrates that everyone on the planet can have a high-quality lifestyle, completely fuelled by existing clean energy technologies.
'We're constantly told by governments and industry that we need fossil fuels to power the world,' says Danny Chivers, the researcher behind the infographic. 'This simply isn't true. Here, for the first time we've brought together research to show that a cleaner, fairer energy future is possible, and presented it in a publicly accessible way.'
Two Energy Futures lays out two possible future scenarios. The 'Fossil-Fuelled Future' is based on recent predictions by the International Energy Agency (IEA). This is the future the IEA believe we are heading for if governments and industry continue with their current energy development paths and commitments on energy and climate change. In other words, this future is not a worst-case scenario – it's the best that politicians and businesses are currently offering us.
In this scenario we'd almost certainly be locked into disastrous runaway climate change and experiencing far more of its consequences such as serious floods, storms, heatwaves, droughts, extinctions, collapsing food supplies and the loss of millions of people's homes, lives and livelihoods by as early as 2035.
Brighter future
The alternative scenario – the 'Cleaner Fairer Future' – is much brighter. In this future, there is a decent chance of avoiding runaway climate change and all of the devastating effects it would bring, by relying entirely on renewable energy sources such as wind and solar (both of which are supported by more than 90 per cent of the world's population). Rather than basing the model on current wasteful and inequitable energy use figures, as others have done previously, they instead asked how much energy was actually needed for a decent quality of life, using estimates taken from the Centre for Alternative Technology's Zero Carbon Britain: Rethinking the Future report, and started from there.
The figure used is 13,000 KWh of energy per person per year, which includes all the energy used on people's behalf for public services, manufacturing, etc. In order to achieve this, the rich minority would need to reduce their energy use to allow access to this amount for everyone else. For most people, 13,000 KWh is much more than they currently use (the average current energy use per person in the developing world is 5,500 Kwh/year). This is enough for a high quality of life by global Northern standards, but only if we are living less wastefully and more efficiently. This means good public transport and reduced flying, energy efficient homes, more local food and manufacturing, and reduced consumerism would all be necessary.
The amount of energy it is possible to generate from renewable sources was based on figures from Sustainable Energy Without the Hot Air by respected energy expert Dr David MacKay. This is perhaps the most surprising, and reassuring, finding of the research: that everyone on the planet can have a high-quality lifestyle, fuelled by existing clean energy technologies and in an environmentally sustainable way – even taking predicted population growth into account.
Different economies
Perhaps unsurprisingly, this world is only possible with some hefty political and economic changes; a future where energy is fairly shared out and tight controls on energy crops are possible would require a very different kind of economic system to the one currently in place, the report says. As long as GDP growth is used as our main measure of 'progress', reducing industrialised nations' energy use to a sensible and fair level would be extremely difficult if not impossible. But different kinds of economies are possible and are starting to enter mainstream debate, as we saw at the Rio+20 UN Sustainability Conference in 2012.
'We face a disastrous future if we accept our governments' inadequate emissions reduction policies and the fossil fuel industry's terrifying expansion plans,' says Chivers. 'It doesn't have to be this way. An alternative energy mix, without fossil fuels or nuclear power, is perfectly possible. The barriers are not technological, but political.'
The developers of Two Energy Futures hope that it will provide an invaluable resource for those supporting and fighting for clean energy and challenge the rhetoric that we don't have the technology to go fossil fuel-free at the moment.
'There are people all over the planet taking action to ensure a cleaner, fairer world,' says Jess Worth of the UK Tar Sands Network. 'We hope that this website will arm them with the information they need to help bring about a fossil-free energy future.'
Explore the infographic: www.twoenergyfutures.org