Red Pepper has launched a vital Crowdfunder to lay the foundations for our future. Donate today.
In Spring 2020, critical scientists created Independent Sage to offer impartial advice and stimulate public debate over government policy on Covid-19 (see Red Pepper's interview with Independent Sage's first chair, David King).
Two years on, with deaths and infections still high and the government lifting restrictions, Red Pepper speaks to Deenan Pillay, a recent chair of Independent Sage. This interview took place in January 2022.
Red Pepper: Is there any scientific basis for lifting the restrictions, or do you think it's driven entirely by political calculation?
Deenan Pillay: Given the continued high infections, especially among children, the risks of a new variant and the pressures on the NHS, it seems sensible to maintain some protections – such as face masks, working from home where possible and improved ventilation for indoor public spaces – to limit uncontrolled spread, while pushing hard on vaccine third dose coverage.
Senior government scientific advisors have been notably silent on the recent decisions. We can only conclude that political expediency is driving the agenda at present. The vacuous phrase, 'We must learn to live with the virus', is often used by politicians to gloss over the fact that we have suffered over 150,000 Covid deaths in the UK, with concerns about longer consequences of infection as well, and that we need to be planning for a new, more resilient, and supportive public and social care infrastructure, rather than 'getting back to normal'.
What do you think the impact of Independent Sage has been?
We challenged the government mantra of 'following the science', which glossed over the complexities of weighing up different sciences and views, and how best to explain them to the public. During the first few months of the pandemic, the membership and minutes of Sage meetings were not disclosed, with the suspicion that those scientific advisory meetings were being overly framed by politics and inadequately focused on public health.
Our major impact has been to stimulate scientists and others to discuss the policy implications of that science. Senior science advisors view their role as providing the government with the evidence from which politicians then consider and implement policies. Independent Sage's view has always been that public health is the application of science to policy, and that the form in which policy is enacted is itself worthy of scientific critique. For instance, it is legitimate for scientists to critique the outsourcing of NHS Test and Trace.
The second impact was the public engagement. We put ourselves out there, inviting questions from the public and speaking directly to those questions. This is a new model for scientific engagement, hugely demanded and important for other emergencies in the future.
Has public participation grown? Has the existence of Independent Sage legitimated independent critical scientists speaking out?
We get between 10-20,000 viewings for each briefing – almost every Friday since May 2020. We are fortunate with so many committed members, and such a productive partnership with The Citizens to enable this to continue for as long as the pandemic continues.
Those employed in the NHS and Public Health England (now the UK Health Security Agency) were very constrained from speaking to the press; it was academics who were most willing to be interviewed. There has been a corresponding response from the media and science journalism has come to the fore. This is important for the development of scientific literacy in general.
Of course, there is a heterogeneity of views from scientists, in some cases aligned to key libertarian political initiatives such as the 'Great Barrington declaration', or the so-called Health Advisory and Recovery Team (HART). But generally, Independent Sage has been in the mainstream of scientific opinion.
Finally, we have always had a strong social and behavioural strand within the group, which meant that we could frame issues such as [Dominic Cummings' trip to] Barnard Castle in the context of loss of trust, with consequences for population adherence to infection control measures.
Did the government explicitly take up any of your suggestions?
From the beginning, we passed all our reports to [the government's chief scientific adviser] Patrick Vallance, but without recognition. Some of our members also sat on Sage sub-committees and we have included other Sage and NERVTAG [new and emerging respiratory virus threats advisory group] members as guest presenters. Though there has been no explicit recognition of us as a group, the scientific world is small and many of us are colleagues and friends. Further, many Independent Sage policy statements have made it into government policy. This is particularly the case for the devolved administrations.
What about the Labour Party?
As individuals we have been involved in various discussions with different components of the Labour Party. However, we have not been asked to formally advise the party – indeed, we do not want to become a party mouthpiece since that would compromise our core wish to remain an independent scientific advisory group.
My own view is that the Labour Party was slow in developing a post-pandemic narrative for more resilient infrastructure, redressing the inequalities that were exacerbated during Covid-19, and so on. This is now starting to happen.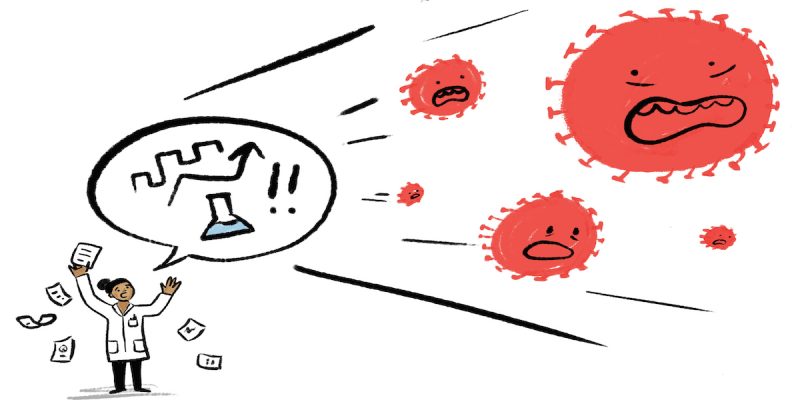 There's clearly a tension between the need to protect the clinically vulnerable through state action, with some arguing for mandatory vaccines, versus anxiety about infringements of civil liberties, and with the present government, a slide towards authoritarian rule. What is your view? And that of Independent Sage?
Independent Sage always starts from the premise of the infection itself – the risks to individuals, communities, and the likelihood of further evolution of the virus to generate new variants. Another key theme has been the inequality further accentuated by Covid-19, and to ensure we see all interventions through this lens.
In the early days we were witnessing the 'zero Covid' approaches of countries in the Far East, Australia and New Zealand, and these approaches have been broadly successful. At the time, Independent Sage broadly agreed on the aim of limiting viral transmission as much as possible, while recognising that the late imposition of any UK border controls meant that the virus had already moved into many communities. Eradication or even elimination (from the UK) of such a virus is difficult to achieve. Only one human virus – smallpox – has ever been eradicated. Nevertheless, we must do our utmost to limit any adverse impact from the virus, particularly for the vulnerable.
The growing understanding of how Covid-19 leads to disease, the emergence of new variants and the risk of longer-term symptoms means we oppose an approach of 'just letting the virus circulate'. We are, of course, guided by the data within a rapidly evolving pandemic. There is a vibrant scientific debate at present regarding the implications of the newer subclade of Omicron, BA-2.
We have been characterised by some as purely a 'zero Covid' group but this is wrong. Rather, we have learnt from other infections that vaccines or drugs are not enough on their own – there is a need for a multi-pronged approach to minimise the harm from infection. We have argued that the need for a further lockdown can best be prevented by maintaining and enhancing protections such as good ventilation, mask wearing and widespread testing, on top of vaccination. We have also foregrounded the importance of trust, and co-production of the protection measures, to maximize their take up and acceptance. We have drawn parallels with seatbelts and speed limits to prevent mortality, or limits on smoking, to show how apparent 'infringements on civil liberties' have become embedded within our daily lives.
Independent Sage members have not come to a consensus on mandatory vaccines or vaccine certification (other than for travel), with some arguing that this is not the best way to maximise vaccine uptake. We can disagree, while maintaining our overall goals.
What would your personal position be on mandatory vaccines and vaccine passports?
I have seen (and supported) the bringing in of mandatory vaccines for relevant NHS staff – namely hepatitis B vaccine for those undertaking activities which spread to patients. So, I am one of those more comfortable with such policies. And I am frankly really concerned regarding the number of healthcare workers still reluctant to receive the Covid-19 vaccine.
But it is often too easy to just mandate something. Previously, there was a threat of dismissal hanging over healthcare workers who were not fully vaccinated by April. In some London trusts I know, that represented up to 20-30 per cent of staff, often majority black staff. It's a really complex issue requiring innovative approaches, and I was not surprised that there was a compromise over this mandate.
Regarding more general vaccine passports (for indoor venues), these are less talked about now, and Scotland has dropped this requirement. However, in France these passports seem to be associated with a big rise in vaccine uptake. It's the context which matters.
I like to put myself in the position of someone who for whatever reason is particularly vulnerable to Covid-19 disease. If I was such a person, would I feel safer entering a venue where I knew all present were either vaccinated or had a recent negative test, and there was good ventilation and mask wearing? My answer would be yes, despite all the caveats, including vaccine not necessarily protecting from infection.
Shouldn't vaccination be placed within the context of a wider strategy?
Vaccine development has been a huge success story, even with the increasingly recognised limitations of waning immunity, protection from disease but not transmission, and being overcome (partially) by new variants. This makes the limited affordable access for the world, partly due to patent protection, even more galling. Having said that, no infection has been successfully dealt with by vaccines alone. Vaccines always have to be part of a suite of public health measures to be effective, including diagnosis and isolation of cases, and making indoor areas safer. This is basic public health and needs to be stressed.
Much is written about reaching the end of the pandemic, moving to an endemic infection (without understanding the meaning) and needing to learn to live with the virus. These are sanitised statements, which hide huge uncertainty, often driven by short-term political goals.
There are two things we can say just now about future trajectories. Firstly, immunity, whether from natural infection and/or immunisation is likely to attenuate the risk of severe disease from current and future variants. In other words, humankind is no longer 'immunological naïve' to SARS CoV-2, as we were in January 2020. Secondly, new variants will emerge, with unpredictable consequences, other than being likely that it will be even more transmissible than Omicron.
So, we must be prepared for what may happen, and this requires a clear government strategy. What are the criteria for reintroducing new protection measures in future? How should public health preparedness be ramped up now? We are still only two years into a brand-new human infection – it may persist for hundreds of years. It is naïve to think we can just go back to our pre-pandemic lives without learning any lessons. We are still only two years into a brand-new human infection. It is naïve to think we can just go back to our pre-pandemic lives
How far would you say that developments in today's environment – the industrialised nature of agriculture and food markets, the destruction of the countryside and the consequences of climate change – have led to a more dangerous relationship between animals and humans?
All human viruses have crossed over from another species at some point. Many new human influenza strains emerge in populations close to livestock. Trade in live animals is certainly a risk, although control of this trade in itself will not reduce the risk to zero, given the scale of worldwide farming. The large use of antibiotics in routine farming practice also increases the risk of antibiotic-resistant bacteria spread into humans – one of the biggest risks to health in the near future. Climate change is widening the geographic areas at risk from insect-borne infections. And the dramatic increase in global travel over the last 20 years means the rapid global spread of newly emergent infections.
We need an early warning system with a reinvigoration of international surveillance of animals and humans for those infections. With that and a public health infrastructure that can be put into operation to deal with whatever infection develops, we can predict and work out how we protect humans.
The pandemic has revealed weaknesses in the public health system. What needs to be done to rebuild it?
From 1939-2002, a network of infection laboratories and epidemiologists existed under the auspices of the Public Health Laboratory Service (PHLS), formed at the time to protect against war-related epidemics. This structure became the envy of the world, with the laboratories supporting NHS hospital diagnosis as well as undertaking community surveillance, and epidemiologists being in the forefront of vaccine rollout to the population.
In 2003, the PHLS was abolished to be replaced by the Health Protection Agency (HPA) with a wider remit than just infectious diseases (chemical threats, for instance), and with a 30 per cent reduced budget with some laboratories passed onto the hospitals. Then the HPA was subsumed into Public Health England (PHE) in 2013, with extensive fragmentation. For instance, directors of public health were moved into local authorities, and further budget cuts were administered. This is the sad background to where we found ourselves at the start of the pandemic.
By February 2020, it was clear PHE had insufficient capacity for increased testing and contact tracing. Rather than rapidly upscaling investment in PHE and associated NHS laboratories, the decision was taken to create a completely new body – so-called NHS Test and Trace, but in reality outsourced through Deloittes to a tune of £35 billion, with a litany of procurement scandals in its wake. In a further bizarre move, Matt Hancock as health secretary announced the replacement of PHE with yet another structure, the National Institute for Health Protection, which would incorporate Test and Trace. It never got off the ground. Rather, the Joint Biosecurity Centre (JBC) was formed, providing data analytics to government, replacing a previous PHE function. By the end of 2021, the UK Health Security Agency was established, which appears to incorporate all of these disparate structures. The pandemic has provided cover for a dismantling of the public health service. The pandemic has provided cover for a dismantling of the public health service
The challenge now is how we campaign for a unified public health service, embedded within our communities, to protect us from this and future pandemics.
Where would an alternative begin?
We don't have a blueprint. Moreover, we are in the midst of major changes to the NHS as a consequence of the formation of locality-based integrated care systems. All while the NHS is reeling from Covid-19, increased waiting lists, a breaking primary care structure; all on the back of chronic underfunding, and a tragic and avoidable worsening in life expectancy as a consequence of austerity.
We are gearing up to be giving evidence to the public inquiry, to be chaired by Baroness Heather Hallett. We are proposing that the enquiry covers a) the poor pre-existing infrastructure and declining health of the UK population; b) the structure, functioning and resourcing of a public health system within UK as a whole, and within the devolved nations; c) the international awareness of the UK government, and ability to learn from other countries; d) the scientific advisory structures, approval process for vaccines, the translation of advice into policy; e) the operation of social care and interaction with the NHS; and f) commitment to global equity of vaccine supply, including patent waiver and technology transfer.
We hope the inquiry provides the basis for a resilient public health structure in future. But we are also aware of the risk that the momentum for change could be lost.
It seems Independent Sage has almost given itself a brief to stimulate a new plan for public health.
We came together as a group with appropriate skill sets to respond to Covid-19. The next stage is looking at what a robust and sustainable public health system could be. But we need to make sure that we're properly constituted with people who can contribute to that. I'm very sensitive to not overreaching.
What we've learned about is a new mode of public engagement with science, which hopefully can be replicated by others. As a professor of virology, I've been teaching people for the last 30 years about what PCR and 'virus mutations' mean. Now, everyone's a virologist. We've got to build on that. People now have some agency – they understand these are not just viruses that come from outer space with us powerless. We can do things about it, we can organise our lives, our homes, our families to really think about it. And that's something we mustn't lose.
Obviously, there's vaccine hesitancy. But I think overall, we're in a much better place now, in terms of future scientific engagement with public health. So there's an opportunity, which, of course, the government is not going to take, for a New Health Deal. But I'm not really hearing anything from Labour that is adequate to the challenge. So we need a movement to bring a New Health Deal into being.
Deenan Pillay is a recent chair of Independent Sage and professor of virology at UCL. He was also recently director of the Africa Health Research Institute, South Africa, with experience in the diagnosis and treatment of viral infections, particularly HIV.
This article first appeared in Issue #235, 'Educate, agitate, organise'. Subscribe today to read more articles and support fearless, independent media.