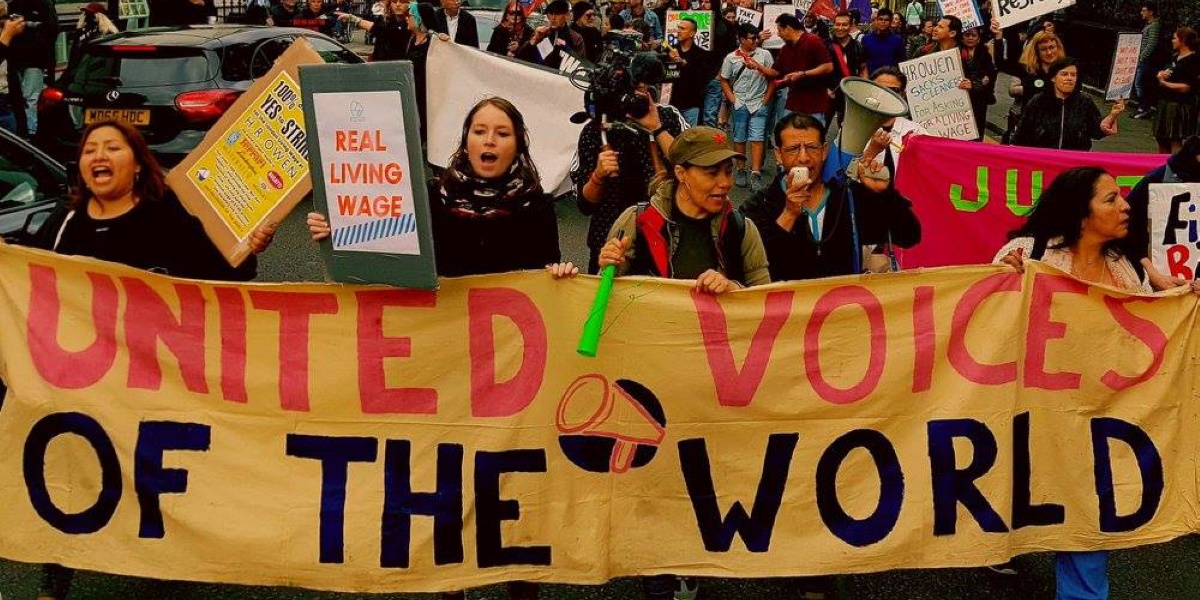 For five years United Voices of the World (UVW) has been organising with low-paid migrant workers traditionally overlooked by some of the larger TUC affiliated trade unions. We have seen the scale of complicity between outsourcing companies and their clients – including universities, major television channels and the NHS. These practices are propping up what is, at its core, a racist economic model of exploitation.
This month UVW will coordinate multiple strikes across London that will see our members, the majority of whom are migrants, enter into direct conflict with several major employers and their prestigious clients.
On Thursday 24 October the University of Greenwich will be rocked by a wave of strike action as overworked and underpaid café workers strike for the London Living Wage. Likewise, the Royal Parks where our members between them have racked up 200 years of service, will strike for occupational sick pay. A week later on the 31 October our members will walk out of the swanky headquarters of ITV and Channel 4 to demand occupational sick pay whilst their comrades at the Ministry of Justice strike to demand equality in terms and conditions with civil servants and the London Living Wage.
But by far our biggest strike will take place on Monday 28 and Wednesday 31 October at St. Mary's hospital where over 170 cleaners and porters will walk out to demand an end to poverty wages and complete equality in pay and working conditions with in-house NHS staff. They will also be demanding that their employer – French multinational Sodexo – adhere to its legal obligation to vaccinate them and that Imperial College Healthcare NHS Trust puts an end to the shameful practice of banning our members from eating in NHS staff canteens and resting in NHS staff rooms. Workers will also be demanding that they are no longer forced to get changed in a dirty, mixed sex, mouse infested and dimly lit basement at the bottom of the hospital.
Outsourcing and racism
Our members are employed by some of the world's biggest outsourcing companies and these companies report annual profits of up to billions of pounds. But these profits are made by paying migrant workers poverty wages and employing them on the worst terms and conditions legally possible. In other words, the outsourcing model is inherently predatory and thrives upon creating a racialised two-tier workforce in which ethnic minority workers, especially ethnic minority women, are forced to bear the brunt of brazen exploitation.
When people read stories of how Harrods, Chanel, Ferrari and Topshop have been complicit in hiring migrant labourers who are paid poverty wages and enjoy little to no job security, the majority are, somewhat rather cynically, not that surprised. But what would surprise many is the degree to which supposedly 'socially responsible' employers, such as the London School of Economics, the University of East London and St. George's University are propping up the racist outsourcing industry.
This complicity is perhaps most alarming in what is arguably the crown of our public services: the National Health Service (NHS). Originally founded according to the principle that healthcare is a human right and not a privilege, and that as need takes priority over the ability to pay, the NHS ought to be both free at the point of use, and funded. The logic being that by doing so we could, as a society, mutually insure one another from the risk and certainty of illness. But from the infamous 'salami slicing' of Thatcher's government through to the privatisation of the Blair years, and the savage onslaught of austerity and privatisation unleashed by successive Conservative led governments, what we have seen is the erosion of this egalitarian logic.
The dispute
It has now become routine for NHS Trusts to outsource entire swathes of their facilities operations to outsourcing companies, meaning in other words that taxpayers' money is filling the coffers of companies that make their profits by exploiting the workers who form the NHS' backbone.
Sodexo is by far one of the worst offenders. It has held a facilities contract with St. Mary's since October 2014. In that time UVW members have been paid poverty wages at an hourly rate of £6.16 to £8.21 per hour leaving them £6,000 to £10,000 worse off per year than their NHS colleagues of a similar grade. They are also employed on the worst terms and conditions legally possible and, as a result, they regularly have to come into work when they themselves are ill – which is hardly desirable when they're the ones who are charged with keeping wards clean and infection free.
Sodexo treats our members as being no different to the dirt that they clean. Historically it has failed to provide our members with spare uniforms so that they can come to work clean. It was only after our members threatened strike action that Sodexo finally decided to act. But this is too little too late. Even now, Sodexo pays lip service to its legal obligation to vaccinate our members – another one of our demands – but refuses to be proactive in actually making it happen.
Ultimately Sodexo does not care about its employees; it simply cares about making a profit and paying out obscene executive salaries and annual bonuses. Recently, UVW analysed Sodexo's Annual Reports from 2014 to 2018 which cover the last four of the five years that Sodexo has held a contract with Imperial College Healthcare NHS Trust. What they revealed was a company making staggering yearly profits, in 2018 alone Sodexo made a profit of 994 million euros, and a board of directors enjoying obscene annual salaries and bonuses.
Between 2014 and 2018 the now former CEO of Sodexo, Michel Landel, enjoyed an annual salary of 933,400 euros and annual bonuses equivalent to 200 per cent of that salary. If you add up his gross income over those four years it stands at 10,304,622 euros. But even more obscenely, that is without taking into account the 42,000 'performance shares' Landel received annually, shares which Sodexo estimated to have a combined value of 10,629,760 million euros.
Ultimately our members are not asking for the earth or the 20 odd million euros that Landel has obscenely been receiving. They are simply asking to be treated as equals with in-house NHS staff.
As a trade union with anti-racism at our core we have a duty to call out the clients of outsourcing companies for propping up this business model predicated upon exploiting migrant workers, even if that client is the NHS. Solidarity between migrant and national workers is now needed more than ever in this toxic post-referendum climate in which even some on the Left are parroting the false narrative that the decline and stagnation of wages and union density over the past decades is a result of migrant labour pushing wages down when it is precisely the likes of Sodexo that are to blame.
The answer to the challenges that we now face both on the Left, and in the trade union movement specifically, can never be to turn amongst one another, but to organise and challenge our broken economy head on. If you would like to support UVW in that mission, then you can do so by donating to our members strike fund at uvwunion.org.uk/strikefund ¡Hasta la Victoria Siempre!
Petros Elia is a co-founder and organiser with United Voices of the World (UVW).