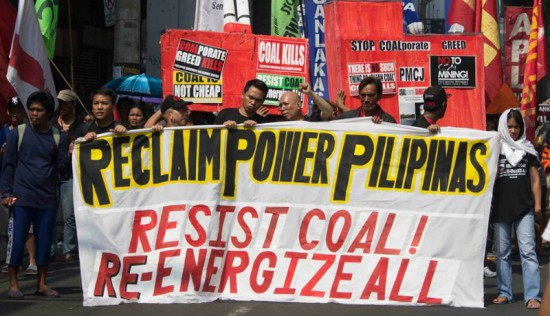 Levels of global warming-causing gases in the atmosphere  increased to a record high in 2012, the World Meteorological Organization announced in November.
And the devastating typhoon which killed thousands of people in The Philippines on November 9-10 is a stark reminder that extraordinary weather events are happening with increasing frequency – due to climate change.
Back in September, the Intergovernmental Panel on Climate Change confirmed beyond all reasonable doubt that climate change is real; that it is caused by human-induced greenhouse gas emissions; and that it poses a severe and immediate threat to human well-being, including food production and human security.
Confronted with such a planetary emergency, one would hope that world governments would take real and immediate action to cut greenhouse gas emissions during their November 11-22 United Nations climate change (UNFCCC) talks in Warsaw, Poland.
Unfortunately, most observers expect nothing substantial from the talks this year – besides an agreement to keep on talking – which is all that the past ten years of talks have yielded.
This inaction is an insult to the poorest people in developing countries, because it is the poorest and most vulnerable people who are most affected by the impacts of climate change.
The main problem is that industrialised countries' governments are neglecting their responsibility to prevent climate catastrophe.
The positions of these governments at global climate talks are increasingly driven by the narrow economic and financial interests of wealthy elites and multinational corporations.
These interests, tied to the economic sectors responsible for pollution or profiting from false solutions to the climate crisis like carbon trading and fossil fuels, are the key forces behind global inaction.
According to a new report released at the start of the talks by Corporate Europe Observatory and the Transnational institute, vast numbers of industry and business lobbyists influence the talks, 'promoting their preferred 'solutions' to tackling climate change – solutions which protect their business interests, provide them with new opportunities to profit and most importantly, allow them to continue polluting the climate and destroying the environment.'
The UN climate talks are supposed to be making progress on implementing the agreement that world governments made in 1992 to stop man-made and dangerous climate change. The agreement recognises that rich countries have done the most to cause the problem of climate change and should take the lead in solving it, as well as provide funds to poorer countries as repayment of their climate debt.
But developed countries' governments have done very little to deliver on these commitments and time is running out.
What's more, rich countries are continuing to further dismantle the whole framework for binding reductions of greenhouse gases, without which we have no chance of avoiding catastrophic climate change.
They are also pushing for the expansion of false solutions like carbon trading, a further escape hatch from emissions reductions which will make climate change worse and cause further harm to people around the world while bringing huge profits to polluters.
What is the role of multinational corporations at the UNFCCC ?
Major corporations and polluters are lobbying to undermine the chances of achieving climate justice via the UNFCCC. Much of this influence is exerted in the member states before governments come to the climate negotiations, but the negotiations are also attended by hundreds of lobbyists from the corporate sector who work to ensure that any agreement promotes the interests of big business before people's interests and climate justice.
The latest example? This year the Polish presidency of the UNFCCC held an unprecedented 'Business Day' – as part of an environmental ministers meeting in October in Warsaw – where businesses had privileged access and no civil society groups were allowed to participate.
So despite the fact that the UNFCCC is the most democratic and appropriate global institution for international climate negotiations, its capture by corporate interests is a major cause of concern for many.
In its latest report, Friends of the Earth International states that it is possible to build a climate-safe, just and sustainable energy system which ensures the basic right to energy for everyone but that 'to get there we need to challenge corporate power and exert real democratic control over the energy decisions of our governments.'
If we want to unlock the negotiations we need to tackle the excessive influence of the corporate lobby and ensure that our governments are representing the interests of ordinary people and communities.
A new, climate-safe, sustainable energy system is spreading
Away from the UN bubble, the shift in the right direction is already taking place at the local level. The latest wave in this shift can be observed for instance in global alliances such as the 'Reclaim Power' movement, which is pushing for a new energy system.
In fact, a new energy system has already taken root in many communities and is making its way up from there. For instance in Hamburg, Germany, more than half of the population recently voted to re-communalize electricity, gas and district heating networks which are currently in the hands of multinational energy companies Vattenfall and Eon.
The reported motivation of Hamburg citizens? Energy supply is a basic public service that should not serve profit motives. They voted knowing that 'Vattenfall and Eon do not act in the best interest of the people and are delaying Germany's shift to renewable energy.'
This is a very inspiring example for all those struggling for climate justice and further proof that the new, climate-safe, just and sustainable energy system is spreading fast. It brings us hope that a new energy system could become so pervasive that our governments will be spurred into action and even break the deadlock of the United Nations climate change talks.
Niccolo Sarno is a freelance journalist and the media coordinator of Friends of the Earth International. The views expressed in this article are those of the author and not those of Friends of the Earth International.