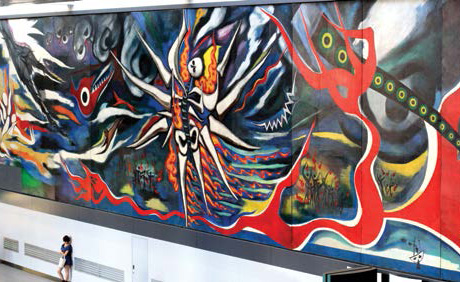 Okamoto's Asu no shinwa (Myth of Tomorrow). Photo: Mark Pendleton
Is Tokyo just shiny commerce, fast trains and polite people? That might be your impression if you have read any commercial travel guidebook. However, a visit to Tokyo also provides travellers with the opportunity to explore the history of Japanese and American imperialism in Asia and connect with radical communities organising against nuclear power, resisting the continued US military presence, and struggling with the two-decade long Japanese economic stagnation that has resulted in an increasingly precarious existence for many, particularly young people.
Landing at Tokyo's main international airport in Narita drops international visitors right at the heart of this history of radical struggle. When the airport was being built in a rural area outside of town, residents and their allies from the cities physically (and violently) resisted large-scale acquisitions of their land. They were defeated after a multi-decade struggle, but as you catch the train or bus into downtown Tokyo and pass the few remaining rice fields or small vegetable patches, spare a thought for those that were forced off their land to give visitors a shiny, new landing strip.
Those aforementioned guidebooks will inevitably point you towards the popular destination of Shibuya, a busy shopping, entertainment and commercial district. Once there, head up to the raised concourse in front of the Keio Inokashira line station, which gives visitors a view of the world's busiest pedestrian crossing. Take the obligatory happy snap, but also take a moment to turn around and view the opposite side of the concourse. A 30-metre long mural by prominent mid-20th century artist Okamoto Tar lines the wall, and reveals much about Japan's past and present.
Okamoto's Asu no shinwa (Myth of Tomorrow) has been described as Japan's Guernica, with its anti-war representation of the atomic bombings of Hiroshima and Nagasaki. Okamoto died many years ago and the mural itself was lost for several decades before being found and restored in 2008. In 2011, in the aftermath of the Tohoku earthquake/tsunami and the Fukushima nuclear disaster, Okamoto's anti-nuclear message was updated by radical contemporary art collective ChimPom, who attached an additional Fukushima-themed panel to the Okamoto piece. While the ChimPom installation only lasted a few hours it caused a minor furore, alerting passersby to Tokyo's contemporary fragility and its radical past and present.
Anti-nuclear activities such as those of ChimPom have long been a hallmark of Japanese activism, and in the months since that earthquake/tsunami saw the world's greatest release of radioactive materials since Chernobyl, there has been something of a revival. Fear of exposure exacerbated by the increasingly obvious lies by nuclear operators and their allies in government and the media have fuelled a mass movement opposed to the reactivation of Japan's nuclear industry, which had been progressively shut down after Fukushima. Friday evening protests at the prime minister's official residence and adjacent parliamentary buildings (the Diet) continue, with thousands taking to the streets each week. Polls show that these activists have popular opinion on their side, with upwards of 70 per cent demanding that Japan wean itself off its reliance on nuclear power. You can check out the action by catching the subway to any of the stations near the Diet. Aim to arrive by 6pm to join the hordes of people flocking to the demonstration.
While you're there, remember that you are in the middle of the largest public display of dissent in Japan since hundreds of thousands flooded those same streets back in 1960 to protest against the government's forced passage of an extension to the US military treaty in the face of parliamentary and popular opposition. A young student activist, Kanba Michiko, was killed by police, reminding many Japanese of the ongoing power of the Japanese state, a power that people had hoped had dissipated after the collapse of the militarist governments of the first half of the 20th century.
The military alliance with the US continues to be a major flashpoint across much of Japan – particularly on the southern islands of Okinawa, which bear the brunt of hosting the bulk of the forces. Anger about the alliance also spills over onto Tokyo streets around the anniversary of the war's end and in ongoing protests over Japan's support for contemporary American military occupations in the Middle East.
History buffs may like to pay a visit to the preserved fishing trawler, the Lucky Dragon 5, which despite its name suffered a less than lucky fate when nuclear fallout from a US nuclear test at Bikini Atoll in the Pacific drifted across its bow in 1954. The radio operator died as a result of exposure, reminding the Japanese of earlier atomic atrocities and serving as a catalyst for the anti-nuclear politics that Japan has since become famous for. You can visit the ship at the Daigo Fukuryu Maru Exhibition Hall in Yumenoshima Park, down by Tokyo Bay.
Japan's experience of nuclear war, along with post-war debates over the legacy of Japanese imperialism in Asia, has led to the creation of a range of radical peace museums across the country. A good option for a visit in Tokyo is the Women's Active Museum on War and Peace in the Waseda area, which highlights the uneven impact of war on women, focusing particularly on testimonies from the so-called 'comfort women'.
The inner western suburbs of Tokyo also contain vibrant contemporary activist scenes. A ten-minute walk east from Shinjuku station will find readers at the anarchist infoshop Irregular Rhythm Asylum. The crew at IRA have been in the mix of all things radical for several years now, including anti-war, anti-nuclear, precarious labour and alter-globalisation activities, and stock a wide range of materials on Japanese and international anarchist and other social movements. An irregularly produced guide to what's on in Tokyo (the Nantoka guide) is often available at IRA, and you can also ask staff, who will usually do their best to point you in appropriate directions. The IRA website and blog contain some materials in English, including a map to the infoshop's location.
Adjacent to IRA is Tokyo's queer district – Shinjuku Nichome. While recent police enforcement of anti-dancing provisions in an antiquated occupation-era law has taken some of the edge off Nichome's reputation for trashy nights on the dance floor, there is still plenty of cheesy music and cheap drinks for those so inclined. Tokyo's largest HIV and LGBT community centre, named AKTA, can be found in Nichome as well as the usual mix of nightlife and queer community activities that you'd find in most major cities.
The district also houses a radical café called Café Lavanderia, which plays host to regular events and has a modest selection of food and drinks available. Lavanderia has an extensive collection of books and other material available to read in Japanese, English and other languages, and a couple of extremely friendly (if somewhat persistent) pet cats.
Heading further west, the area around Koenji also plays host to many activist groups, particularly those active in precarious labour and youth social movements. People associated with the ratbag collective, Shiroto no Ran (or Amateur Revolt), run an online radio station, as well as a series of event spaces, second-hand clothing shops and galleries just a short walk from the north exit of the main JR train station. Punk and other gigs are a regular feature here.
The Kotaka district, a short walk further north, had a large scene centred on the Kotaka Shoten group of studio, art and organising spaces, which unfortunately closed down after five years of operation in summer 2012. Keep an eye out, though, for additional activities in this area, particularly the occasional Mabashi Film Festival, which features alternative local and international film screenings.
While Tokyo has a reputation for being a bit of a tough city to break into, there is much for the radical visitor to explore. If you have time to get out of the city, a visit to Hiroshima or Nagasaki is also an essential visit for all historically and politically aware travellers.
Mark Pendleton teaches modern Japanese history at the University of Sheffield and has lived in Tokyo