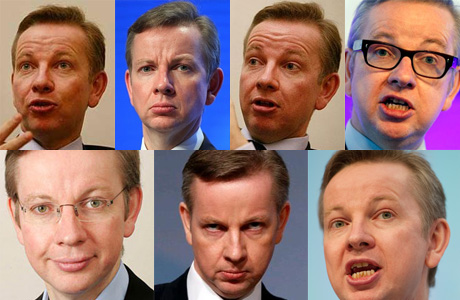 In politics, as in war, it's always a grave mistake to underestimate your enemy – and this is especially true in the case of the current secretary of state for education, Michael Gove, who is generally agreed to be one of the most effective ministers in the coalition government. No doubt his commonly talked-about personal charm and determination partly explains this, but his strength as a politician is also based on his versatility – on the diverse ways in which he presents his ideas and himself.
Working on the basis that to be properly prepared for conflict or debate is half the battle, here is a quick guide to Michael Gove's seven faces.
Face one: the moderniser
In spite of criticisms to the contrary, the education secretary wishes to be seen as a believer in modernisation. Portraying the Labour Party under Ed Miliband as 'nostalgic' – anti-globalisation and anti-reform – he positions himself and his policies, whether those related to the new national curriculum or academies, as on the side of 'progress'.
Instead of Labour's dated approach, Gove wants to lay claim to a more exciting vocabulary. We 'are not a land of warm beer and cold fishes, stately homes and tinkling smithies,' he says, but a nation of 'innovation', in which online learning, along with other examples of modernity, can thrive: 'No need to go to Oxford or Chicago when you can study the most rigorous academic disciplines from the comfort of a seat in your local coffee shop.' Preferable to Ed, then, is Tony Blair, who worried that 'we weren't going far enough, fast enough'.
Face two: the Marxist
Although a life-long Conservative, Gove is able to co-opt leading thinkers on the left to support his case. Thus he uses the writings of influential Italian left-wing intellectual Antonio Gramsci [http://www.smf.co.uk/media/news/michael-gove-speaks-smf/] to argue for a traditional academic curriculum in which the emphasis is on the teacher's authority and on the acquisition of knowledge. Only by resisting the forces of progressive education, which 'risked depriving the working classes of the tools they needed to emancipate themselves from ignorance', is it possible to reverse society's dependence on social and cultural elites and its growing inequality.
Such crossing of conventional intellectual borders allows Gove, who must be one of the few cabinet ministers to have taken strike action, to expertly counter the charge that his policies are narrowly partisan. Can he be that wrong and that reactionary with Gramsci on his side?
Face three: the champion of the working class
Not only does the secretary of state associate himself with leading Marxist thinkers, he also draws on working-class culture and tradition to help legitimise his educational interventions. Sounding at times like leftist cultural critic Raymond Williams or Richard Hoggart, he puts the case that high culture should be taught to pupils of all abilities because just as it is wrong that 'the rich … should have exclusive access to the means of intellectual production, distribution and exchange', so it is wrong they should own all the 'cultural capital' available.
If the servant girls, miners and Labour activists who he has read about in Jonathan Rose's The Intellectual Life of the British Working Classes can appreciate the wonders of English literature, then Gove can claim that his wish for a more traditional curriculum puts him firmly on the side of ordinary people. He may be part of a privileged elite but his words and actions, he argues, are connected to an honourable tradition of working-class education and ambition. Try and argue with that!
Face four: the intellectual liberal
Well-educated with an English degree from Oxford and widely read, Gove was a Times leader writer and cultural commentator before becoming a politician – the education secretary is certainly a deep thinker rather than a narrow-minded ideologue or short-term pragmatist. Influenced by such philosophers as Karl Popper and Isaiah Berlin, he has no reservations about associating himself with the values of freedom, openness and rationality that they propound.
Other politicians may be interested in big ideas but for few, if any, are they so directly and vividly present in his politics and policies. With Popper and Berlin on board, no-one can accuse Michael Gove of failing to see the wider picture. Thus, anyone wishing to take him on has to be prepared to take on the intellectual giants that he says stand behind him.
Face five: the fair-minded politician
The education secretary's liberal approach is visible in his positive attitude to people and institutions on the opposite side of the argument. So, he is fulsome in his praise for Labour leader Ed Miliband describing him as a 'gifted politician' and his conference speeches as 'beautifully-written and elegantly delivered … thoughtful without being ponderous, serious without being humourless, fluent without being glib'. Complements don't come much better than this!
Nor, whatever his reasons, is Gove stinting in his assessment of state schools – or, at least, of those he considers are performing well. Thus one primary in a deprived area of London, for example, provides its pupils with the 'same opportunities to learn' as the best private school equivalent and one secondary is 'permeated by an atmosphere of calm study and scholarly reflection'. This gives Michael Gove a special kind of 'soft' power and influence.
Face six: the academic
Recently, there has been much controversy around proposed changes to the national curriculum, particularly in relation to their impact on pupils' creativity. As an English graduate and past Newsnight Review regular, the education secretary vigorously defends himself from the charge that his intentions are philistine. Drawing on the ideas of American cultural critic E.D. Hirsch and cognitive scientist Daniel Willingham, as well as the experience of certain US states that have adopted an Hirschian approach, he builds a reasoned and evidence-based argument that a basis of 'core-knowledge' is necessary for all learning – even learning in the arts – and that to restrict such knowledge to an elite reproduces past and current inequalities.
Although the EBacc may exclude certain subjects, the creative spirit, Gove argues, is not the preserve of Art, Drama and Music; it is also a key element of Science, History and Geography. And Poland ('the fastest-improving education nation in Europe'), has not only seen 'achievement rise across the board' but also a narrowing of the gap between rich and poor as a result of strengthening its academic curriculum. No doubt, his critics will object to the selective way in which he makes the case – and they will have a point – but it is difficult to claim, as certain of his opponents do, that his curriculum changes are merely the product of an 'old-fogey' wish to turn the clock back to the 1950s. The secretary of state may have never been an academic but he can talk the talk.
Face seven: the progressive thinker
A final source of Michael Gove's appeal is the way in which he is able to hijack the language of progressive educators for his own ends. Rather than allowing his opponents all the best tunes, he adopts a few for himself. Thus he 'welcomes openness', a term which has a range of progressive connotations depending on the context of its use – think of the principles of the Open University or Herbert Kohl's 1960s book, The Open Classroom – and talks of the 'liberating power of education to change lives for the better'. Similarly, it is no accident that the new class of independent schools that he has introduced are called 'free'; after all, what other word could trigger so many positive reactions, particularly for those used to thinking of the educational system as part of the repressive state apparatus?
No doubt the education secretary would argue that his opponents do not have a monopoly on particular words, whatever their connotations or history. However, his use of a discourse associated with progressive education is, nonetheless, a deliberate attempt to weaken the arguments of his enemies from within. Stealing their words is simply one of the best methods of sapping their strength.