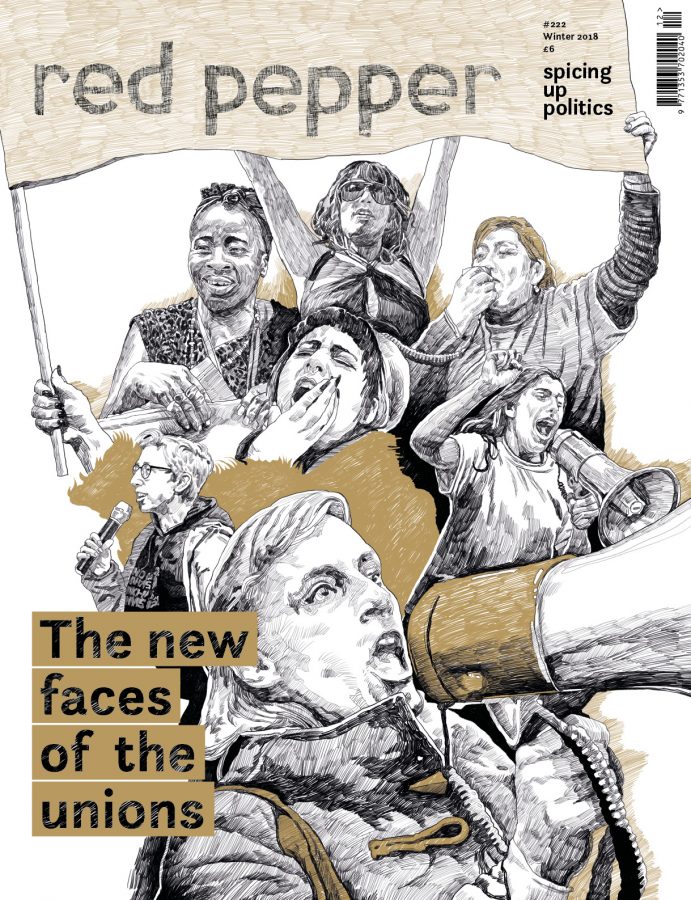 Trade unionism is changing. As work gets more precarious and the 'gig economy' rises, in the latest issue of Red Pepper we map the contours of the new resistance, with its growing base in smaller unions and among the previously unorganised.
In the United Voices of the World (UVW) union, cleaners – mostly migrant workers – have consistently won their demand for a living wage after strikes in government ministries, universities and even a planned strike at the Daily Mail, called off after bosses agreed to pay up. The union, only formed in 2014, is at the forefront of fighting for better pay in workplaces where employers hide behind ever-changing outsourced private firms that pay the minimum wage at best. Shiri Shalmy gives an in-depth report.
Meanwhile, in the bakers' union BFAWU – which has been around since 1847 and has its traditional base in large bread bakeries such as Hovis – branches are spreading into fast-food and drink outlets such as McDonald's and Wetherspoons, leading to the first-ever strikes at these firms. Inspired by the US Fight for $15, they are demanding pay rises to a £10-an-hour minimum. There are signs of success after the first round of strikes, with McDonald's UK conceding its biggest pay rise for a decade earlier this year. We speak to bakers' union president Ian Hodson.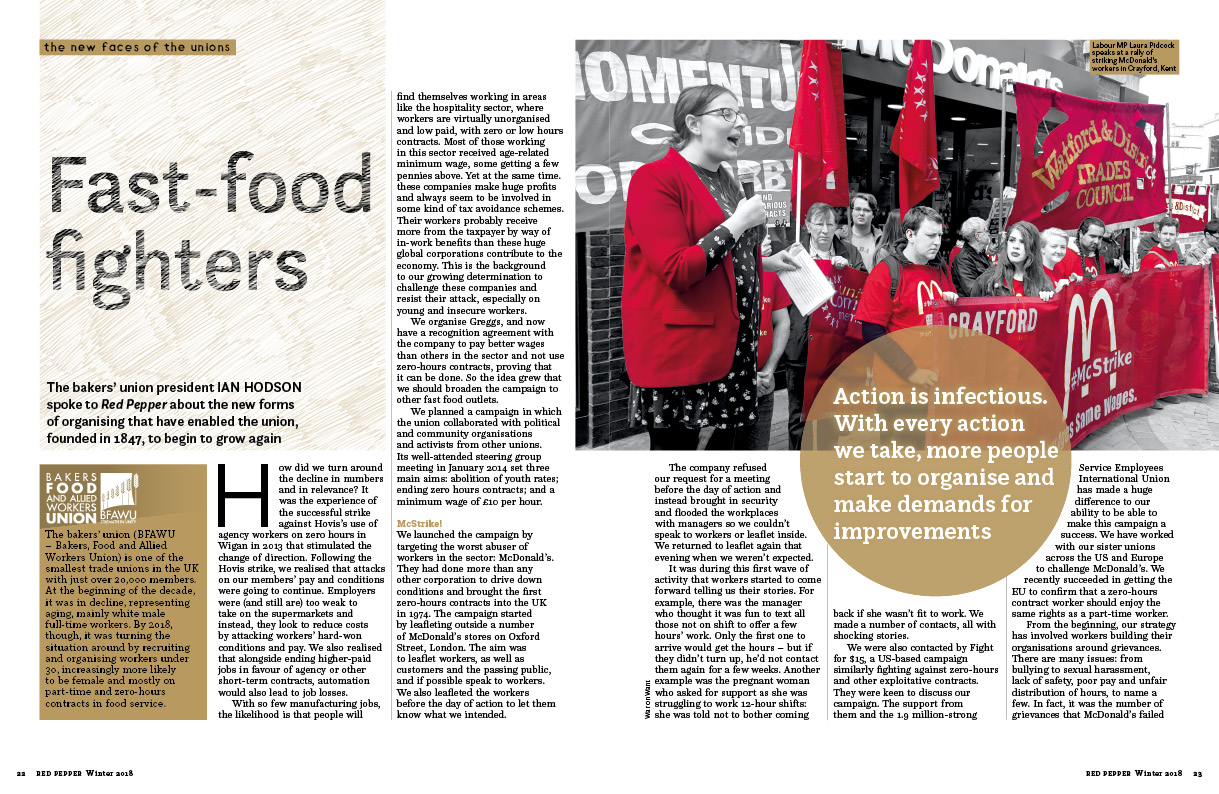 While there are plenty of differences between these two unions, they share some important common threads. By focusing on migrant cleaners and young food-service workers respectively – both considered 'non-traditional' among unions – they are opening up new horizons for the trade union movement in 2018.
They are part of a new union ecosystem, alongside unions such as the Independent Workers' Union of Great Britain (IWGB) and the older Industrial Workers of the World (IWW, commonly known as the 'Wobblies'), organising the new food delivery app workers in Deliveroo and Uber Eats. They struck together with the McDonald's, Wetherspoons and TGI Fridays workers on 4 October 2018, as part of the international 'Fast Food Shutdown' day of action, with demonstrations in Chile, Colombia, the US, Belgium, Italy, Germany, the Philippines and Japan.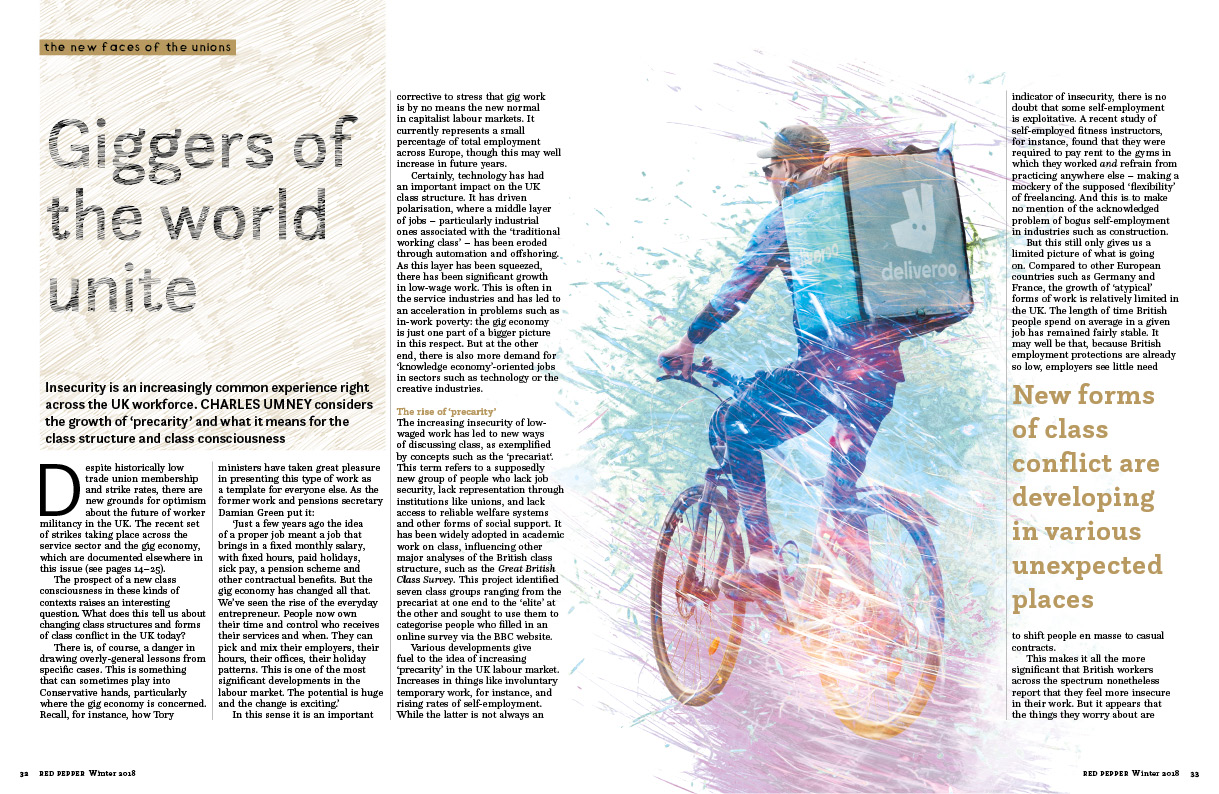 Beyond the unions, this new strike wave has had crucial support from key campaigning groups, notably Momentum, whose members have made viral videos about the struggles with local groups organising solidarity actions, and War on Want, which helped super-size the profile of the McDonald's strikes with logistical and press support.
These more political sources of support are in effect contesting the age-old division between political and purely economic battles, by coming out in support of the unions to say that a living wage is not just an issue for particular workers but a fundamental issue of fairness – what kind of society we want to live in.
As our working lives continue to change, these new alliances have the potential to re-balance the scales and serve as a laboratory for the next waves of trade union organising still to come.
Also in our Winter 2018 issue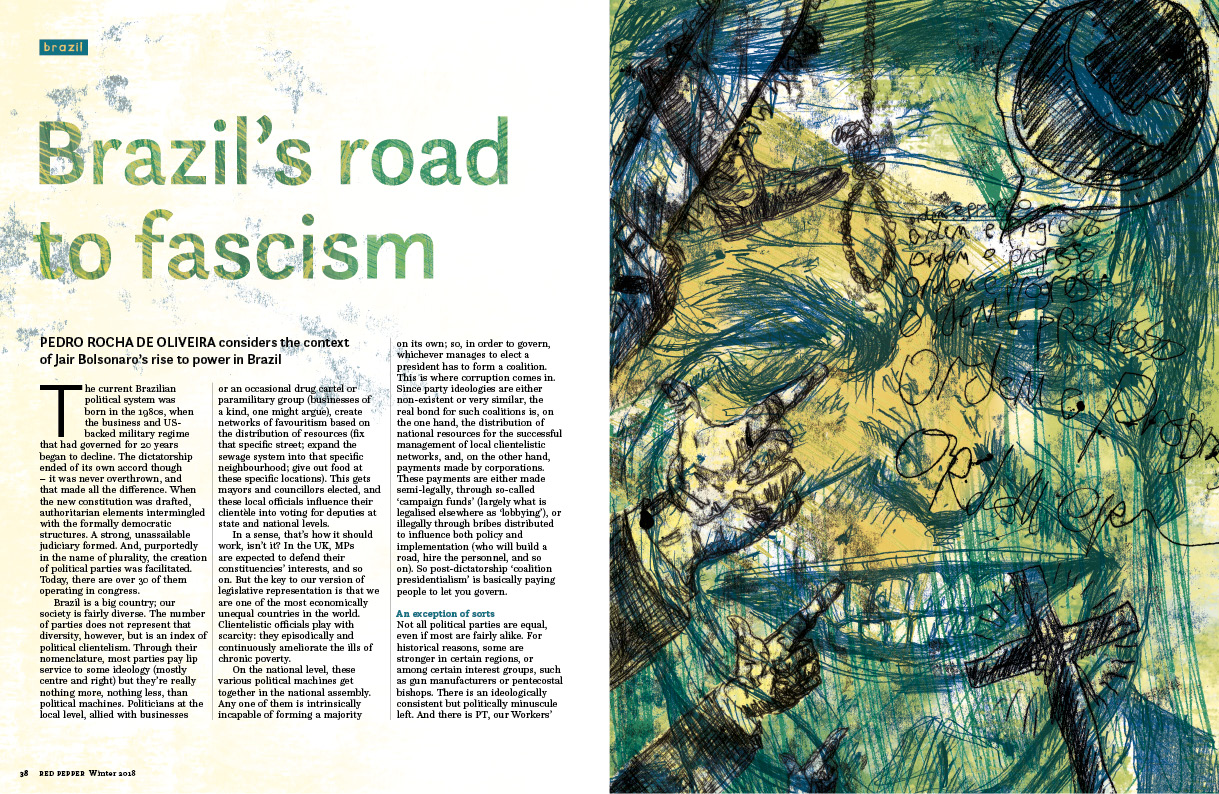 • Brazil's road to fascism: How Bolsonaro rose to power in Brazil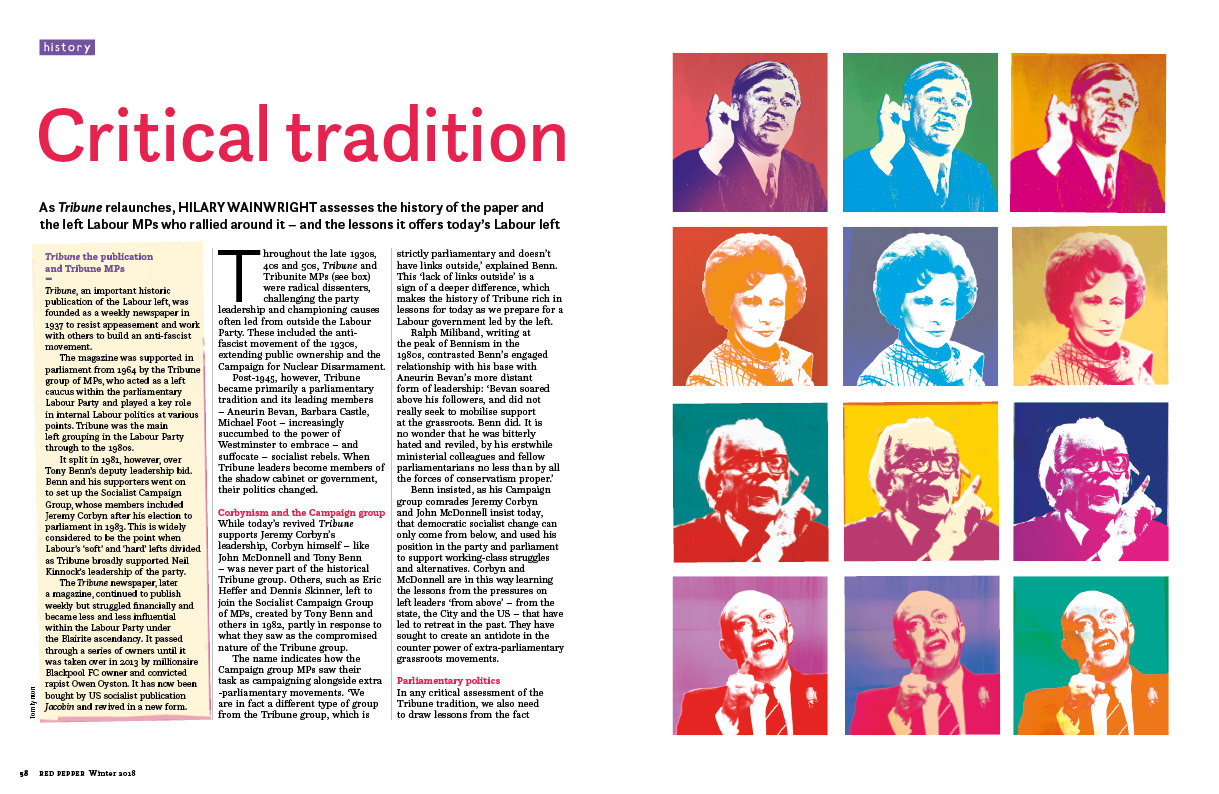 • Critical tradition: Hilary Wainwright on Tribune and the Tribune group
• Escape from fear: Why the 'caravan' migrants are risking it all to leave Honduras
• Four myths about anti-semitism: Tackling a growing threat, from the left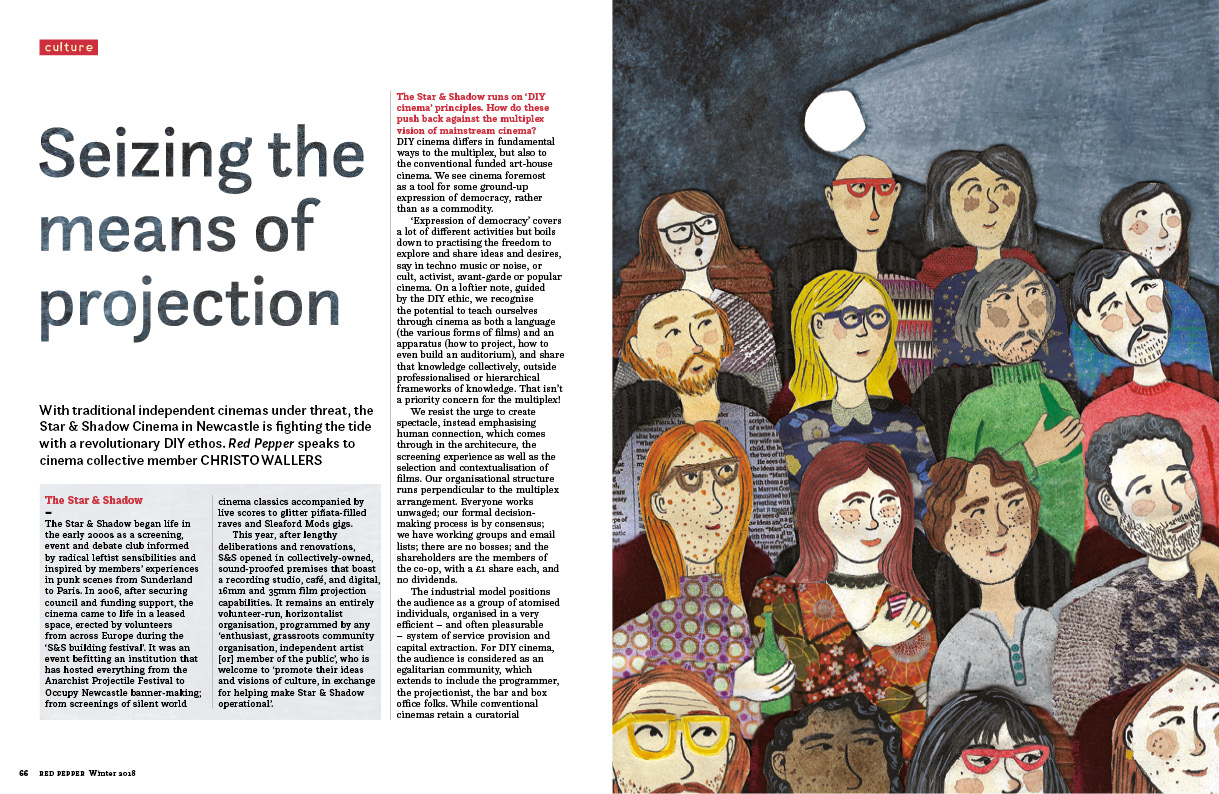 • Seizing the means of projection: Newcastle's DIY independent cinema
• Rout and rebellion: Mike Leigh's Peterloo
• Sorry to Bother You and black revolutionary cultural tradition
… and more.