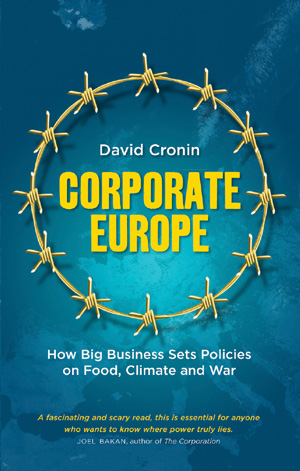 If the Tories win the next election, we will have a referendum on the UK's membership of the European Union by the end of 2017. Thus promised David Cameron in January, in an attempt to counter the Eurosceptics in his own party and the steady rise of UKIP in the polls. Yet there is also a growing left critique of the EU from those concerned at its increasingly anti-democratic, neoliberal agenda. Ask yourself the question: if there was a referendum tomorrow, which way would you vote – and why?
David Cronin has worked in Brussels for the best part of 20 years, and few people are more familiar with EU politics. His latest book explodes once and for all the myth still promulgated by some on the centre left that the institutions of the EU can provide a counterweight to the power of transnational capital. Drawing on a wide range of internal documents and personal interviews, Cronin demonstrates how EU policies are largely dictated by the thousands of corporate lobbyists who swarm around the Belgian capital. One leading British MEP openly admitted that she had signed amendments watering down rules on hedge fund transparency that had been handed to her by the financial industry itself.
Cronin is not the first to expose the European Commission as a puppet show run for the benefit of capital, nor to point out the toxic horror that is the European Central Bank. Crucially, however, he also reveals how our elected representatives in the European parliament are just as amenable to corporate 'persuasion' as the unelected commission, and in some cases even more so. Anyone who believes the Lisbon treaty made the EU more democratic should think again.
Cronin's book confirms the conclusion reached by many of us who have led campaigns against the EU's neoliberal policies over the years – namely, that the heart of the problem lies in the anti-democratic, pro-corporate identity of the European Union itself. True democracy requires us to take power back from Brussels and build participatory forms of popular sovereignty instead.