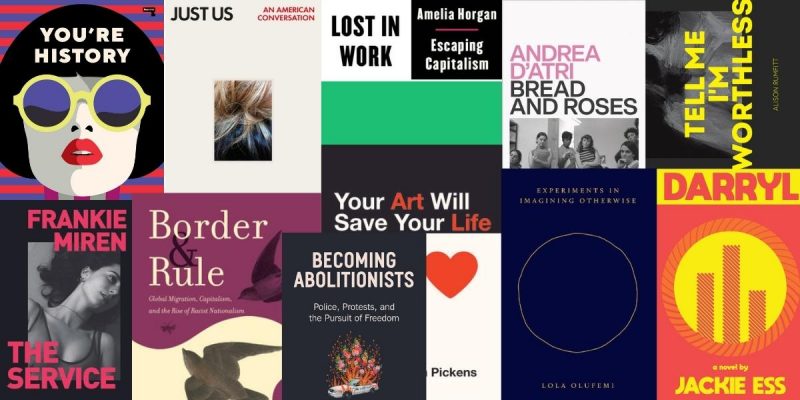 At the Left Book Club, we pride ourselves on reading from across the best in left-wing, radical and independent publishers. It's been an exciting year for books that present new ideas and new connections, so putting together this selection was no easy task. We've approached our list as a gift guide so that there's something for everyone here (including maybe a little self-gifting…!) Political non-fiction is our beat, but we know the quiet time between Christmas and the new year is perfect for devouring a good novel, so we've included a few of the year's outstanding small-press fiction releases here, too. 
You're History: The Twelve Strangest Women in Music, Lesley Chow (Repeater)
Chow refreshingly avoids rehashing biographies in this delicious work of cultural criticism that dives deep into the soundscape and performance of groundbreaking female artists. As Rhian E. Jones wrote in her review for Red Pepper: 'You're History is incisive and engaging, often encouraging interactive reading as its thoughtful critique inspires you to check out for yourself the songs and performances described. Reading this voyage of rediscovery set me thinking anew about similarly strange, striking and subversive women not covered here …' A perfect book for music fans and feminists alike.
Bread and Roses, Andrea D'Atri, translated by Nathaniel Flakin (Pluto Press)
In her journey through the history of feminism, D'Atri traces women's and workers' movements' influence from the French Revolution to Queer Theory, analyzing the divergent paths feminists have woven for their liberation and uncovering where they hit dead ends. A fascinating and important work of Marxist feminist theory and history, Bread and Roses is crucial reading for anyone interested in the socialist roots of the women's movement. 
Darryl, Jackie Ess (Clash Books)
An unusual novel following a transformative few months in the life of a man with a cuckolding fetish as he grapples with his own identity and desires, his relationships and his fears. Although often very funny in its satirical treatment of the eponymous hero, Ess is also gentle and kind – not simply playing Darryl for laughs, but encouraging readers' empathy as he toils through his blind spots and human failings. A brilliant gift for fans of novels like Paul Takes The Form of a Mortal Girl or Detransition, Baby – another top pick of 2021.
Lost in Work, Amelia Horgan (Pluto Press) 
A brilliant exposition on the conditions of modern work, how it got so bad for so many people and how we can fight for better. In the form of the best political theory, Horgan has a proper grasp of history, is granular and smart, engaging and accessible. Lost In Work would be the perfect tonic for a young person in your life who is frustrated with the conditions of their job – or joblessness – and eager to explore, and fight, the forces that produce them. 
The Service, Frankie Miren (Influx)
A fascinating, richly-layered portrait of women's lives today, Miren opens a window into the lives of sex-working women while effectively challenging readers' assumptions. The novel, set in contemporary London, follows the overlapping lives of three women: two sex workers – one a student, one a single mother – and a journalist who campaigns for harsher prostitution laws. Gently satirical in places while still deeply empathetic towards all three central characters, The Service is reminiscent of nineteenth-century novels written by women seeking to challenge unfair restrictions on their lives. A thoughtful present for fans of Sally Rooney, Sheila Heti or Lauren Oyler. 
Experiments in Imagining Otherwise, Lola Olufemi (Hajar Press)
The second book from one of the most interesting and inspiring feminist thinkers working in Britain today, Olufemi here cements her reputation as a powerful literary voice as well as a key political theorist. Experiments In Imagining Otherwise weaves playful poetry, prose, jokes and literary experiments together to push the boundaries of what is possible, in politics, society, culture and our intimate lives. Complemented by a playlist curated by Olufemi, it is an inspiring gift for anyone yearning to imagine and invent the future.
Your Art Will Save Your Life, Beth Pickens (The Feminist Press)
As a teenager visiting the Andy Warhol Museum, Beth Pickens realized the importance of making art. As an adult, she has dedicated her life to empowering working artists. Intimate yet practical, Your Art Will Save Your Life guides artists to build a sustainable practice while navigating the world of MFAs, residencies, and institutional funding. The perfect gift for anyone struggling to access their creativity amid the multiple and varied pressures of life. 
Becoming Abolitionists, Derecka Purnell (Verso)
Interest in building a world without police and prisons has surged over the last few years, and this tightly-argued and thoughtful book is a wonderful addition to the abolitionist canon. Purnell's writing is deeply rooted in organising work, and this book would make an ideal gift for anyone beginning to reimagine, and ready to create, a world beyond policing. 
Just Us: An American Conversation, Claudia Rankine (Penguin)
Mixing poetry, prose and visual art, Rankine grapples with race and racism in the US by narrating a series of encounters with friends and strangers that refuse easy answers, pushing readers through their discomfort to find new perspectives. As Kimberley McIntosh writes in her Red Pepper review: 'Just Us is an intimate book. The conversations require vulnerability and Rankine brings her full self. She acknowledges her own fallibility, dedicating an essay to exploring why she has overlooked the Latino community in her own thinking about racial politics. She hires a fact checker to make sure the narrative she has built is anchored in truth. Memory can be inconsistent and we are all capable of missing things. What then, can the personal illuminate, and where should we position it in the fight for racial justice?' A compelling read for all people willing to examine and unlearn their own prejudices.
Tell Me I'm Worthless, Alison Rumfitt (Cipher)
The haunted house genre has often been used as a way to talk about class, place, womanhood and madness – themes which reoccur here in a distinctly modern form. A queer/trans haunted house novel set in contemporary Brighton that wrestles with fascism, transmisogyny, trauma – while being consistently wry, smart, and insightful – Tell Me I'm Worthless makes an ideal gift for fans of Daphne du Maurier, Sarah Waters and the Brontes. Perfect for dark, gloomy days curled up on the sofa.
Border & Rule, Harsha Walia (Haymarket)
Fearlessly pushing readers to understand 'the migrant crisis' as a crisis of capitalism, colonialism and climate change, Border & Rule is ambitious and internationalist in scope, mapping key connections between rightwing authoritarianism and border violence worldwide. It is an inspiring book that will help readers contextualise the UK Home Office's violent anti-migrant policies – and inspire them to mobilise in their own communities in defence of their migrant neighbours. A book for everyone.
A well-chosen book really is the perfect gift. So, for the voracious reader or the person who has everything already, we of course must finally recommend putting a Left Book Club subscription under the tree. Choose between six or twelve books a year – representing the best in political non-fiction reprinted in iconic, collectable editions – to be sent straight to the recipient's door. Recent LBC prints include Ain't I A Woman by bell hooks, Socialism or Barbarism by Rosa Luxemburg, and Down Girl: The Logic of Misogyny by Kate Manne. As an added treat, every new subscriber in December 2021 will receive a free book from our backlist.
The Left Book Club is a subscription book club for everyone on the Left, organising reading groups, events and publisher partnerships