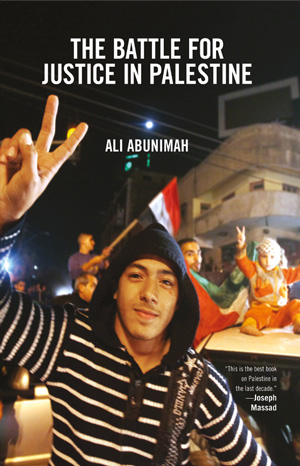 Can Ferguson tell us something about Palestine? Beginning in the United States, Ali Abunimah's The Battle for Justice in Palestine shows us how the experience of African-Americans and other non‑European groups offers critically important lessons to Palestinians. Both share a common experience of racial segregation, militarised policing and mass incarceration, and face 'systemic violence rooted in ideologies of racial and cultural supremacy'.
Palestine has universal significance on several planes. Israel, Abunimah proposes, is both a dystopian model for those forces in the world that would entrench racism and militarised conceptions of security and, simultaneously, a warning for those who value freedom and equality. The horror Israel has inflicted upon Palestinians highlights the need to pursue 'a radically different form of security without walls'.
Abunimah draws lessons from history for the future of Palestine, in particular on transitions in South Africa and Northern Ireland. He argues against those who advise Palestinians to limit their demands to what Israelis are willing to agree to, pointing out that principled struggle for fundamental rights by the ANC – with international support – eventually made inevitable a situation that would have seemed impossible not long before. As Abunimah reminds us, it was never a military triumph but a battle of ideas that ultimately drained apartheid of legitimacy.
The book combines a lengthy critique of the neoliberal policies pushed on Palestinians, benefiting only the US, Israel and a tiny Palestinian elite, with a deconstruction of Zionism in theory and in practice (including its obsession with, and the implications of, the so-called 'demographic threat'). There is also a fascinatingly detailed exposé of Israel's attempts to suppress BDS (boycott, divestment and sanctions) activism and a passionate debunking of Israel's 'pinkwashing' strategy promoting its gay rights policies. This is a uniquely wide‑ranging read.
Abunimah convincingly argues that attempts to criminalise BDS and stifle free speech are an indicator that Palestinians are winning the argument. He gives the crucial insight that beyond dismantling formal ethnic supremacy, 'decolonisation must include comprehensive programmes to redistribute wealth, income and power . . . so that the existing caste system does not persist in pernicious ways', as happened in South Africa. And Abunimah implores us to move beyond 'our obsession with states and borders' towards a focus on rights. While far from easy or inevitable, this book lays out a hopeful vision for the future worth fighting for.