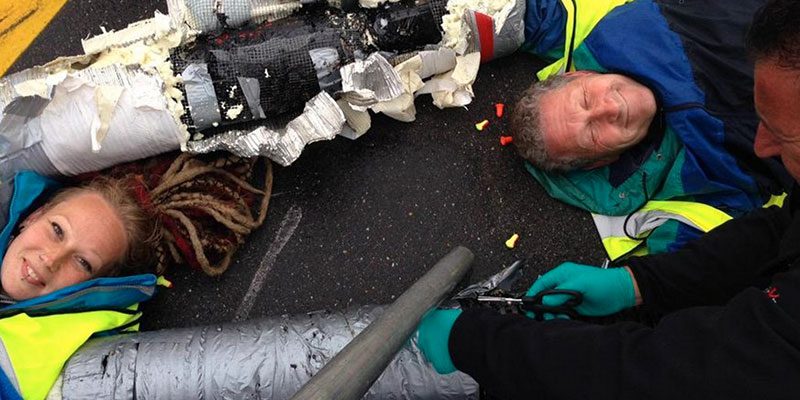 Kara wearing arm tubes on the runway at Heathrow.
Five years after David Cameron unequivocally cancelled plans for a new runway with his now embarrassingly infamous 'No ifs no buts, no third runway' pledge, the £20 million Airport Commission that Cameron commissioned is now published, recommending a new third runway be built at Heathrow.
Within two weeks of the commission's publication, the resistance has sprung into spirited action, with three kick-ass direct actions in a fortnight. The day after the report's release, local resident Neil Keveren blocked the entrance tunnel to the airport with a van draped in a 'Residents Against Expansion' banner. The following week, head of the Airport Commission Howard Davies' address to the £800-a-ticket Runways UK conference was stormed by polar bears wielding a banner reading 'Any New Runway is Just Plane Stupid', just at the moment he said that the decision over airport expansion would be made 'by people in this room' – those people being aviation industry bigwigs.
Pro-expansion astro-turf group Back Heathrow responded to the conference invasion on Twitter with mild disappointment, saying Plane Stupid 'used to be edgy'. Little did they know that the group had plans for something ever so slightly more edgy the following week.
In the wee hours of the morning, I and twelve other Plane Stupid activists stormed Heathrow's northern runway, not long before it was due to go live with carbon-pumping machines taking off for short-haul destinations as unjustifiably close as Newcastle. A tripod draped in white sheets provided a prominent iceberg seat for our polar bear, as we constructed a fence around it and locked on to the fence and tripod feet with D-locks and some pretty hefty arm tubes and waited for the police to rock up. We managed to construct our fortress before an army of police cars and vans, fire engines, and eventually snow ploughs and cherry pickers encircled us to block us off from the media gathering at the fence. Thankfully we were tweeting and livestreaming the whole thing to feed the media shitstorm that ensued.
That media shitstorm, which saw coverage from all the major UK print, online and broadcast outlets to worldwide media outlets as far away as Australia, Russia and the US, has successfully shifted the discourse around airport expansion to include climate change. This is no longer a debate around whether to expand Gatwick or Heathrow. This is now a debate around whether we should even be considering any airport expansion at all when we are already failing to address climate change, failing to meet our already inadequate targets that aim to keep the climate at a level that will still see mass disruption and destruction of our planet. It's runways or a safe climate – we can't have both.
A new runway would also destroy local communities, demolishing the village of Harmondsworth and making life in Sipson, which would sit at the end of the proposed runway, unbearable. This felt very poignant at the moment we were released from Heathrow Police Station, to receive huge hugs and hearty thanks by a local resident for 'helping to protect my village and way of life.'
The real cost
The problem here is not the average family taking an annual holiday, and that is not what is driving the expansion. Nor – despite what the pro-expansion lobby would have you believe – is it even business flights, which have been in decline for 15 years. What is actually driving demand for more runways is wealthy frequent flyers. The 10-15 per cent of the UK population who flew three or more times last year took a whopping 70 per cent of all of UK flights. 57 per cent actually took no flights at all, with the rest taking just one or two. And the strongest predictors of frequent flyer status? A salary of over £115,000 and ownership of a second home abroad. Not only that, the most popular destinations from the areas with the most frequent flyers are tax havens. The facts speak for themselves – this is about a rich minority living luxury lifestyles, while the rest of us pay the real cost.
The Airport Commission gave a list of caveats for Heathrow expansion, including a ban on night flights and legislation against ever building a fourth runway – both of which Heathrow has apparently rejected, showing how little they care about anything but profit. In fact our group of runway blockaders have received lifetime bans from entering the Heathrow complex – unless as 'bona fide' air passengers (for which we'd need written permission) – ie they don't want us anywhere near them, but they'll still take our money.
Yesterday, as a result of our action, 22 flights were cancelled and many more were delayed, saving hundreds of tonnes of carbon. There are much better ways though to save large amounts of carbon being unnecessarily pumped into the atmosphere than invading a runway at 4am and sitting in the rain for hours with your arms inside giant tubes – for example, not building any more runways, at Heathrow or elsewhere.
This is just the start. If we can pull this off in a fortnight, imagine what a united movement can do over the next five months before Cameron makes his final decision. Now is the time for local residents, environmental activists, NGOs, trade unions and anyone who wants a safe climate to come together once more and win this fight again. We did it before. We'll do it again. No ifs, no buts. And, unlike Cameron, we actually mean it.