During the last quarter of the 20th century, as South America became a cold war battlefield, a new phrase entered the lexicon of political terror: 'the disappeared'. Thousands of men and women, and several hundred children, were seized in the street, abducted from their homes or kidnapped from their workplaces, never to be seen again. Some were members of armed guerrilla groups fighting the military juntas that had taken power by overthrowing elected presidents. Most were nonviolent members of trade unions, student organisations, political parties or progressive churches, who believed in democracy and a fairer society. In some cases the crime was simply to be the mother, brother or child of a disappeared dissident, and to want to know what had happened to them.
I was a member of an ecumenical group called the Committee for the Defence of Human Rights in the Southern Cone, known as CLAMOR. It was set up in 1978 under the auspices of the archbishop of São Paulo, Cardinal Paulo Evaristo Arns, to help political exiles and denounce the repression taking place in the region.
It was very similar to the group described in the second chapter of K – 'The Vortex' – and referred to elsewhere.
Human rights groups in Argentina, Chile and other countries began to publish appeals to the authorities for information, accompanied by ever longer lists of those who had disappeared. As we received list after list, we decided that it was important to show that each of the thousands of names referred to an individual – a husband, a daughter, a son. We ended up with a list of more than 7,200 names.
In K, Bernardo Kucinski goes further by turning the anguish of the families of the disappeared into a powerful work of literature. By imagining in detail the day-to-day struggle of one man to find his disappeared daughter, the frustrations and incomprehensions, the occasional short-lived glimmers of hope, he is also telling the story of thousands of others who, against all odds, fear, intimidation, lies and deceit, never gave up the search for their loved ones.
He shows how the burden of proof was shifted by the authorities to the families, who had to prove over and over again that the disappeared person actually existed. The burden of guilt also became theirs, the endless 'ifs' – if I had spoken to so and so, if I had tried this, gone there, done that, maybe I would have found him or her.
Just as remarkably, Bernardo Kucinski also gets into the minds of the armed-struggle protagonists. He recreates the drama of those so deeply involved in the clandestine struggle that dying for the cause became a matter of loyalty rather than a rational choice. He depicts the terror of a young, uneducated woman who ends up working in a house where torturers inflict unimaginable horrors on the disappeared.
He tells the extraordinary – and true – story of a woman who seduced the most powerful man of the political-repression apparatus to save her brother and then, against her will, fell head over heels in love with this monstrous man, with disastrous results.
All 28 chapters of this book, written in sparse, contained language, may be read separately. Together they add up to an extraordinary account of what political repression means for those involved in it, a compelling tale that is hard to put down. It presents one of the best pictures I know of the ways the dictatorships in South America distorted and undermined so many aspects of life, not only for the victims and their families, but for everyone who lived through it. The stories resonate beyond Brazil to every country that has experienced political repression.
---
Extract from 'The Therapy', from K by Bernardo Kucinski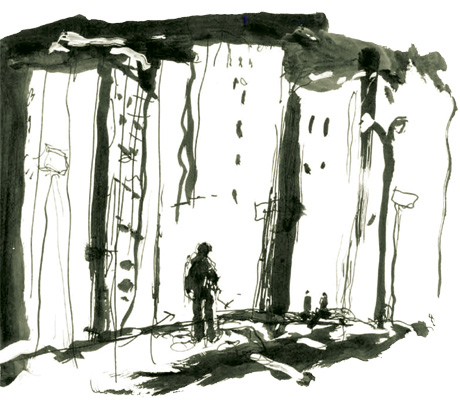 'I looked after the prisoners, I cleaned the cells, I tried to get friendly with them. They were in a terrible state. Their eyes bulging. Trembling. Some of them spoke to themselves. Others seemed to be half dead, they were in a kind of stupor.'
'You said that after a few days the prisoners disappeared. Where did they go?'
The young woman doesn't say anything.
'You were starting to tell me about this other place, right at the bottom.'
Jesuína seems to be in a world of her own, almost talking to herself:
'One day a lovely looking boy arrived, he was thin, delicate looking but, poor lad, one of his legs was bleeding heavily, an enormous wound, it was doing him in. But, instead of treating it, they put salt in the wound . . . He stayed in the cell for three days before they took him downstairs . . . I'll never forget him, so delicate, so handsome, his leg just one huge wound. This one I really tried to help, I wasn't putting it on, but by the end he couldn't even talk any more . . .'
. . .
'Do you know what they did with the prisoners in that room?'
Jesuína didn't seem to hear. The therapist repeats the question more forcefully.
'What did they do to the prisoners down in that room, Jesuína?'
Jesuína puts her head in her hands as if she's trying to stop the question reaching her ears, remains like this for a while, and then pulls her chair close to the therapist and whispers, as if she's telling a secret:
'Once I was alone in the house for almost a whole morning. The PM mineiros [military police] had left early in the pick-up, saying that they'd run out of canvas sacks, that the shop where they bought them was a long way away, that they wouldn't be back for quite a while. Dr Fleury had already left for São Paulo in the early hours of the morning. I was alone, in charge. I went down to the backyard to see for myself. The garage didn't have a window. The door was locked with a chain and padlock. A wooden door. But I could peer in through the hole they'd made in the door for the hosepipe. I saw some butcher's hooks Just as you'd see in any butcher's shop, and a big table and butcher's knives, saws, hammers. It's this that gives me nightmares. I saw pieces of bodies through this hole. Arms. Legs, all cut up. Blood, a lot of blood.'
Jesuína gives a deep moan and begins to cry. Soon her crying takes her over and she starts to have convulsions, slowly slipping from her chair. The therapist catches her before she reaches the floor, pulls her up and hugs her. They both stand there, crying.
Translated by Sue Branford, published by Latin America Bureau. K is available from Central Books