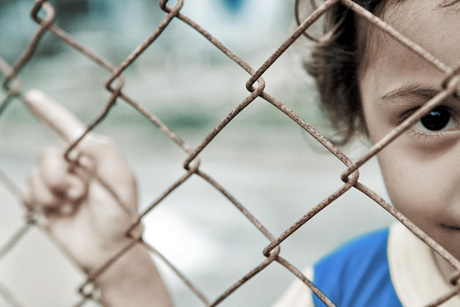 Abolition of child immigration detention appeared close last year when a decade of campaigning by charities, medical practitioners, human rights lawyers and detainees led to Nick Clegg pledging in the coalition agreement to end what he called 'state-sponsored cruelty'. Yet despite this promise, one year on the practice is continuing in a rebranded guise with a new, euphemistically-named 'pre-departure accommodation' centre.
To the shock of many, one of the UK's major children's charities, Barnardo's, has been hired to run welfare and support services at the site. While Barnardo's says it still supports an end to child detention, it has endorsed the facility, with chief executive Anne Marie Carrie claiming government reforms add up to 'a system which has ambitions to be fundamentally different – which seeks to safeguard children and treat families and children with compassion'.
Despite government claims that the centre will be run on a 'care model rather than a secure one', families are to be detained there pending their imminent deportation. The site itself will be surrounded by a 2.5-metre perimeter fence with an extra internal barrier creating a 'buffer' between occupants and the outside world. It is to be 'supervised at all times', with 'routine observation of all parts of the grounds' and will be monitored by HM Inspectorate of Prisons. Families held there may be permitted short day trips during their stay, but only subject to strict supervision and individual risk assessments. Security will be provided by the multinational company G4S.
The facility is intended to hold nine families at a time for up to a week, although the UK Borders Agency says 'stays will normally be limited to 72 hours'. Up to 4,445 children per year could be deported through the centre, according to calculations by Professor Heaven Crawley, director of the Centre for Migration Policy Research and former chief Home Office researcher, who wryly dubbed the site 'not quite the end of detention anyone had in mind'.
Nevertheless Barnardo's, which previously campaigned against child detention, argues its presence is necessary to aid the 'most vulnerable' families who 'desperately need our support'. The charity states it will 'not be afraid to speak out' if detention becomes routine, a 'revolving door' for children, or if its workers 'witness any member of staff not keeping a child's welfare front of mind'.
Yet as former children's commissioner Sir Al Aynsley-Green pointed out in his 2010 review of conditions at Yarl's Wood, detention remains inherently 'harmful to children and never likely to be in their best interests'. In March he further questioned how far Barnardo's, reliant on service fees and grants for 75 per cent of its income, would be able to maintain its independence, asking 'how will they do this when receiving government funding for their services?'
Many warn that the charity's very presence will aid the government's political agenda in falsely claiming it has ended child detention. Emma Gill, spokesperson for the campaign group Medical Justice, says: 'The danger with Barnardo's is they may give the impression to the public that it's stopped, because they've spoken out against it in the past.'
Indeed, many elements of previous child detention policy remain. Raids to arrest families unwilling to move to the centre are still permitted as early as 6.30am according to UKBA operational guidance notes, despite the well-documented traumatic effects of dawn raids. For example, the recent Medical Justice report State Sponsored Cruelty found four out of five children involved with the study who had suffered dawn raids were 'terrified' by the experience, with reactions including 'sobbing, weeping and hiding'.
Child detention doesn't stop there either, with a slip by Green last March revealing that 'high risk' families will still in 'rare' cases be held at Tinsley House detention centre, whose family wing is undergoing a £1 million refurbishment. Not to mention the recent condemnation of Heathrow airport's 24-hour holding centres, exempt from the requirement to end child detention, as 'degrading' and 'unacceptable on grounds of humanity' by government watchdogs.
With asylum seekers under increasing pressure as a result of changes to legal aid, a government committed to speeding up deportations and the countries of Europe increasingly determined to close their doors to refugees, hopes of a new 'compassionate' migration system may have to wait.