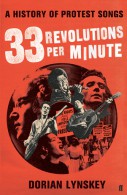 At 843 pages, Dorian Lynskey's massive history of the popular protest song cannot be taken lightly, anywhere. Starting in 1939 with Billie Holiday's genre-defining 'Strange Fruit' and going right up to the 2009 campaign to stop an X-Factor Christmas number one by supplanting it with Rage Against The Machine, the book brings together a huge amount of research to document – at great length – the story of an art-form that might be in decline.
While the book weighs a ton, the analysis is not overly heavy. Lynskey's preferred style of protest song informs and questions rather than preaches, and he has taken the same approach in his work.
This is not a catalogue of all protest songs (although a reasonable list is provided as an appendix). Rather, it takes particular songs (33 of them, to make the vinyl reference in the title work) as an entry point to explain the social, political and artistic surroundings in which they were written.
In fact, the actual songs – which include 'This Land Is Your Land' by Woody Guthrie, 'Say It Loud – I'm Black And I'm Proud' by James Brown, 'War' by Edwin Starr, 'White Riot' by the Clash, 'Fight The Power' by Public Enemy, and 'American Idiot' by Green Day – are not analysed much at all. It would have been nice to have had more quotations from the lyrics. Instead, most of the book is devoted to the context, revealing some fascinating details and connections but perhaps with a little too much time spent explaining, for example, who was who in Greenwich Village in the early 1960s. The back stories are so dense that they create continuity between the disparate and potentially unrelated chapters as old faces reappear. Pete Seeger pops up all over the place.
The recurring theme is the tension between art and the political message. Lynskey's fascination with this dynamic leads him to some unexpected song choices. The archetypal protest anthem, Bob Dylan's 'The Times They Are a-Changin', is passed over in favour of his sinister 'Masters of War'. Lynskey stretches the definition of a protest song to encompass social commentary, such as Stevie Wonder's 'Living For The City', and even songs with a vague political theme like 'Pride (In The Name Of Love)' by U2 (an incongruous choice for a chapter that is more a discussion about Live Aid and Bruce Springsteen's 'Born In The USA').
Some cuts can't be classed as protest songs at all, like Manic Street Preachers' 'Of Walking Abortion', which has been included as a kind of anti-Christ to a traditional rallying call. Lynskey must have known that in choosing 33 songs he was bound to provoke objections, so his idiosyncratic choices are a bold move. Readers wanting to learn about pure political campaigning songs might be frustrated.
But there is a broad sweep of musical styles, with selections from soul, funk, hip hop and dance as well as folk, rock and punk, and the inclusion of less mainstream artists from Chile, Nigeria and Jamaica.
Some chapters are like self-contained essays. There is an interesting discussion about John Lennon's politics, loosely framed around 'Give Peace A Chance' but in fact tracing his development from the Beatles' facile 1968 effort 'Revolution' (which compares poorly with the Stones' 'Street Fighting Man') to Lennon's association with Tariq Ali and the anti-war movement. Lynskey doesn't give Lennon an easy ride, portraying his left-wing turn as a passing phase that produced 'some of the worst protest songs ever recorded'.
As to the effectiveness of musical politics, Lynskey writes: 'If any protest song can be said to have had a tangible effect on its subject matter it is 'Nelson Mandela' [by The Special AKA].' But the less tangible impact of protest songs – their ability to undermine the cultural acceptability of a war or racism, as well as their capacity to inspire individuals into political action – is difficult to measure.
As the book nears its end the question becomes: what happened to the great protest song? Lynskey compares musical responses to the Vietnam and Iraq wars. There were actually fairly few Vietnam songs, he argues, but they nevertheless had a huge cultural impact that none of the numerous Iraq war songs came close to achieving.
'I began this book intending to write a history of a still vital form of music. I finished it wondering if I had instead composed a eulogy,' Lynskey concludes. His explanation for the decline weaves together the rise of the bland pop star with the shift to Facebook activism: in his view both lack risk and struggle. But to stay true to his thesis that protest songs are created when the context demands them, Lynskey could have qualified this conclusion – after all, the times can change very quickly, and protest songs don't take long to write.