First published 1978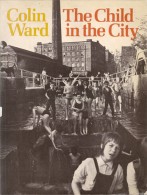 The Child in the City explores the many ways that children experience their urban environment. It looks at why some children are isolated from the streets and cities in which they live and why others can use them as spaces for play and discovery. In particular, the book looks at how children have reacted and adapted to the move from inner cities to suburbs, commuter towns and council estates in the 20th century. It asks whether it is true, as many people believe, that something has been lost in the relationship between the child and the modern city and considers how we might make this relationship a more rewarding relationship for both the child and the city.
The author, Colin Ward, worked as a town planner and architect and was perhaps the most famous English anarchist of the 20th century. Anarchism for Ward was not something to be left for the future. Instead it was 'a description of a mode of human organisation, rooted in the experience of everyday life, which operates side by side with, and in spite of, the dominant authoritarian trends of our society.' This drove his interest in self-organised clubs and leisure activities such as youth clubs, allotments, holiday camps, squats and co-operatives.
His dual interest in anarchism and architecture encouraged his interest in the way that ordinary people renovated or designed their homes and communities. It also drove his desire for welfare and housing policies that encouraged people's participation rather than their alienation from their local areas. Ward's central philosophy was the idea that people find fulfillment through personal responsibility and involvement. He therefore advocated polices that allowed people to work on a small scale – for example, citing a street where people received grants to re-do their houses as preferable to the mass slum clearances of inner city areas.
The Child in the City is one of Colin Ward's most beautiful and influential studies. The work is an evocative exploration of how children's street culture, work, and games provide the child with a variety of sensual and spatial experiences. These new experiences and the ability to move around and explore are shown to be an important part of a child's education. Or, in Ward's own words: 'The city is in itself an environmental education, and can be used to provide one, whether we are thinking of learning through the city, learning about the city, learning to use the city, to control the city or to change the city.'
In particular, the book looks at the ways that children interact with their social and built environments differently and at times in opposition to adults. For example, a derelict space might be an eyesore for an adult but become an exciting adventure playground in the eyes of a child. The way that children adapt their built environments for a private world of play is something that is celebrated in the book. However, when children come to be at war with adults and their environment, the book suggests that this is a result of their lack of involvement in society and in the city.
Ward spent much of his life seeking ways of involving people in their communities and campaigning for council tenants to have more control over their own housing. He was a fierce critic of the way that state housing was distributed – for example, poorer families would often be placed together in one estate. He also spoke out against the government's policy of mass development, which meant that large estates were built without regard to existing centres of community and with few amenities. He argued that mass building projects directed by the state left little room for individual preference, involvement and responsibility and amounted to a paternalistic politics.
In today's political climate it is interesting to return to a writer who took a libertarian approach to welfare and housing policy. Today, the debate on what kind of welfare provision should be provided has been replaced with a debate about whether welfare should exist at all. It is worth revisiting writers like Colin Ward so that we remember to prioritise happiness, self-respect and personal involvement in politics, housing and communities rather than simply an improved material standard of living.
Mostly this book is a classic, however, because Colin Ward is such an enjoyable writer to read and the book is full of children's personal stories. The exuberant ways in which children have adapted their environments for play comes across in his prose and cannot help but bring back accompanying memories from childhood. Educationalists, architects, social policy makers and libertarians would benefit from reading a book that looks at ways to bring children out from a culture of poverty through life in the city, in the 'school without walls'.