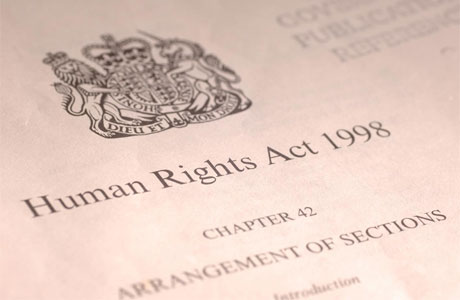 On 17 November 2000, two adults with learning difficulties were at home in their council flat. For 15 months, they had been victimised by a gang of teenagers. The council had visited their home, concluding that they were unsafe. But nothing was done; they were left unprotected. And on that night, the gang broke into their house and held them prisoner for three days. They were both physically and sexually abused.
Their compensation claims were rejected by the English courts. But this summer, they forced the council into a settlement. It was only because of the European Court of Human Rights that they were able to do so.
To many people in Britain, this would come as a surprise. After a sustained campaign in the right-wing media, 'human rights' has become almost a dirty term. Portrayed as arcane, illogical and bureaucratic, they are seen as the enemy of common sense and friend only of illegal immigrants and paedophiles.
Attacking the Human Rights Act has been a personal priority for David Cameron, who has repeatedly pledged to replace it with a 'British bill of rights'. An independent commission was set up by the government in March with the aim of investigating how this might work in practice.
Before we embrace Cameron's proposal, it might do good to consider how our human rights law actually works in practice.
Legal revolution
The Human Rights Act 1998 was nothing short of a legal revolution. It incorporated the European Convention on Human Rights (ECHR) directly into British law. For the first time, you could argue human rights cases in British courts; public bodies could be taken to court for breaches of human rights; and if a law was passed in violation of the ECHR, judges could issue a 'declaration of incompatibility'.
Since then, the limits of the Act have been most consistently tested by the 'war on terror' – control orders, evidence gained through torture, detention without charge, trials where the case against the suspect is not fully declared. In many of these cases the outcome has been a messy compromise that satisfies neither supporters of the government's security measures nor campaigners against them. But the only way to challenge such increasingly authoritarian government measures was the Human Rights Act.
Its impact doesn't stop with terrorism cases. The effect of the ECHR stretches way beyond what you might consider their original remit. For example, it is Article 2, guaranteeing the right to life, that means family members must be involved in an inquest when someone dies in the state's custody. Article 5 (the right to liberty) forces police to explain the reason for an arrest in a language a suspect can understand. And Article 3 (freedom from inhuman and degrading treatment) means a council must pay out compensation when it fails to protect vulnerable adults from a gang.
Since 2000, when the act came into force, our domestic law has developed in accordance with human rights principles. In housing law, they hold up evictions. In employment law, they have greatly expanded protection from discrimination. Even the freedom of the press to report on matters of public interest is based in human rights law.
Years of progress
These same rights might be protected by a British bill of rights. But the ECHR represents a document that has been unpacked by years of legal argument and judicial scrutiny, so that the full implications of each article can be enforced. And many of these implications are highly inconvenient for those in power. It is not unusual for Britain to be found in violation of the convention.
Wipe the slate clean with a new bill of rights, and you start all over again. Years of progress would be lost.
Perhaps more importantly, the Human Rights Act handed power to the courts. Backed up by the judges in Strasbourg, for the first time in English history they have had the authority to question parliament and the government of the day. And over the past decade, with the government progressively hacking away at civil liberties, this authority has been more important than ever.
In many ways the Human Rights Act is a British bill of rights. And unlike the one Cameron proposes, it gives someone independent of government the power to enforce it.
This is the real reason the Human Rights Act angers him: it places limits on what he can do. A new bill of rights would give him a free hand to redefine these limits. And that's not the sort of freedom we need the law to be defending.