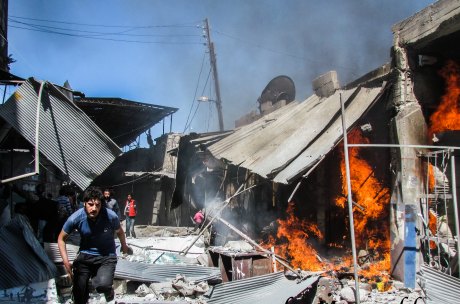 Photo by Masoud Bashora
We're on the wind-swept balcony of a marble apartment on the edge of Reyhanli. Beyond us are fields, scrub and then Syria. Over 4.25 million Syrians have fled their homes in two years. This includes 1.6 million outside the country and the remainder internally displaced. Just two weeks ago two car bombs exploded in the town centre, right in front of the Police station and town hall, killing at least 46 and injuring hundreds.
Syrian refugees – who are estimated to have swollen the town's population from 90,000 to 120,000 – became targets for local Turkish residents angry at immigration and blaming them for the blasts. Syrian cars were torched and smashed and refugees attacked. Some NGOs and charities shut their doors and went underground.
A siege mentality settled over the stunned town. Our friend Masoud*, from Aleppo is telling us how he came to be here, remembering the first days of the revolution. It had started with text messages between students at the University of Aleppo. They would meet at a particular square at a set time, and observe. Who was here from the security services, who sent to spy and contain? And who was on their side. Could we find each other? A chosen comrade would kick it off, by watching and watching, before shouting at the right moment, 'Allahuakbar!' And they would reveal themselves, chanting freedom slogans, that multiplied, a hundred and then a thousand human microphones amplifying desire.
Our friend recalls the time when there were hundreds gathered in the main square. The person whose turn it was to shout cleared his throat and did it, only to be pounced upon by a dozen police officers who began to beat him ferociously. The disparate soon-to-be-a-crowd began to find their voice. 'Get Off Him! Get Off Him! Get Off Him!' they began to shout, one, two, ten, fifty, one hundred, one thousand, voices surged at the officers. Nobody touched them. The officers backed off. The sheer will and power of the crowd urging and urging and defending their comrade had forced back the regime. Masoud laughs and shakes his head at the memory. 'It was incredible' he says.
The demonstrations continued in Aleppo and the University became a battleground. All public spaces became full of possibility, threats, tensions but to Masoud, a new beauty, the beauty of people finding each other. He became known. His name went on a list. Wanted, he went into hiding. Now the security services were coming to his home, threatening his mother, his sisters, his brothers. If we can't have you we will take them was the message. We'll hurt you through them, we'll stop you through them.
All he could do was just keep running…
Masoud ended up leaving, his ID card burning in his pocket at every junction where a checkpoint could loom ahead. He managed to hide until the last hurdle and then there was no turning back. Assad soldiers were beckoning him to come forward. Cold sweat. His name, his name. It was a rebel attack on a target behind him that saved him. The gunfire and grenades tore the soldiers' attention away from him. They began to mobilise and cordon off the area, halting all movement, regrouping, talking fast over radios, withdrawing to go back to their counterparts. This was his chance to move and he took it, stealing through. Others did the same, including someone zooming through in a car. A tank was coming round the corner. Masoud shouted at the car to 'Stop!' but it was mown down fast, crushed under the treads. Screaming and blood; shelling and crashes erupting all around him. All he could do was just keep running…
He ended up in Reyhanli, caring for the wounded. If he couldn't fight then he'd heal. And there was no shortage of the sick and injured streaming through the border. Broken bodies, some caught in the crossfire, some deliberately targeted by regime snipers. Others were fighters. The traumatic injuries were such that it wasn't just the large volume of emergency cases that needed attention – but the complicated months of intensive therapy needed to get people back on the mend. These were not patients you could just discharge and let go – they had no homes to go back to, they had no legs to walk on, some no mouths to speak with, no eyes, no arms, they all needed long-term rehabilitation. A second to lose mobility, months or years to regain it.
*Some names have been changed
This is the second part of a six day serialization of Ewa's trip to Syria, It accompanies Jon Sack's beautiful reportage from the Syrian border in comic form: The Physio.
Ewa Jasiewicz is a journalist and campaigner. She is part of a small international solidarity initiative working to support grassroots groups in Syria. Please support these organisations:
Karama Bus children's relief project in Kafranbel