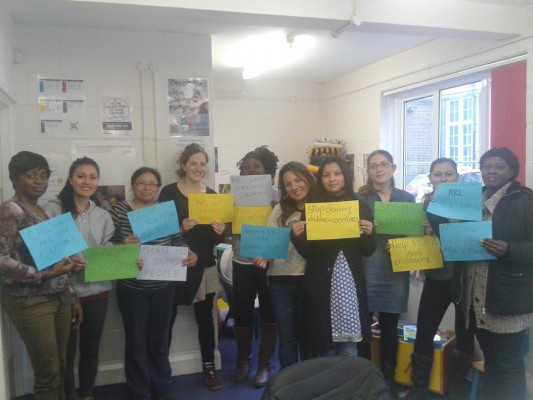 'We want to see big changes in our children's future, but changes for the better. We are talking about our children's futures and the environment they grow up in.'
On Monday 23rd February Labour- run Haringey Council pushed through £70 million worth of cuts- including £24million cuts to Health and Social care in the borough. These cuts could see up to 50% of the London borough's childrens services close.
We are ESOL mums mothers from Haringey children's centres campaigning to save the children's centres- nurseries, family clinics, family learning, stay and play, computer classes and ESOL classes. The centres give us advice and help us with tax, benefits and housing. If a family is evicted the children's centre helps find accommodation.
Children's centres are important for mums and children- we trust them and they help with education. We want to see the learning system change and progress in a good way. We need better access to education, for example, childcare courses or anything so that mums can easily get a job. Instead of cuts, we should have more courses with creches.
Council cuts will leave families in trouble in the future and parents will be more isolated. People will lose their jobs, ESOL classes, creches, nurseries and playgrounds.
The power we have is mother power.  To stop the cuts in Haringey, we have written letters to the council, made posters, used Twitter, shared leaflets, and gone to demonstrations. The government must listen to us.
To find out more information: @haringeymums
Red Pepper are running the People's Agenda series in the run up to the General Election, demonstrating the breadth of exciting grassroots political activity in the UK.
Join Red Pepper for our free event on 22 April in London- Beyond the Ballot Box: Ways we can Win.