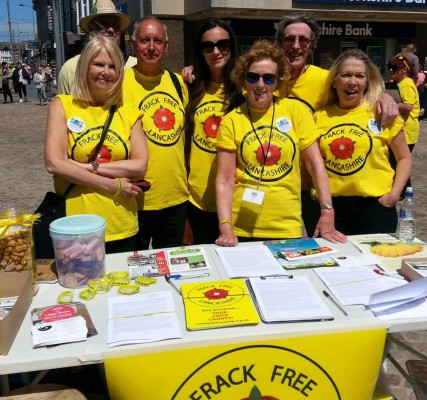 'What power do we have against a government hell bent on making shale happen and where local opinion counts for nothing? We have people! Lots of lovely inspiring people, who are prepared to fight for the health and well being of future generations.'
Residents Action on Fylde Fracking (RAFF) believes that shale gas and oil and indeed all fossil fuels should stay in the ground. We want to see all subsidies, tax breaks and the like, promised by the government to the UK's nascent shale industry, be allocated instead to the renewable energy sector. The Fylde is based in Lancashire, which has a proud history of manufacturing and we'd like to these skills transferred into making Lancashire the manufacturing centre for the renewable sector.
RAFF is in its fourth year of campaigning and was one of the UK's first anti-fracking groups. Since our formation in 2011 we have held numerous public meetings, alerting residents to the consequences of fracking. Our strategy is to encourage individuals to do their own research into shale gas. "Google fracking" is a common theme of our meetings. We work with other local groups under the Frack Free Lancashire umbrella, as well as NGOs such as Frack Off, Friends of the Earth and Greenpeace.
To find out more about RAFF check out: www.stopfyldefracking.org.uk // @RAFF_group
Join Red Pepper for our free event on 22 April in London- Beyond the Ballot Box: Ways we can Win.