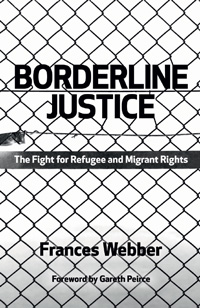 One of the prevailing myths of the debased public debate on immigration and asylum is the notion that the UK has become a 'soft touch' for migrants seeking to take advantage of British generosity by unfairly accessing benefits or 'abusing' the asylum system.
Frances Webber gives a very different perspective. Until her retirement in 2008, Webber was an immigration and human rights barrister, and Borderline Justice is the distillation of nearly three decades experience representing migrants and refugees in the UK courts. The result is an illuminating and disturbing insight into the dire consequences of the legal 'paper walls' that successive governments have erected to 'protect our borders'.
Webber exposes in painstaking detail the often vindictive and punitive treatment of refugees and asylum seekers by the Home Office, and the bureaucratic hurdles that men and women fleeing violence and persecution must circumvent to remain in the UK.
Among the most useful aspects of Webber's book are its chalk-face insights into the way that immigration courts work, many of which draw on cases that she herself has fought or lost. She describes the ways the Home Office moves the legal goalposts in order to reject asylum claims, and the often racist assumptions that underpin the prevailing 'culture of disbelief' in the UK asylum system.
For Webber, these battles in the courts are part of an ongoing struggle for 'marginal justice, justice which constantly disappears and constantly has to be fought for'.
This is not a notion that is likely to get much traction in the mainstream media. But for those who want to know what the UK 'soft touch' really means, and wish to challenge the lies and myths that are routinely peddled by politicians and the right-wing press, this short, densely packed book is an indispensable tool.