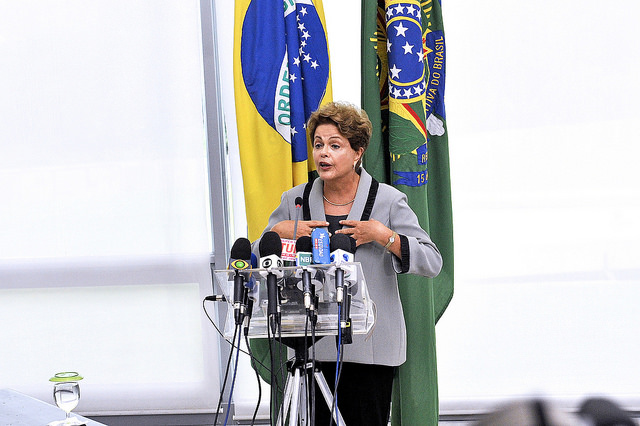 Brazilian President Dilma Rousseff. Photo: Senado Federal/Flikr
'In a world where commodities, capital, information and ideas circulate freely, it is absurd to prevent the free movement of people. We have received…men and women from all over the world…we now receive refugees with open arms.'
Angela Merkel? No, these are the words of Brazil's President Dilma Rousseff, in her speech at the opening of the UN's General Assembly in September. She described Brazil as 'a country formed by refugees. We have received Syrians, Haitians, men and women from all over the world.' Two days previously, Rousseff had spoken at a meeting with the heads of state of the G4 nations (Brazil, Germany, India and Japan). She said that Brazil's Syrian population was 'very expressive; they live, work and raise their children, they have relatives and friends [in Brazil].'
According to data from the National Committee for Refugees, as of August this year, Brazil had taken in 2077 Syrians since 2011, when the conflict in Syria began – more than any other country in the Americas with the exception of Canada. Following Rousseff's speech at the UN, and sadly with no end in sight to the conflict, this number is likely to increase in the coming months. Political scientist Oliver Stuenkel of the Getúlio Vargas Foundation in São Paulo suggests that Brazil should accept as many as 50,000 refugees. '[Brazil] being a country of 200 million inhabitants, it would be easy to absorb 50,000 people,' he said, in an interview with BBC Brasil. 'Receiving these refugees could also generate a positive impact in the medium and long term on the national economy.'
Stuenkel also calls on Brazil and other developing countries to use the crisis to raise their global standing. 'As the world is facing its most severe refugee crisis since World War II, there has never been a better moment to assume leadership on the issue to strengthen their case for a more prominent global role,' he wrote in The New York Times. Indeed, after the kind of multilateral, proactive internationalism that characterised the foreign policy of the Lula years, Brazil under Rousseff has retreated from the global stage. The current refugee crisis is a chance for Brazil to assert itself once again, and set a positive example in its willingness to tackle an urgent global humanitarian question—in contrast to the European countries (with the exception of Germany and perhaps Sweden) and relatively wealthy Middle Eastern countries such as Saudi Arabia, Qatar and Kuwait.
However, the experience of the Haitians—the other immigrant group that Rousseff mentioned in her speech at the UN—shows that just providing visas is not enough. Haitians have been coming to Brazil in significant numbers since 2010, when their country was devastated by an earthquake that killed an estimated 220,000 people, according to Haitian government figures. Lula was quick to offer Brazilian support, sending R$375 million in aid and putting the Brazilian armed forces at the head of a major international relief operation.
Encouraged by this show of solidarity, and also by the perception that Brazil was a country on the up economically, the first wave of Haitian immigrants began to enter Brazil through the Amazon in 2010, in what has become a multi-million dollar human trafficking route. Typically, they fly to Ecuador, which doesn't request a visa for entry, travel through Peru illegally, and then enter Brazil in the state of Acre near the triple frontier with Bolivia. 'The route is very difficult, very high-risk,' says Javier Celedon, of the Centro Zanmi in Belo Horizonte, a non-profit organization offering Portuguese classes, legal representation and other services to Haitians and other immigrants in the city. 'They have to walk hours through the jungle with all their baggage, cross rivers, and so on. They are also at risk of being caught by the police. There is often violence, theft. They lose many of their belongings.'
Since 2012, in order to discourage Haitians from resorting to this route, Brazil has offered them the chance to apply for a humanitarian visa at the embassy in Port-au-Prince and fly directly to Brazil, an arrangement renewed for another year in August. But this has done little to stop the flow of migrants arriving through the Amazon. Demand is far higher than the capacity of embassy staff to process all applications and there is already a long waiting list. Many of the Haitians coming to Brazil have also flown from third countries (such as the Dominican Republic) and could therefore not apply for a visa in Port-au-Prince. Furthermore, although the humanitarian visa was created exclusively for Haitians who go through the official channels, in practice, Haitians who arrive illegally in Brazil are being granted permission to stay and work, which amounts to much the same thing.
Upon arrival in Brazil, most of the Haitians stop in border towns in Acre, while they wait for their documents to be processed. The Acre government opened a shelter for them in an old school gymnasium in the town of Brasileia in 2012, but the constant flow of immigrants arriving through the Amazon meant that it became overcrowded and conditions quickly deteriorated. In March 2014, the shelter, which had capacity for a few hundred people at most, was home to 1900 immigrants. With growing tensions with the local population, insufficient support from the Federal Government, and the immigrants living in increasingly squalid conditions, the Acre government closed the shelter. Some of the occupants were sent to state capital Rio Branco, while others went to Porto Velho in neighbouring Rondônia. They were then bussed across the country to São Paulo, a move that provoked an angry response from the government there, claiming it had not been notified of the decision. Eloisa Arruda, São Paulo's justice secretary, called Acre governor Tião Viana 'irresponsible' and even accused him of facilitating slave labour.
The row between Acre and São Paulo was a clear indication of the Federal Government's failure to take the lead on this issue. Immigration is a phenomenon that affects multiple states, and it requires a federal response. In the case of the Haitians, while São Paulo is the most popular destination (currently home to around 20% of the 56,000 Haitians estimated to live in Brazil by the Ministry of Justice), they have travelled to cities all over the country, mostly in the richer south and southeast. Zanmi estimate that there are around 2000 Haitians in Greater Belo Horizonte. 'Minas Gerais is one of the strongest states in Brazil, economically speaking,' says Celedon. 'This is fundamental, because the immigrants want jobs which best enable them to survive in the country and send money back to their families in Haiti.'
However, they tend to have limited options in the labour market. Some of the Haitians have relevant experience and qualifications, but as their qualifications require validation in Brazil—a costly and bureaucratic process—in general they are limited to badly paid manual labour in factories, textile workshops and particularly on building sites. There have even been reports in the media of bosses travelling to Acre to recruit Haitians for work and choosing the men according to the size of their calves—a tradition with origins in the Brazilian slave trade.
Syrian refugees have also been struggling with the labyrinthine bureaucracy in Brazil, a problem detrimental not only to the refugees themselves, but also to the Brazilian economy. 'Syria was a relatively well developed economy before being devastated by this conflict,' said Stuenkel. 'The refugees are qualified people, who can contribute at a moment when the Brazilian economy needs enterprising people with the ability to innovate.' However, unless Brazil does more to facilitate their integration and open doors for them professionally, much human capital is likely to go to waste.
There have also been suggestions that increased immigration to Brazil could produce an upsurge in xenophobia. In August, six Haitians were shot outside the Igreja Nossa Senhora de Paz in São Paulo in a drive-by shooting. One of the attackers yelled 'Haitian!' out of a car window before opening fire. In the same month, a swastika appeared on the wall of the cemetery in Nova Odessa in the state of São Paulo alongside the words, in English, 'BACK TO HAITI.' Even amongst those who do not endorse such extreme sentiments, many Brazilians feel that the country is not equipped to receive migrants and refugees; that the country should concentrate on resolving its own problems before it offers assistance to foreigners.
'This more closed mentality is very common, that Brazil should look after itself first,' says Celedon. Zanmi is trying to combat this through workshops in schools on hospitality. Unfortunately though, such attitudes are only likely to increase given the recent deterioration of the Brazilian economy. The country is in recession and unemployment has begun to increase, a problem that affects the Haitians and other immigrants particularly badly. The construction sector has lost 385,000 formal jobs in the last year, more than a third of all jobs lost in Brazil during this period. With work becoming increasingly scarce, and many of the immigrants unable to afford the airfare back to their home countries, they will have to find other sources of income or face destitution.
Nevertheless, the strength of the feeling that Brazil is unprepared to receive refugees and immigrants is all the more reason why the government needs to do more to integrate them. Haitians, Syrians and other refugees and immigrants will continue to come to Brazil, not only because of the government's friendly rhetoric, but more importantly, because the reasons for which they are leaving their home countries persist. And the more Brazilians read stories in the media of immigrants living in poor and unsanitary conditions, the greater the perception that Brazil is incapable of receiving immigrants will be, the greater the feeling that Brazil should just look out for number one.
This would be a great shame, because Brazil's history means that it is arguably better equipped than many other countries to receive foreigners fleeing poverty and conflict. While just 0.3% of the current Brazilian population were born outside the country, just two or three generations ago the figure was far higher. 'Brazil was created by different migratory flows,' says Celedon. 'It is an immigrant country.' It has a long history of providing sanctuary to those fleeing poverty and conflict, not least from the Middle East. There are 9 million Brazilians of Arab ancestry—the largest concentration of Arabs outside the Arab world, and the Brazilian government estimates that around four million Brazilians are of Syrian origin. Migration to Brazil in recent decades has been negligible compared to North America, Western Europe and Australia; it's about time this country of immigrants remembered its origins and rose to the challenge posed by the refugee crisis of today.