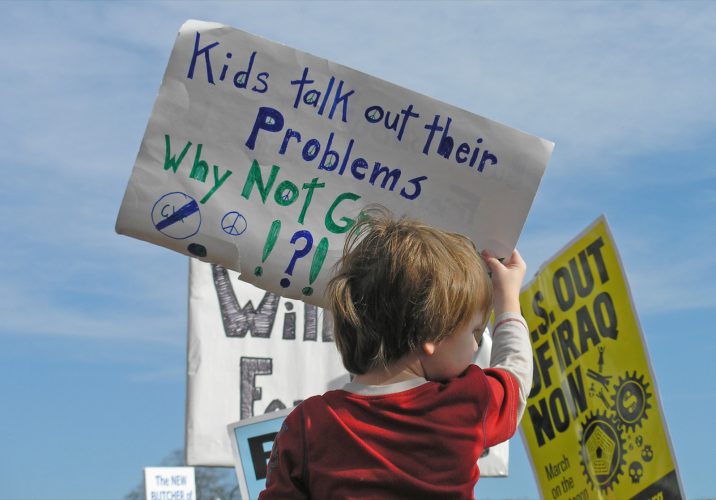 Photo: Flickr/Holly
Several weeks ago, I had a phone conversation with a fellow activist who spoke about her and her friend's idea to launch a forum to increase the involvement of children, parents and carers in Momentum and the Labour party. Under the name 'Momentum Kids,' there are two basic premises: that childcare facilities are essential for ensuring equal access to political events, and that children should be provided with space to explore and articulate their views about the world. As a mum who works in the field of international development with a child protection agency both of these points resonated on many levels: I was reassured by that fact that childcare was being taken seriously and I was inspired by a vision of child participation.
But as soon as the press got hold of the story, the internet burst its seams with articles and 'Twiterrati' gems of insight ridiculing, insulting and degrading the organisers of this initiative. We have been compared to fundamentalist indoctrinators such as the Hitler Youth and Isis, and have been accused of raising an army of 'Tiny Trots.' What is it about Momentum Kids that has provoked such a strong reaction?
On the one hand, the childcare facilities component of the initiative, while not very controversial, were hinted at as being a bit of a luxury. 'Well, no one forced you to have kids, so why are you harping on about your need for childcare?' Which, as anyone who has tried to juggle Peppa Pig on a smartphone, granola bars, crayons and a writhing, grunting toddler in the middle of a heated debate about strategies to challenge council estate demolitions will know, is a narrow and shallow critique. For those of us, most often women but sometimes men too, who seek to balance raising a family with a job and some sort of activism, it is frustrating to feel that, even in the 21st century, people need reminding that childcare is a legitimate requirement for many folks' meaningful participation in public political fora.
On the other hand, the political activism element of Momentum Kids was subject to severe and largely disproportionate criticism. The word 'brainwashing' was thrown around willy nilly. The truth, as you might expect, is far less sinister.
A child's right to participate
Momentum Kids launched during The World Transformed, the festival of art, culture and politics that took place in Liverpool at the same time as the Labour Party Conference. In addition to crèche services, activities for children were organised: art was used as a medium to ask children to express their views about what they would change in their environment, their world and themselves. In the run up to the event, these activities were reported on in the media with plenty of 'reds-under-the-bed' fervour, the assumption being that anyone who identifies as being 'on the left' would not be able to devise an activity that seek to engage children in political expression other than indoctrinating them with quotes from Marx and Engels. However, afterwards, there was hardly a whisper in the press because the children's activities unfolded without the dreaded brainwashing or subliminal messaging and, in the end, children articulating simple and beautiful ideas about their worlds are rarely media-worthy.
In the wake of The World Transformed, Momentum Kids organisers have defied the demonisation and continue to think about engaging ways to uphold children's right to have their voices heard in decisions that affect their lives. Incidentally, this simple idea does not emerge, as is assumed, from the quirky ideas of the 'loony left.' Rather, it is enshrined in international law: Article 12 of the United Nations Convention on the Rights of the Child focuses on the child's right to participation. UNICEF maintains that:
'The principle affirms that children are full-fledged persons who have the right to express their views in all matters affecting them and requires that those views be heard and given due weight in accordance with the child's age and maturity. It recognises the potential of children to enrich decision-making processes, to share perspectives and to participate as citizens and actors of change.'
When reflecting back on the media storm around Momentum Kids back in September, what the knee-jerk internet hysteria had quickly tarnished as an act of brainwashing and radicalisation is, in fact, one of the core principles of the most widely ratified international human rights instrument on the planet. The principle of child participation informs policymaking and professional practice with children across a whole range of fields, from education and health to protection and justice, worldwide.
In line with the importance of participation, the content and style of Momentum Kids events will never involve spoon-feeding leftist doctrine to youngsters, nor will it fulfil the widely-parroted assumption that Momentum supporters are all just one heaving mass supporting uncritical zombie-like appreciation of Corbyn. Nor will it involve distributing pages out of the Jeremy Corbyn colouring book and a box of Crayola only in various shades of red.
What Momentum Kids does seek to do is to create a space where children are encouraged to have a place to listen to each other; to challenge yet respect opinions that are different from their own; to learn skills around communication, self-esteem and leadership that can enable them to share their views about their world and their hopes for change in that world.
The fact that Momentum Kids' work is being framed as something more insidious and dark reveals a deeper issue: the assumption that childhood is or should be removed or separate from politics. Although the ground-breaking feminist adage that 'the personal is political' is now decades old, there are still considerable attempts to frame the domestic sphere, and especially the act of parenting, as a place where power relations and agency do not exist.
A process of becoming
Parenting or child rearing is defined as 'the process of promoting and supporting the physical, emotional, social, financial, and intellectual development of a child from infancy to adulthood.' Immense responsibility and complexity comes with attempting to ensure that, on one hand, a child can rely on you for care and survival, but on the other hand, must be equipped as an 'adult-to-be.' More than simple 'beings,' children are 'becomings.' Therefore, while they require care and protection they also require the support to grow and develop, to make mistakes, to challenge authority, to take risks. In the end, the role of the parent/carer should be to ensure that the child is not only happy but also resilient: that s/he is equipped with the knowledge and skills to cope with adversity and retrieve a sense of balance and purpose after a period of hardship.
Every day, parents/carers make choices about what is more or less important in the process of rearing their children. And, the act of choosing, of prioritising one type of behaviour, one narrative, about the meaning of life over another, one way of being in the world, is a political act because it is a process of subject-creation.
Sometimes these choices are explicit, such as teaching a child particular religious values. In these cases, the parent /carer is taking their moral, ethical and philosophical interpretations of the world, what they see as being 'good,' and attempting to instil these values into their adult-to-be.
Yet far more often than the explicit choices parents/carers make based on their conscious value judgments, they, alongside other family members and the wider community, play active roles in the politicisation of children by unquestioningly and subconsciously reproducing common-sensical social patterns around gender, class, consumption, environmental awareness in subtle yet systematic ways. For example, most people would not question the act of putting a dress on a female 2 year old. However, if a parent/carer were to put a dress on a male 2 year old, this is seen as abnormal, and would immediately be viewed as a subversive political act. This reveals the extent to which the gendered ideas of femininity are so deeply engrained they become ubiquitous and unquestionable. And this is precisely where the act of power is the most insidious and the political moment is most acute: when it is taken as a de-facto truth, when the subjective act proclaims itself as objective, as invisible and self-evidently 'true.' By that logic, putting a dress on a two year old girl is equally, if not more, political than putting a dress on a two year old boy.
Similarly, is raising a child to eat meat a political act? If you eat meat, then this may not even be a question that you ask yourself, because it is part of your normalcy. However, raising a child as a vegetarian is often perceived as a more radical, political act than its opposite. But both indicate certain convictions about the world, and both are equally political.
So, when, as parents/carers, we honestly examine what we do, not a single one of us can claim to be 'neutral' in the way we raise our children. We're constantly shaping our children and their expectations of the world. Not solely, of course, but as a primary source of both love and authority, parents/carers define what is possible and impossible in their children's process of becoming.
Therefore, to revisit the feminists, it seems reasonable to conclude that 'parenting is political.'
In terms of the convictions of Momentum Kids, the location of the political is not, as so many have suggested, in indoctrination with leftist philosophy or ideas. Rather, the radical political position is that children have an important role to play in shaping the future, and that they should be encouraged and equipped to do so by engaging with familiarity and encountering difference; by being exposed to new ideas and encouraged to challenge them; by daring to speak and insisting that they be heard. All of which is, in fact, far more dangerous and subversive than screening a video of the illustrated Communist Manifesto.