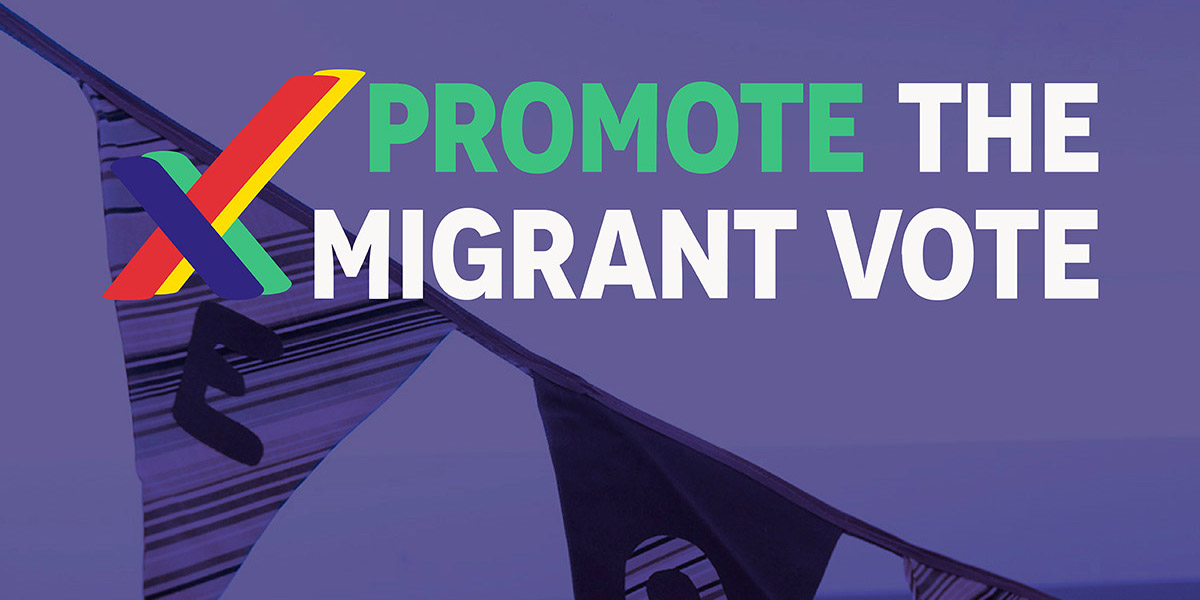 Red Pepper needs your support. Donate now.
———————————————
So it begins again: the party manifestos, the analysis, the campaigning, the tactics, the lobbying, fake news, real news, promises, policies… Pundits and pollsters are not going out of business yet.
Over the past few years, opportunities to practice democracy through voting have come thick and fast. And yet somehow many of us feel increasingly anxious, unheard, unrepresented, unequal and worried about our future and that of our children. Many people are cynical about elections, yet they have never seemed so important.
In the overwhelming uncertainty about what will happen on December 12, one thing is certain: this election – as every other election in living memory – will be about immigration.
It is essential that migrants who are eligible to vote are encouraged to register and to ensure their voices and the issues they care about are reflected in our national politics. Because at election time and across the political spectrum, we, the immigrants, quickly become everybody's favourite villain.
Immigrants already in the UK will be demonised and dehumanised, blamed wrongly for all sorts of problems: from the NHS crisis to housing shortages; from unemployment to failings in social care; from rising crime to further economic deterioration of areas 'left behind'. These media myths have created the 'legitimate concern' that today characterises the public debate on migration.
Our communities also have legitimate concerns about what life is like in Britain for migrants, refugees, and people who identify as BAME (Black, Asian or Minority Ethnic). Our legitimate concerns are for the safety of our families in a context of rising hate crime, for our friends and family under threat of detention and deportation. We are legitimately concerned about the way public services have become hostile not helpful for so many, and the uncertainty that continues to hover over our fellow citizens from the EU. We have legitimate concern for people denied life-saving treatment because they have been expressly targeted by hostile environment policies. We see the inhumanity of the Windrush scandal. Our legitimate concern is for rights-based immigration reform based on the shared values of democracy and fairness.
These concerns and values are shared across our country. They echo broader demands in our society for a healthy democracy, functioning public services and a culture of solidarity, mutual support and inclusion. This election needs to be about what unites us, not what divides us. It needs to be about fighting for the interests of migrants and society at large.
Empowering voters
Despite their importance, elections can be alienating and disempowering for many members of migrant communities. The issues affecting us – our legitimate concerns – do not appear in the national conversation. We sense that our interests are not being represented by politicians or in the press. Absence of representation can translate into fear, frustration, anger and apathy. Some of our community members also struggle to participate due to language barriers and a lack of familiarity with the democratic process. Precarious immigration status may have distanced our members from civic activity and excluded them from participation.
For us at Migrants Organise, elections bring a number of challenges. Our aim is to facilitate meaningful integration and in 2014 we began working with our member communities to ensure that all those who can, register and vote. Since this year's election was announced, more than 2 million new voters overall have registered, but there is still a long way to go. Recently released Electoral Commission statistics show that one in four Black and Asian people are not registered to vote. Many Commonwealth citizens, from Asia, Africa and the Caribbean, are unaware that they are eligible to vote.
Participation is not a challenge limited to immigrant communities. In the 2015 General Election, a third of all registered voters, 16 million people, did not cast their ballot. In the 2016 EU referendum, 13 million people chose to forgo their democratic right. We need to make sure that our voices are heard at this election, and that all our communities are mobilised to register and vote.
Migrants Organise and the Promote Migrant Vote Coalition are organising a number of public events to facilitate voter registration and encourage conversations amongst all people who share our values of justice, fairness, rule of law, equality and human rights. We are organising to become a resource for all those who share our belief that we must make democracy work, and make Britain welcoming, for all people.
A lot is at stake in this election, and we invite anyone who would like to mobilise around elections in their community to get in touch with us via Twitter (@MigrantVote), and to visit the #PromoteMigrantVote website for action toolkit and information in multiple languages.
Zrinka Bralo is Chief Executive of Migrants Organise – a grassroots organising platform where refugees and migrants organise for dignity and justice.
———————————————
Red Pepper is prioritising voices from the grassroots during the election campaign season. Help us to support local journalists by donating to our crowdfunder now.