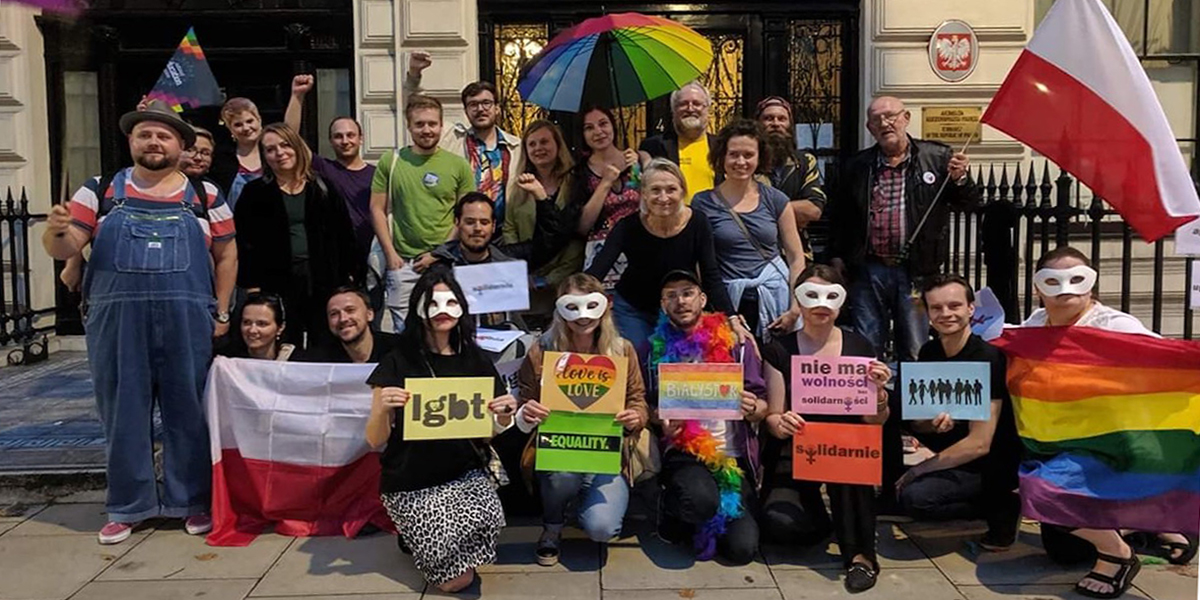 Solidarity protest outside the Polish Embassy in London. Photo: M. Oldziejewska.
On 13 October, Polish citizens will cast their votes in the country's 2019 parliamentary elections. With almost a million Poles living in the UK and a national population of just 37 million, the diaspora vote could have a significant impact on results. Yet, even though political events in Poland are hotly debated among the diaspora, apathy remains high. Only 54,460 UK-based Poles voted in the 2015 parliamentary elections. In this year's European Parliament elections, which were marked by confusion regarding voters' registration procedure and widespread allegations of EU citizens' disenfranchisement in the UK, turnout dropped to less than 2 per cent.
With Brexit looming on the horizon, many Poles in the UK are now facing an uncertain future. For some, Brexit has also accentuated feelings of powerlessness to influence political decisions that impact our lives, as well as fears that EU citizens are not welcome and that our rights will not be protected if we stay in the UK. We may soon find ourselves returning, by choice or by force, to our country of origin. There, many of us may encounter a dramatically different social and political reality than we knew previously.
That is why, as a coalition of pro-democracy, feminist organisers, we are aiming to mobilise all Polish voters in the UK by raising awareness about the registration process and voting options in a simple, accessible way. Our campaign, Polonia Glosuje (The Polish Diaspora Votes), aims to create a platform for political empowerment. We are not backing any particular parties, but are focused on promoting informed decisions and democratic participation. Our Facebook page tells people how to register to vote and provides important instructions for election day, as well as listing how political parties compare in their policies and promises. We want to provide information whether voters are concerned about air quality, doctor shortages, education access, welfare funding, or anything else.
We are also flyering locations across and outside of London in an effort to get out the vote. The deadline for online voter registration is 10 October. The online registration is a simple process that requires only a valid Polish passport or identification card, a national Polish (PESEL) identification number, and a permanent address. People can also register in person, by mail or over the phone with their local Polish consulate. Registered voters can then cast their ballot in person at one of 320 overseas voting stations. Under the Polish system, diaspora votes are counted for Warsaw, the most significant electoral district for all parties.
Action beyond the vote
The current social and political reality in Poland demands our attention, action and votes. Over the past four years, we have seen an assault on women's bodies, including a bill proposing a near-total ban on abortion and campaigns against sexual education and the availability of contraception. We have seen democratic institutions attacked, including threats to the independent judiciary. Migrants, especially Muslims, have been scapegoated. LGBTQ+ people have been dubbed by politicians and clergy as Poland's 'rainbow disease' in smear campaigns aided by the right-wing press.
Events in Poland are not happening in isolation. Polish youth can be seen wearing US President Trump-supporting 'Make America Great Again' caps, and we know that right-wing US groups are pouring thousands of dollars into militant anti-choice groups in Poland. The same campaign funding, strategies, and slogans used to demonise abortion clinics in the US have also seeped into Ireland, the UK, El Salvador, and many other countries. The toxic masculinity and nationalism we have seen on the rise in Austria, Hungary and Italy, are also present on the streets of Polish cities and towns, from Warsaw to Lublin to Bialystok. White supremacists and neo-fascists from all corners of Europe, including the UK, have been in attendance at Polish far-right events. As outside interests seek to steer Polish voters, Poles in the diaspora have an opportunity, and a right, to shape our national politics.
As outside interests seek to steer Polish voters, Poles in the diaspora have an opportunity to shape our national politics
Elections are not the only source of political change, of course, and activists and organisers have not been standing idly by until now. In 2016, women in Poland organised one of the largest and most creative protests in Poland post-1989: in October that year, an estimated 6 million Polish women went on strike in defence of our reproductive rights. We put our bodies on the line to protect our basic human rights. In July 2017, we demonstrated for days and weeks without a pause in an effort to keep Poland's courts free from politicised interference. This summer, the Polish diaspora built solidarity with towns in Poland experiencing a spike in homophobic attacks. After all, social change requires a multitude of tactics, from raising a fist in protest to casting a ballot. In the process of getting out the vote, we hope to forge new links and spark new conversations within the diaspora – a body politic with a potentially significant influence in both Poland and the UK.
With the prospect of Brexit in the UK and a nationalist agenda on the rise in Poland, the stakes are too high to sit this election out. We have to make our voices heard as voters who have a stake in where our country, and where the world is heading.
Learn more about Polonia Glosuje at https://www.facebook.com/poloniaglosuje2019.
Marzena Zukowska is an organiser with the Polish feminist group Dziewuchy Londyn and with the Radical Communicators Network. Magda Oldziejewska is a organiser with the Polish reproductive rights group FARSA and with the London Feminist Library.