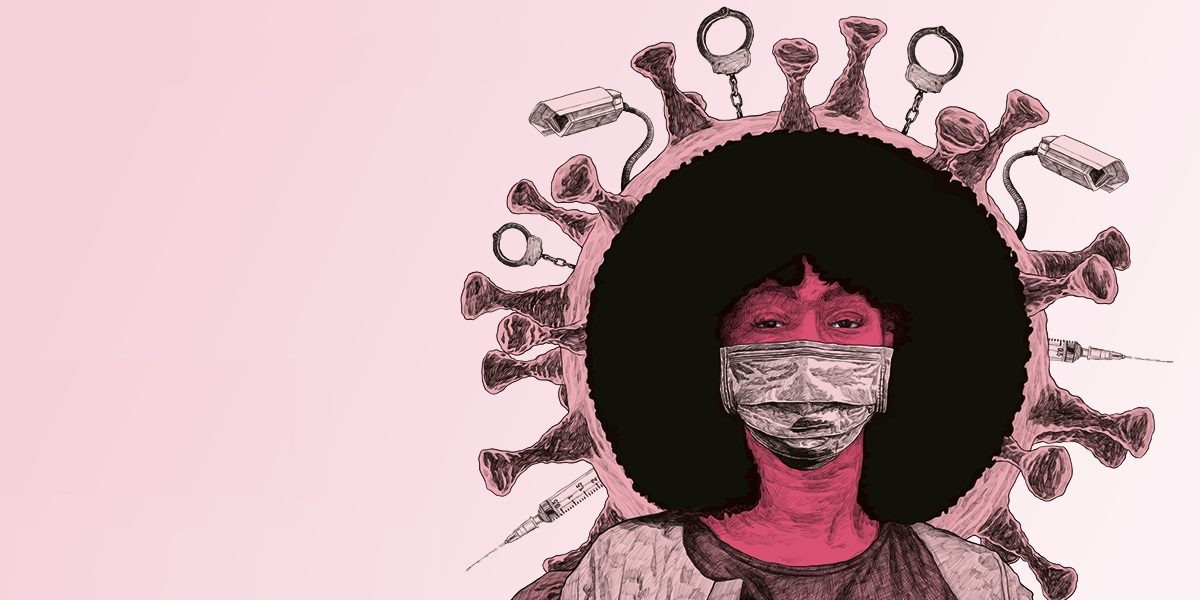 The majority of those who die at the hands of the police in France are not white. Yet, in the ideology of the French state, race doesn't exist. There are only 'equal' citizens, allowing for no recognition of the difference in treatment between white and non-white people.
This uncritical approach to French values is also found in the country's traditional antiracism movement. Embodied by organisations such as SOS Racisme, linked to the Socialist Party, the focus is on raising awareness and promoting assimilation. But this strategy doesn't actively fight racism. In some cases it even feeds it, such as when SOS Racisme supported the banning of the veil in schools and workplaces in the name of French republican values. France's multiple Islamophobic laws have often been supported by leaders across the political spectrum. In a country known for its social disputes, racism under the banner of French universalism acts as a strong point of unity.
New anti-racism
A new and growing antiracist movement in France is challenging that status quo, by asserting that racism is a structural element of the state. It argues that the republican ideology whitewashes racist policies and the nation's imperialist history. This movement is embodied in a myriad of collectives, from no border and refugee activists to anti Islamophobia campaigners, black and LGBT activists, intersectional feminists and families of victims of police brutality.
'Actually, we are the real left,' says Youcef Brakni, a member of the Justice for Adama campaign, set up after the death of Adama Traoré, a Malian-French man who died in custody after being restrained by police. His death triggered large protests against police brutality. This anti-colonial form of anti-racism has remained on the margins of the left, with many groups and activists being critical of the mainstream left's narrowly economistic approach. Asian, Arab and black activists are now playing a key role in changing this.
Every action and protest breaches the republican universalist consensus
The work of family members of victims of police violence – among them Wissam el Yamni, Lamine Dieng, Angelo Garand and Babcar Gaye – has paved the way for a more radical criticism of police brutality in French society as a whole. Recent years have seen a radicalisation of anti-austerity movements and frequent clashes with the police. Many of these demonstrators were dissatisfied with the weakness of the traditional left parties and trade unions. Campaigns led by family members of victims of police violence managed to intervene politically, and shared lessons from efforts against police repression and brutality.
Uniting struggles
Contrary to the impression given by international coverage, leaders of the gilets jaunes (yellow vests) protests such as Eric Drouet recognised early on that multi-racial working-class suburbs (the banlieues) have firsthand experience of police brutality. The gilets jaunes called for antiracist demonstrations and organised solidarity with the banlieues through anti-repression support groups. The Covid crisis has exacerbated exploitation and oppressions, as well as social anger. Despite the strictly-enforced lockdown, medics staged sit-ins against austerity measures and youth from the banlieues rioted amid police harassment and racist killings. Ten thousand undocumented migrant workers (sans-papiers) defied the ban and demonstrated in central Paris in late May. Days later, a hundred thousand protested to demand justice for Adama.
Like George Floyd – and Eric Garner before him – Adama Traoré's last words were 'I can't breathe'. The success of these movements has marked a turning point in the state's denial of racism. There is now both a historical opportunity for families of victims of police brutality to obtain justice and convict police officers, and a growing opposition to the state by a new generation of angry young people. The French government tried to contain public discussion on racism by presenting it as an issue unique to the US and denying its existence in France. However, stories of racist police practices and incidents soon made their way into the press – forcing the minister of the interior to declare that there must be a zero tolerance policy for racist police officers.
Racism and class
Not only is the government now on the defensive over its own racism, but the recognition of systematic racism has been understood to be central to uniting the working class. Racism is not isolated from the question of class: a recent study showed evidence of much higher rates of excess mortality from Covid-19 among immigrant workers. According to the study, the majority of the victims are frontline workers living in small flats in dense areas, who face long commutes to work on public transport. This scientific evidence is helping to shift public opinion, and class consciousness is being strengthened through anti-racist activism.
Undocumented migrant workers and non-white trade unionists in key sectors including health, transport, and cleaning services are organising pickets and leading union activism. The growth of anti-racist politics has influenced feminist and LGBT movements too. The last Pride march, organised by queer black, and trans migrant associations, gathered 7,000 people on the streets. Every action and protest breaches the republican universalist consensus, which has historically paralysed dissent, revealing a decaying nationalist unity. It is now in the hands of a more united and assertive working class to build a global response that is inclusive of race, gender and class struggles.
Selma Oumari is a French-Algerian activist based in Paris. Illustration by David Istvan
This article originally appeared in issue #229 'No Return to Normal'. Subscribe today to get your copy and support fearless, independent media