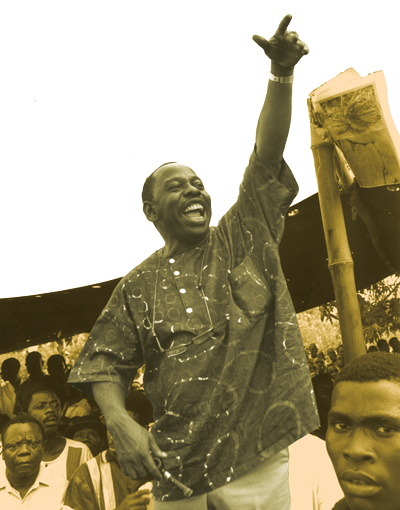 The 20th anniversary of the execution of Ken Saro-Wiwa and the Ogoni Nine this November led me to reflect on their legacy for global environmental movements. Central to the struggle in Nigeria is the interconnection between people and land. The Ogoni protest movement was never about the preservation of 'pristine' environments. It was for the human right to live in relationship with the land, to breathe clean air, drink safe water, cultivate fertile soils.
Saro-Wiwa demonstrated that the fight for self-determination as Ogoni people was intimately connected to ensuring the basic rights of people were respected – the right to lands, culture, resources and the economic development of those resources. Now, more than ever, people are calling for the social and the ecological to be connected in our environmental struggles. The flurry of excitement surrounding Naomi Klein's This Changes Everything brought this question to the fore after years of attempts to sideline it.
However, we still see actions, like those to preserve the Arctic, that use images of glittering ice, polar bears and barren plains, that sideline the people who have lived for generations with and from wildlife and now have modern lifestyles connected to the land. The right to eat traditional foods, to breathe clean air, goes hand in hand with protecting the environment in many of the struggles of indigenous and land-based peoples. These are the communities that are holding the line against the colonial powers that sought to take away the right to self-determination. These are the people who are kicking big oil off their lands.
How do we create an international movement that connects our social and ecological agenda when the UK environmental movement still relies on notions of 'nature' in which people are separate from the environment? Where the movement is filled with predominantly white, middle-class folks? Where questions about colonialism, racism and self-determination are sidelined?
For the past 10 years I have worked with some of the most inspiring souls in the environmental justice movement. These are people who have taken on international trade organisations, the largest energy corporations, governments and toxic legacies on the planet. The communities resisting the Alberta tar sands development in Canada are fighting not only to stop climate change but also for the right to self-determination, to decide how tar sands will be extracted and how revenue will be shared. They are also fighting to be able to hunt and trap, gather berries and hold ceremonies that honour the past while being part of forging innovative renewable energy projects that future generations will be proud of.
A long path
I don't know the exact steps to create a global movement that connects the ecological and social. This will not be figured out in a single campaign workshop – it's a long path. But it begins with refocusing our movement on people on the frontlines of the land rights struggle and those already affected by climate change.
It starts with a personal commitment to understand our own tangled relationships with power, to begin to see that the kinds of decisions we make are informed by the racist, colonial and ecocidal systems we have inherited. We need to question our own culture of activism. Which speakers are filling our events? Who are we excluding? Why are the heroes of our stories so often 'white saviours'? What makes us think that as soon as we step into an environmental meeting we have scraped the dirt off our shoes and left it at the door?
We are not going to 'solve' the climate crisis – it's already happening. We are in the time of massive change and we sure as hell won't be able to respond with the same systems of oppression and ways of thinking that created it. Over the past few years I have stood with community members from across the globe inside corporate headquarters armed with financial arguments, legal definitions and moral calls, but when community members speak truth to Shell about the lived impacts of their projects, there is no argument; it cuts through the grease of their slick PR.
This is a truth that is deeper than a 'single' campaign. It is the law of human rights, it is a call for us to respond face to face. It doesn't mean we abandon all we are doing. We keep pushing for divestment, keep creating audacious actions and lobbying those in power. But we also need to ask ourselves, who are we doing it with? Are we working with the people who've lived these experiences? Do our campaigns empower frontline communities or could it this actually undo generations of work?
Critical reflection
I hope those of us in the UK environmental movement can honour the memory of Ken Saro-Wiwa by making a personal commitment to critical reflection and finding creative ways to make a connection with the lands and peoples at the heart of our movements. It's painful to be the one to speak about racism in the environmental movement. It can isolate you. Challenging organisations and funders to deepen their commitment to frontline struggles can threaten your job, your funding streams and your relationships with colleagues. But it's not a choice anymore, it is imperative. We need to find ways to work in solidarity, even if it makes things slower and more complicated, and to challenge NGOs to connect the ecological and social.
If we are going to get serious about keeping resources in the ground and forging new paths towards energy democracy we need to change the way we think. There is plenty of inspiration we can take in this task from what Gulf coast activist Derrick Evans calls the 'walking encyclopedias' across the globe, the people who hold first-hand knowledge of their struggles.
I spent time with Ken Henshaw from Social Action in Nigeria, to learn even more about the life and struggle of the Ogoni Nine, and also heard some reflections from Eriel Deranger on the frontlines of the resistance in the Alberta tar sands. It is not academic articles or arguments that have guided me most but listening to the people for whom everything was always connected. This struggle is for land and life. Keep remembering, keep listening, keep learning.
Suzanne Dhaliwal is a member of Platform and co-founder of the UK Tar Sands Network.