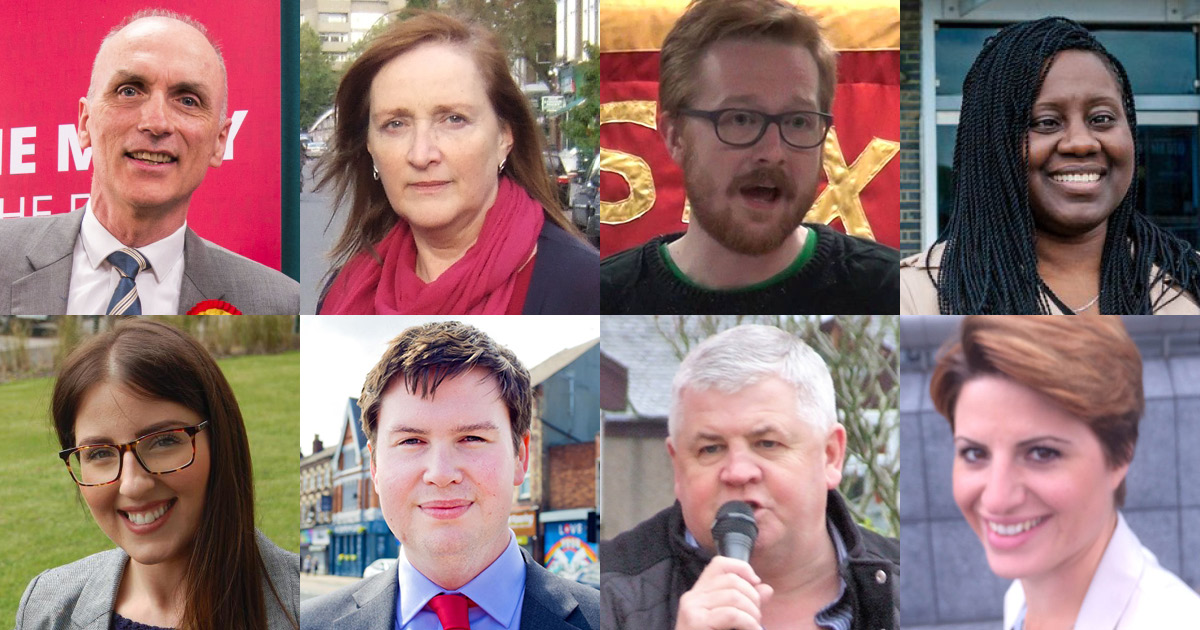 With Labour's general election candidates appointed by the executive committee rather than democratically selected by party members at constituency level, there was no guarantee that the new crop of MPs would automatically be supporters of the Corbyn leadership. Happily, though, some of those elected should help to strengthen the hand of the left within the parliamentary party. Here's a quick lowdown on some of the best prospects:
Chris Williamson
Previously an MP from 2010-2015, the re-election of Chris Williamson in Derby North is richly deserved. An early and outspoken defender of Corbyn on social media (and contributor to Red Pepper!) Chris was not put off by the sneering and provocations of right-wingers like John Woodcock or Tom Harris. Unlike most MPs, as a former brickie, Chris has experience of life as a manual worker, and hasn't forgotten his roots. An active supporter of animal rights and himself a vegan, Chris takes environmental issues very seriously, and is a passionate supporter of the trade union movement.
Emma Dent Coad
Few new MPs can have been thrown into the deep end to an extent greater than the new MP for Kensington, whose constituents include the victims and survivors of the Grenfell Tower fire. Perhaps because the powers-that-be never dreamed that Corbyn's Labour could ever win a seat like Kensington, the NEC was prepared to select a candidate who wrote in praise of Jeremy at the time of last year's leadership coup, 'He chooses content over form, and nuance over bombast, doggedly bringing the debate back to issues and leaving the empty rhetoric to others. He is honest. He has values. He's a socialist.'
Lloyd Russell-Moyle
Labour's campaigning in Brighton and Hove tended to polarise along left-right lines, with Progress supporters helping out Blairite Peter Kyle in Hove, while most of the left concentrated on backing local councillor Lloyd in Kemptown (where Green candidate Davy Jones agreed to tactically step aside). Lloyd helped run events to promote John McDonnell's candidature for Labour leader long before 2015 and has been involved in building the left in Brighton despite the dirty tricks campaign which saw the District Labour Party suspended. As a former constituency secretary, Lloyd will see the importance of democratising the party's structures to give members a real influence.
Marsha de Cordova
Few 'experts' gave much of a chance to the Labour candidate in Battersea, who had to overturn a Tory majority of nearly 8,000. Marsha, the newly elected MP, is a black woman with a visual impairment who has served as a councillor in Lambeth, been active in her union, Unite, and was elected from the left slate to the London regional board. Support from the unions was a key part of her 'people-powered' election campaign, and Marsha is determined to fight against discrimination in the workplace.
Laura Pidcock
The North East of England has provided some key vocal left-wing MPs, and former county councillor Laura Pidcock might add to the Geordie/Mackem contingent. Laura ran the education team in the Show Racism the Red Card campaign, and is well-regarded by customers of Ben Sellers' People's Bookshop in Durham.
Dan Carden
The selection of young Unite officer Dan Carden to replace Steve Rotheram in the safe seat of Liverpool Walton caused a few right-wingers to flounce, but didn't seem to bother most constituents who elected him with a majority of more than 32,000! A former staffer of genial leftie MP Grahame Morris, Carden is an ally of Len McCluskey and a 'passionate scouser'.
Hugh Gaffney
When Labour's founding father Keir Hardie first arrived to take his seat in Parliament, he continued to wear a cloth cap to signify that he was not deserting his class. Similarly, when Hugh Gaffney, the new MP for the Scottish seat of Coatbridge, Chryston and Bellshill, arrived in Westminster he wore his Parcelforce posties' uniform to show that he hadn't forgotten his roots.
Emma Hardy
The departure of Alan Johnson from his Hull West and Hessle seat enabled the election of Emma Hardy, a former primary school teacher and NUT teachers' union activist. With education cuts high on the political agenda, Emma will provide staunch back up for Angela Rayner, a newbie in 2015 who has performed excellently in her shadow education role.