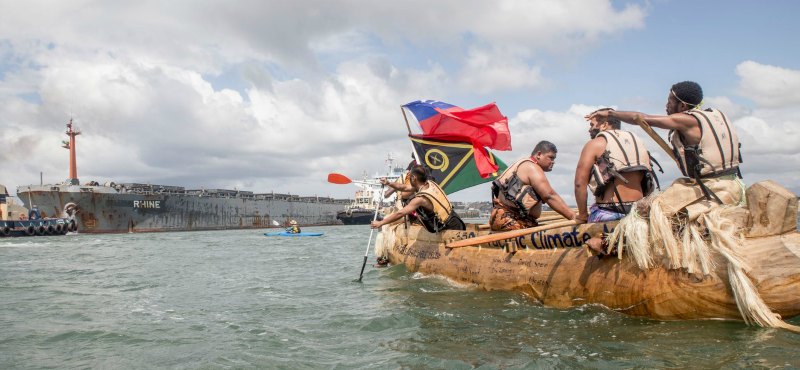 Tuvalu, Kiribati, The Marshall Islands; These low-lying coral atolls are often represented as drowning paradises, disappearing beneath the rising waves caused by anthropogenic climate change. Pacific islands pepper the rhetoric of politicians, journalists, and climate change campaigners. They stand in for urgency, for tragedy, for irony: the irony that the people who fuelled these climatic changes are not the people that now suffer this seemingly inescapable fate.
But what happens when these islands no longer stand in for the West's ecological incompetence? Or when they resist the narrative of their inevitable demise? When instead these islanders stand up for themselves and their homelands, and tell the world they are not drowning, but fighting?
Last month in Australia, this is what the Pacific Climate Warriors showed me. In October 2014 thirty Pacific Islanders from twelve countries came together to put their bodies (and their visas) on the line. From the highlands of Papua New Guinea to the Rock of Polynesia, these young people, warriors and activists came, united and blockaded coal ships, occupied banks, wept at the destruction of the Australian bush and sang, danced and laughed with joy. And I had the honour to join them.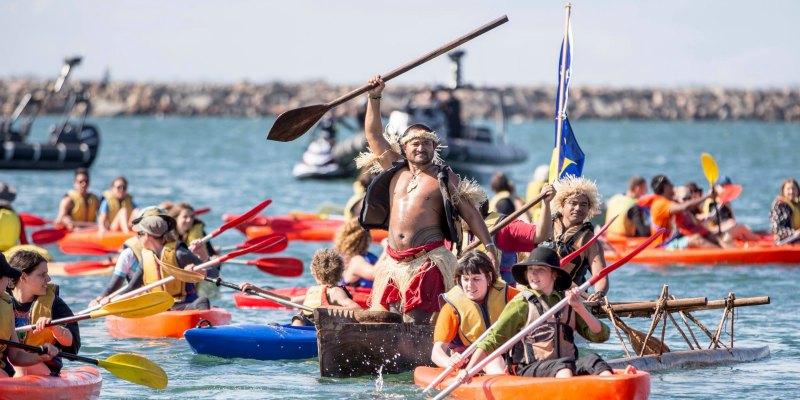 On Friday 17 October, with seventy plastic kayaks, a few hundred Australians, and five handcrafted canoes, the flotilla managed to stop ten out of eleven coal ships due to collect their cargo that day from Newcastle, New South Wales; the world's biggest coal export port. We held the waters and the beach for ten hours, while police aboard jet-skis impeded our vessels, at one point dangerously capsizing our largest canoe. The outrigger was snapped but the warrior spirit was not broken. With prayers and powertools the Vanuatu canoe was back on the water within half an hour.
Our adventures didn't end in Newcastle. Following the flotilla, many of the Warriors dispersed across the country, sharing their stories, as Australian allies undertook secret direct actions in solidarity with their island neighbours. In Sydney twelve Australians occupied the offices of Whitehaven Coal, the company leading the construction of the Maules Creek Coal mine; a project that is being vigorously opposed by activists, farmers, priests and doctors in Northern New South Wales. And for eight hours the foyer of the global headquarters of ANZ – one of the largest banks in the Pacific, and a major investor in fossil fuels – became a site of pasifika struggle and song, as up to eighty protestors occupied the lobby, performing haka and collectively projecting their voices using an Occupy-style 'human microphone'.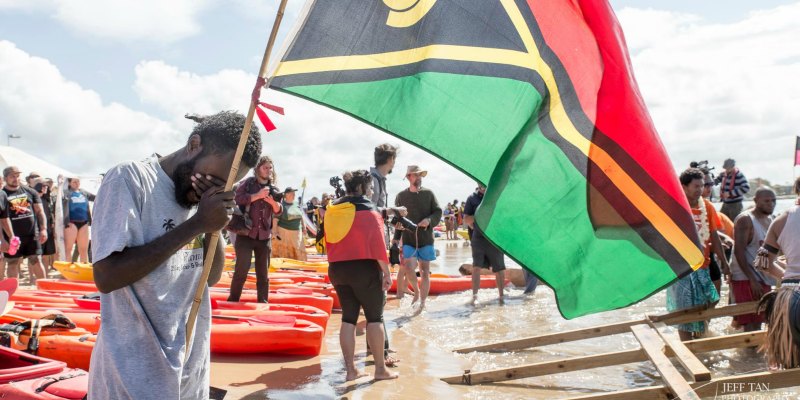 These Warriors, organising through the 350 Pacific network, were not 'professional protestors' or an international rent-a-mob. They were students, civil servants, conservationists and police officers who could no longer abide how the expansion of the Australian fossil fuel industry was diminishing their homelands. They were new to direct action, and they were brilliant at it.
If we take the Pacific Climate Warriors seriously (and in my mind there is no doubt that we must) then we must cast aside the misconception that these are nations of helpless victims and prospective climate refugees. Or that political action belongs only to their governments. And most of all that any of these places or people are expendable. As Carol Farbotko highlights, if Tuvalu becomes uninhabitable, we will have the won the argument for the urgency of action on climate change. But in all other senses we will have lost.
Here in the UK, at the 2007 Climate Camp, we carried the faces of those who would be hit first by climate change. Now we paddle side by side with those whose kitchens are flooded by kingtides. We claimed we were armed only with peer reviewed science. Now our armoury has expanded. Ask any of the Warriors and they'll tell you they have culture, heritage and religion on their side. They do not carry spears, but blessings from their elders, their God, their governments.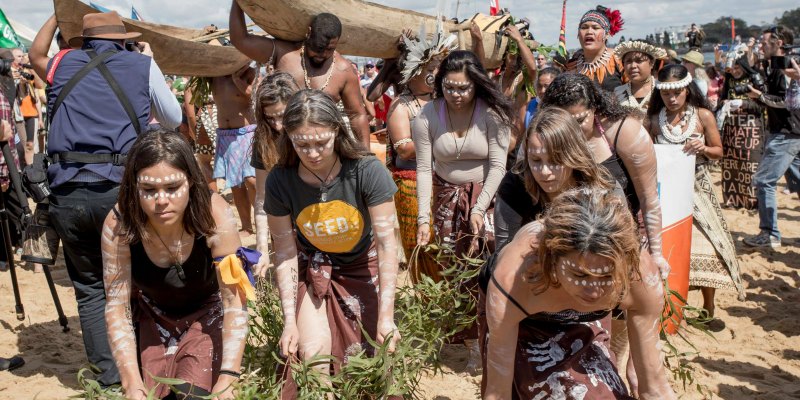 For the Climate Warriors, this is only a beginning. A fossil divestment campaign targeting ANZ bank has been launched across the Pacific and the College of the Marshall Islands in Micronesia has committed to divesting. The Pacific Climate Warriors campaign forces us to ask ourselves what does a climate movement led by those most imminently affected by climate change look like? And as allies on the other side of the world, how can we stand in solidarity? Does Pacific direct action challenge the practices and conventions of predominately white European climate activism? And how does Pacific piety and placing Christ at the centre of the struggle speak to the staunch secularity of the UK radical environmental movement?
Most of all, I hope this campaign signals a shift away from speaking for (or even failing to acknowledge) Pacific Islanders, and instead shines a light on how we stand alongside with our brothers and sisters in Oceania, as they stand up for the Pacific, for Australia and for all communities that are threatened by climate change.
Hannah is a UK climate activist and a PhD student researching grassroots responses to climate change in Pacific Island countries.
Photos by Jeff Tan, see the full album here