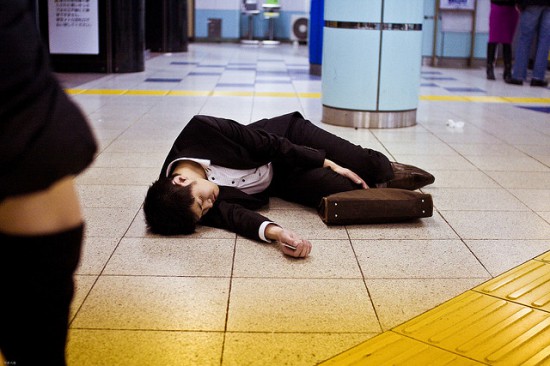 A worker sleeps at Roppongi station in Tokyo. Photo: Coal Miki/Flikr. 
After more than 30 years of grassroots activism, Japan's Diet (parliament) has passed a much-needed law promoting countermeasures against karoshi, death from overwork. Today more than 2000 applications for workers' compensation or survivors' benefits are filed annually by workers or families seeking state recognition for death, disability or depression caused by overwork. Experts say these claims are just the tip of the iceberg: as many as 8000 of Japan's roughly 30,000 annual suicides are thought to be work-related. The true toll is probably much higher, since 10 per cent of the male labour force work 60-plus-hour weeks under the same conditions as those who die or become mentally unstable. It is also estimated that there are more than 10,000 non-suicide karoshi deaths each year.
Family life, personal life, leisure and community involvement are all victimized by overwork. This problem is not unique to Japan but the tentative character of the new law is. Instead of placing strict limits on work hours or penalizing companies that violate work hours laws, the focus of the legislation is on gathering statistics, compiling reports, providing counseling for workers and support for civil society groups fighting the problem. Nevertheless, it is a significant development that bears further watching.
The origins of karoshi and trends in Japan's political economy
In the post-World War II era, Japan's courts have repeatedly established employer responsibility for employment stability as essential to social order. Dismissals of regular employees are rare and allowed only when strict conditions are met. At the same time, these regular, full-time (so-called 'permanent') workers are obliged to obey whatever orders they are given, no matter how onerous.
Originally defined as circulatory disease brought on by stress, karoshi (literally 'overwork death') was first diagnosed in the late 1970s after the OPEC oil crisis forced the first major post-war restructuring of Japanese industry and employment relations. Since then, increasingly competitive and intense work conditions have proliferated and companies have hired more irregular workers to meet the demands of globalization. Today, irregular workers account for approximately 40 per cent of the labour force, up from 10 per cent in 1990.
Whilst the increase in irregular workers caused total per capita work hours to decline, work hours for regular employees remained at 53 per week, the same as in the 1960s. Yet these figures do not include unpaid 'service overtime', which comprises the bulk of overtime hours worked in Japan. Several studies indicate that unpaid hours have increased in the last 20 years, as firms attempt to increase productivity and profits.
Effectively, the division of labour between regular and irregular workers created a basis for discrimination at work, with regular workers obliged to work longer and harder to justify and maintain their elite status and also to carry the additional burden created by the irregulars, generally contract workers who, in principle, do not work overtime or put in long hours.
Thus occurred a shift away from organization-centred management that trained and treated workers as the most important corporate resource toward a market pricing style of management. The right to paternalistic benevolence that Japanese workers have traditionally expected from employers has gradually been replaced by American-style neoliberal relationships and the normalization of overwork.
Although the first wave post-oil shock corporate rationalization was met with widespread strikes they were primarily appeals for 'status justice', for indulgence due to workers under traditional morality. As enterprise unions dependent on employers and concerned primarily with preserving the jobs of their members, their claims did not derive from legal rights but rather stressed this dependence and subordination. After all, employers continued to use the rhetoric of corporate familism to justify the sacrifices demanded of regular workers. Male workers were expected to face adversity in the process of becoming mature, full-fledged members of their corporate communities.
Yet as abuses soared and medical science established links between overwork, stress, and cardiovascular disease and depression, employees or their surviving families became aware that their traditional 'right to benevolence' was not being honoured and social superiors were failing to meet their social obligations. To insist on rights rather than accepting one's situation is ordinarily considered morally inferior in Japan. The one permissible justification for challenging the social hierarchy, for turning personal trouble into a social problem, is the death of a subordinate. With professional help from labour activists, a growing number of families who were victimized by overwork deaths and disabilities sought redress through the labour ministry and the courts from the late 80s onward.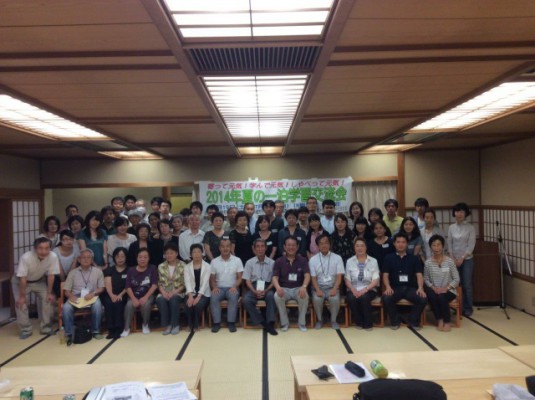 Labour activists, lawyers, and families who have lost members to karoshi gather in Kyoto to discuss anti-koroshi legislation at a study and fellowship meeting in July 2014.
History of alliances, actions and demands of the anti-karoshi movement
Labour lawyers and occupational medical specialists led the effort. With help from allies in the small number of radical unions, leftist political parties, academics and the media, they saw karoshi as an issue that could mobilize workers and raise social consciousness about the decline of traditional morality in employment relations and Japan's failure to translate national wealth into a standard of living worthy of an advanced industrial society. Karoshi showed that even minimum standards of employer care were not being met and pointed to the weakness of Japanese regulatory regimes.
Advocates for worker rights thus pursued a two-front strategy of litigation and legislation. Litigation came first and is ongoing. Cases recruited via a telephone hotline were carefully vetted and those that were accepted were taken pro bono. Early successes were publicized as moral victories. Yet plaintiffs never said they were pursuing monetary compensation. Rather, they emphasized their desire for employers to reflect upon their conduct and make sure that no further karoshi deaths occurred.
Success bred success. Labour ministry or judicial recognition of cases as eligible for compensation (denials by the ministry were often reversed in subsequent civil suits) caused the ministry to gradually accept karoshi as expressing a real cause and effect relationship. In 1994 the word 'karoshi' appeared in a government document for the first time and official statistics began to be kept. In tandem with new medical knowledge, the PR efforts of the relatively small group of activists promoted transformation of ministry standards for recognizing overwork-related illness as a kind of labour accident worthy of compensation.
Initially, Japan's workers' compensation law was the product of an industrial consciousness that envisioned injury resulting primarily from machine accidents or falling objects. Only workplace disaster on the day of death or a day prior to death was grounds for recognition of compensation claims. But a string of important suits led to changes in recognition standards. First came recognition of accumulated fatigue as causing certain kinds of cardiovascular disease. In a succession of cases, the period of time considered grew to one week, one month and then six months prior to death. Currently, if overtime in the month before death or disability is 100 hours or more, or if the average overtime over the preceding six months is 80 hours or more, recognition of karoshi is routine.
Significantly, the landmark case of a young ad agency worker whose heavy work burden drove him to suicide went to the Supreme Court in 2001. The Court's decision established employer duty to consider worker health and individual capacities and conditions when assigning them to jobs. Another suit challenged the Ministry of Health, Labour and Welfare's refusal to make public the names of 'black corporations' where karoshi has occurred. Although a District Court found for the plaintiffs, the High Court overturned the decision on grounds that such publicity could unfairly damage company reputations. The Supreme Court refused to hear further appeals.
Which brings us back to the legislation mentioned at the outset. After the collection of more than 500,000 signatures on petitions demanding that government take responsibility for creating and enforcing stronger work hours regulations, the lobbying of Diet members and a PR blitz, a law to promote karoshi countermeasures was enacted with strong support in June 2014. The law represents the first step toward government regulation and responsibility for overwork, one that is symbolically important in a country where the authority of private employers is rarely questioned. The law will be revised in 2017 and activists are reforming their organization and tactics to push for substantial penalties in its new form.
Scott North is a Professor of Sociology at Osaka University, Osaka, Japan.