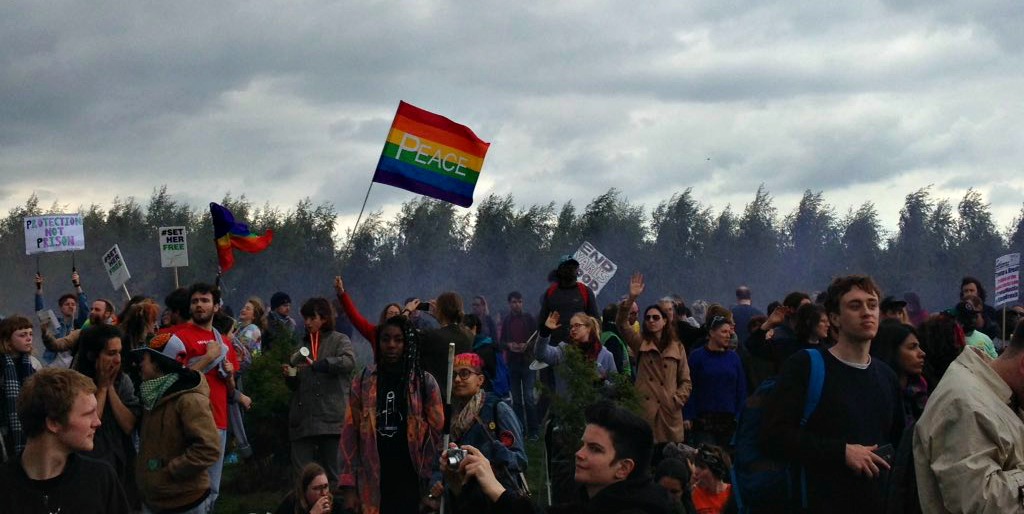 "I was an animal in a cage with no open doors," said Olga. Coming from Russia on a six-month tourist visa, Olga was detained for over a month in one of the UK's most notorious detention centres in Bedfordshire.
This is the same place where over a thousand activists descended on last Saturday 14 May. For the sixth time, activist group 'Movement for Justice by Any Means Necessary' brought people together from around the UK to march for the immediate closure of Yarl's Wood Immigration Removal Centre.
Amongst fields of yellow flowers and idyllic countryside, protesters surrounded the facility to create a wall of noise by banging on pots and pans, pounding against the centre's metal gates and chanting to the inmates inside.
Through the small cracks in their windows, detainees waved white flags and chanted cries for "freedom". Many of the people – mostly women – held there are asylum seekers whose claims have been refused or immigrants waiting to be deported. Yet, they are kept under high security prison settings.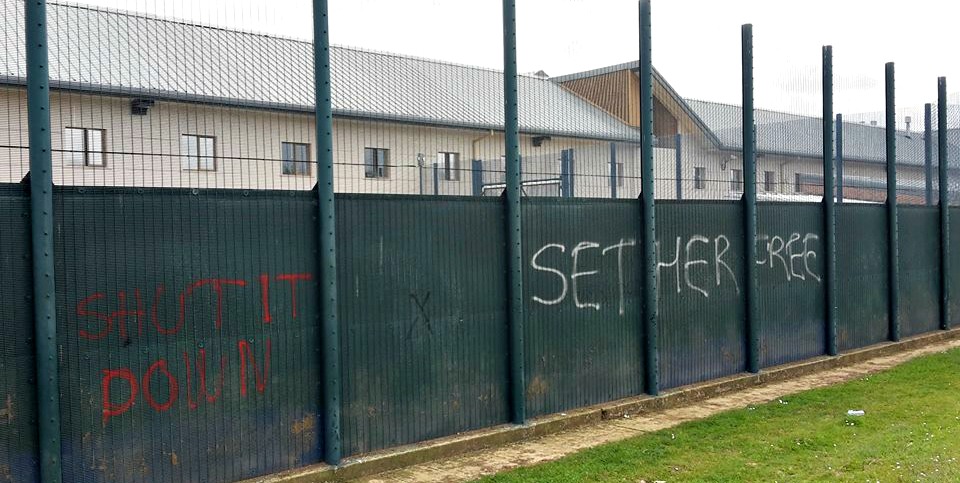 In 2006, Christina* was detained at Yarl's Wood after her asylum claims were repeatedly refused. She said: "When I got there, I looked at the environment, the way they were guarding us, how they watched us every minute, how they spoke to us. It was really horrible. I kept on thinking: why have they done this to me? I have not killed anyone, I just want to stay in this country'".
Many of the women have been through terrible experiences but are being treated like criminals. Christina came from Uganda in 2002 on a student visa after being orphaned, and surviving sexual assault and imprisonment in her home country.
"My blood pressure was too high, I was panicking. I knew I was going back. Where I came from, I was in a cell, and again in a UK I was in a cell."Ever since the centre's opening in 2001, Yarl's Wood has been smeared with scandals over horrendous conditions. Most recently, an MP-led inquiry into detention and Channel 4's undercover investigation revealed routine cases of suicide attempts, self-harm, and sexual harassment by guards.
"I tried to kill myself several times. I beat my head against the wall. I said to myself 'let me die here rather than take me home, because where I am going, it is death as well,'" said Christina.
The UK is the only country in Europe with no time-limit on detention
After three weeks, Christina was transferred to the now closed Oakington Immigration Reception Centre in Cambridgeshire, before being released. Much like the 50 per cent of detainees who are released back into the community, her detention served no purpose. Despite an unchanged immigration status, Christina was severely affected by the experience. "Even when I came out, I said I want to die," she said.
For over 17 years, Christina has gone from temporary housing to homelessness as she has repeatedly applied for asylum.
"I only started to get real help when I found Akwaaba. They got me a doctor – after 10 years without medical attention. Most importantly, they gave me comfort. I feel like I have a family now".
Akwaaba is a social centre for refugees and asylum seekers based in Hackney, London. Olga and Christina attend their regular Sunday sessions, where they get a hot meal, English lessons and social support. Akwaaba is just one of the many organisations in the UK helping migrants navigate through an increasingly anti-immigrant landscape.
With one of the largest immigration detention systems in Europe, the UK confines up to 4,000 people – including children – in detention every day. It is also the only country in Europe with no time-limit on detention.
"My wish, if I ever succeed here, is to give back. I want to campaign for the girls. They should shut down that place," said Christina.
As the activists, including ex-detainees like Christina, gathered their placards and banners to catch the last coaches back to their hometowns, they chanted "we will be back". This is just the beginning of a long fight.
Movement for Justice's demonstrations at Yarl's Wood and other detention centres have been instrumental in empowering those detained to speak up and expose the reality of this brutal detention system. Anyone can join the Movement or get involved in their own local groups such as Akwaaba, Detention Action, SOAS Detainee Support or The London Lantinxs.