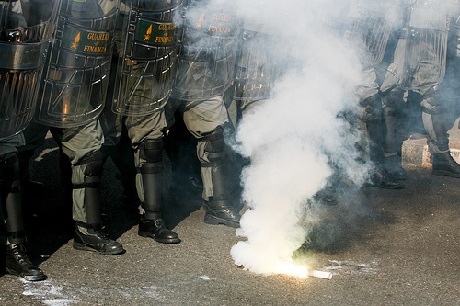 Photo: Georgio Montersino/Flickr
Harsh austerity policies have been hitting broad segments of the population for a long time, but today their force has increased. One of the questions which are often posed to social movement scholars (and to activists as well) is: why, facing such a strong challenge, the mobilisation keeps being so relatively limited? Why – differently from Spain, Greece, and the USA, and Iceland before them – there seems to be so little protest?
First of all, it is necessary to observe that protest exists, grows, and is focused on demands regarding social rights and real democracy. Research that we carried out, together with Lorenzo Mosca and Louisa Parks, on the protests reported by a national daily newspaper in 2011, shows that not only is mobilisation high, but it is focused on social issues. Almost half of the reported protest events involve workers with stable employment, more than half if we add casual workers More than one fifth is student protest. Moreover, even if the unions are very present in the mobilisations, important actors are also informal social movement groups, i.e. the occupied social centres and various kinds of associations. It is not a case that the statistics on strikes signal a 25% surge in the last year.
Although anti-austerity mobilisations are numerous, it is true that, in the last months, the big demonstrations that contributed to the downfall of Berlusconi's government were not to be seen. This is also a signal that neoliberal policies could not have been effectively imposed by a libertine and in many ways delegitimised head of government. The shift from Berlusconi to Monti did not mean a change in the direction of public policies, but the buying (for quite a cheap price) of the support for them from the ex-opposition (i.e. the centre-Left Democratic Party). If the 15 October 2011 demonstration, with its great mobilisation capacity, was an exception, its evolution did not facilitate the recovery of a process of protest accumulation at all.
A first reason for the difficulty to network the existing mobilisations is to be found in the crisis itself. Social movement research has repeatedly proved that protest does not increase with deprivation (neither absolute nor relative), but when resources are available to those that want to challenge the decisions of the government. The studies on the labour movement have shown that strikes increase with full employment, not with unemployment. Insecurity discourages collective action, and the depressive effect of the crisis is aggravated by the new kind of labour market. It is certainly harder for casual workers to mobilise to defend their rights, because they can be blackmailed, have less free time, and often lack the physical spaces for aggregation that were so important for the labour movement.
If this kind of explanation, structural so to speak, has some grain of truth, it does not help us to understand why in Spain, Greece, or the US (but also in Italy in other periods) the groups most hit by the economic crisis and by the growing inequality produced by neoliberal policies (which in addition are responsible for the crisis itself) mobilised in broad and visible protest movements, from Indignados to Occupy. Moreover casual workers in Italy did produce significant protests, especially in the first half of the last decade.
Social movement research provides us with another explanation, more suitable for the Italian case. In order to grow, protest needs political opportunities. Among them, the position of potential allies like parties and unions is fundamental, they are important to broaden the mobilisation, for the logistic resources they can offer, and, even more, to increase the political influence of the protest. Mass protest was more substantial and visible when it was against centre-Right governments, when it found the support of parties and unions. This is especially true in Italy where, reciprocal critiques notwithstanding, the relationship between movements and Left parties (when they existed) has always been intense.
These allies were there against Berlusconi, but a grand coalition government like Monti's has drastically reduced the opportunities for political alliances. Parties that are supporting the neoliberal government in the parliament would not be credible allies for those who are opposing its policies. Moreover, the incumbent government has succeeded in propagating his self-depiction of a 'technical government'.
There is little empirical evidence for this self-representation. Inter alia, it is sufficient to have a quick look at most ministers' careers within institutions that cannot be neutral about their policies, or at the measures of deregulation, privatisation, and reduction of the will and capacity of the state to intervene in reducing the inequalities produced by the market.
Clearly this self-representation as technical government has caught on with the media and beyond. Not only the main national newspapers are critically praising 'Super Mario'. Even the academic institutions, that in the past have carefully cultivated an image of political neutrality, today often provide a political stage for a head of government that claims to be technical. This stage is then used for strictly political and ideologically neoliberal speeches.
No doubt, this Italian anomaly contributes in explaining the difficulties to network the multiple streams of protest that exist. Anyhow, this diffuse resistance could contribute to an aggregation and politicisation of the mobilisations, not just through the challenge against specific policies, but also by underlining the political and neoliberal nature of this government.