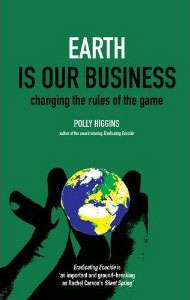 With her measured tone and eloquence it is little surprise that Polly Higgins has a background as a barrister. But for an environmentalist, more surprising is her former line of work – corporate law. "I was representing companies and employees and wondered 'why is it that good people think it completely normal to make money out of destroying the earth?'" she recounts. "This really was strange for me. It was when I realized that the law was to put profit first."
For the past ten years Polly has campaigned to have ecocide recognised by the UN as the fifth 'crime against peace'. This would place it on a par with genocide, war crimes, crimes against humanity and crimes of aggression. Defined as 'the extensive destruction, damage to or loss of an ecosystem that results in inhabitants losing their peaceful enjoyment of the territory', our planet abounds with examples of human-caused ecocide – from the BP Mexican Gulf oil spill to shale gas 'fracking' exploration taking place in Lancashire.
Best way forward
Where political and economic initiatives like the Kyoto Protocol and COP15 accords have failed spectacularly, in her 2010 book Eradicating Ecocide Polly argued that employing international legal instruments is now our best way forward.
The idea is simple: create an international law, applying to all governments, companies and individuals, that prohibits ecologically destructive industrial practices. This would apply equally to damaging local ecosystems as to emissions contributing to climate change. Rather than imposing fines – which can be easily calculated by large businesses as 'externality' costs and offset against profits – crucially, the law would attatch criminal sanctions to individuals.
She explains how it would function: "If you make policies that allow the destruction to go on then you will have to answer in an international court of law and the offence is sanctionable by being put in prison. The minimum [custodial] sentence under international law is two year and it would apply to ministers, CEOs and investors. This is about individuals taking responsibility."
"A corporation at the end of the day is just a piece of paper – human beings commit crimes, not fictional entities, so you can't hide behind the corporate veil."
As with other international crimes, the law would fall under the jurisdiction of the International Criminal Court. However there are obvious limitations. Environmental claims often take years to reach trial and in cases of genocide the ICC only applies its justice retrospectively, offering scant consolation to victims. And so far, the justice it dispenses has been uneven: while Milosevic and Taylor have appeared in the dock, we are yet to see Blair and Bush.
Restorative justice
Telling me that "ultimately locking up people is unsatisfactory", Polly outlines her vision of a 'restorative justice' model for ecocide. Moving away from adversarial courtroom encounters and the deprivation of liberty, this progressive philosophy encourages conciliation and dialogue between parties in order to right wrongs – insofar as possible.
"This means accepting your guilt," Polly says. "It could be anything from the company working with the community to restore and ameliorate the area. It's certainly more than just giving a community money; it's about how can we make good the damage and destruction we have done."
But questions arise when we arrive at the intractable tension that always surfaces when environmental protection comes up against economics.
No business as usual
Polly says that it is not time for "business as usual". Yet surely, I ask her, outlawing harmful processes on which industrial production relies would precipitate a collapse in manufacturing, mass job losses and a nosedive in living standards?
"There are certain times in history when we say the moral has to trump the economic. We did it with the abolition of slavery, even though all our economies ran on it. We did it again with the civil rights movement and the ending of apartheid, because a lot of people made a lot of money out of that."
Despite climate change slipping down the political agenda since economic slowdown began, she thinks her proposals will prove popular, telling me it will be the "biggest job creation scheme in the history of civilization and a vote-winner for governments".
Green conversion
In order for a smooth transition, Polly's blueprint involves a five-year amnesty period alongside subsidies to help companies make the conversion to renewable and non-polluting technologies. While currently few businesses are willing to take the plunge into environmental sustainability for fear of it harming profitability, she believes that the disincentive of criminality will act as a lever, forcing corporations to change their method of planning from one based on "risk analysis" (focused on losing opportunities and advantages to competitors) to "consequence analysis" (looking at the impact on the environment outside of the business itself). Investment in the 'green economy' will inevitably flow as a result of the criminalisation of financing destructive practice, leading to "innovative and resilient growth in a very different direction".
Getting corporations on board is one of the central themes of Polly's new book, The Earth Is Our Business. She explains why, unlike many environmentalists, she doesn't take an anti-business approach: "These companies have great infrastructure, they just need to turn around very fast. The beauty is that corporations work very well with legislation and their wheels turn quickly. So give them the assistance they need."
Contradictions
This position distinguishes her from the more radical end of the green movement, where the expansionary and accumulative nature of capitalism itself is posited as the cause of environmental degradation.
But like other liberal reforms to tackle climate change, the logic relies on businesses voluntarily turning towards benign industries in the hope that they will adequately provide for human needs. At the same time, it skirts uneasily around the edges of the contradiction between an economic system based on infinite growth and a planet of limited resources.
At things stand, it is hard to see why any company or nation would willingly give up lucrative extraction industries. Corporate lobbying notoriously helped to derail COP15, while rogue nations like the USA refused to sign the Kyoto Protocol – leading to the suspicion that both states and corporations would do their utmost to prevent ecocide reaching the UN's statute books.
But Polly is adamant and her faith unshakeable: "Just as our right to life needs to be protected, so does the earth's right to life. It works when you say that I prohibit [environmental destruction]. You don't get a permit allocation for genocide."