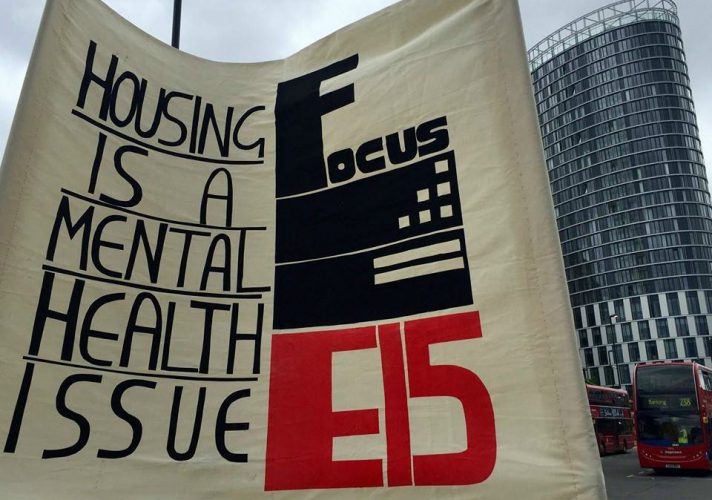 Photos: Focus E15.
On May 21, the Focus E15 housing campaign held a rally outside Stratford Underground Station calling for an end to social cleansing and demanding more social housing in the London borough of Newham. The demonstration was held at the end of Mental Health Awareness week to focus attention on the mental health implications of inadequate housing.
A group of 50 campaigners communicated their message to onlookers with speeches, live music and an impromptu march. They held banners baring slogans such as 'Living on a settee causes anxiety' and 'Mess with my home then you mess with my mind.' The demonstration highlighted the worrying extent of housing insecurity in Newham, particularly the problem of overcrowded and unsanitary temporary accommodation.
The Focus E15 campaign have been fighting tirelessly for better social housing in Newham for almost three years prior to this demonstration. The campaign started in 2013 when a group of single mothers began to organise against forced relocation outside of London following their eviction from the Focus E15 hostel in Stratford. After attracting national media attention in 2014, their campaign has helped to push housing up political agenda. Indeed, Sadiq Khan even referred to the recent mayoral election as a 'referendum on housing.' Although focused on specific problems in Newham, the group's latest demonstration touches upon the concerns of many Londoners suffering from the housing crisis.
Newham housing crisis
Newham has the highest number of households in temporary accommodation of any London Borough. Residents have also witnessed a noticeable increase in families being relocated outside of London, with some moving as far away as Middlesbrough and Leeds. In the last 3 years more than 340 Newham residents have been rehoused outside the capital.
Squalid and cramped temporary housing and the threat of eviction or relocation have taken their toll on the health of Newham residents. One member of Focus E15 explained that in their experience '99 per cent of people I speak to with housing issues also have mental health issues as a result.' They spoke about a woman named Sandra who suffers from mental health problems and could only find temporary accommodation in a hostel. Sandra stated: 'Everything that keeps my mental health issues stable is being taken away from me—my housing and stability.'
The Focus E15 campaigners refer to the term 'root shock' to describe the mental trauma individuals experience when they are displaced from their homes and cut off from support networks. This term was developed by Dr Mindy Fullilove, a professor of Psychiatry at Columbia University in the U.S. Fullilove argues that forcibly moving people from their homes increases their vulnerability to violence, substance abuse, physical illness and mental illness. Yet despite the extensive research revealing the detrimental impact of displacing people from their communities, Newham Council failed to acknowledge the issue of housing in their programme of events for Mental Health Awareness week.
Focus E15 are keen to point out that the housing crisis in Newham and the knockoff impact on residents mental health is not an inevitable state of affairs. The campaigners stated: 'The lack of social housing in Newham is typical of the lack of social housing in the rest of London. It's important to note, that the borough does not lack the amount of empty homes which could be used as social housing'
The campaigners regularly make reference to the 400 empty homes on the Carpenters Estate in Stratford and in 2014 they made headlines when they occupied four empty flats on this estate. The majority of flats on the Carpenters Estate still remain unoccupied, as they have done for nearly 10 years.
London-wide housing crisis
By highlighting the mental trauma Newham residents face due to a lack of decent social housing, the Focus E15 campaign have shed light on the less talked about consequences of the London-wide housing crisis, which following the recent passage of the Housing and Planning bill look set to worsen. This message is particularly poignant given that mental health services have suffered from decades of underfunding. So serious is this that, as a recent report by the NHS revealed, around three quarters of people with mental health problems receive no help at all.
Focus E15 are determined to continue their fight for more social housing and against social cleansing in Newham. They hold regular meetings, have a weekly street stall on Stratford Broadway and support individuals who face eviction. On June 4 they are holding a public campaign meeting about cuts to mental health services by Labour Councils.