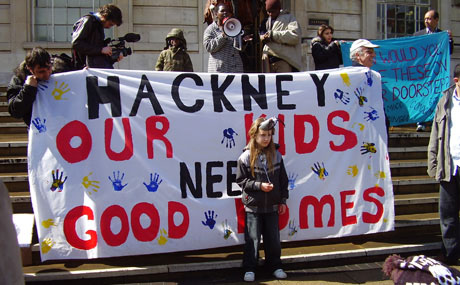 From this April, the government will cut housing benefit, allow social landlords to charge 80 per cent of market rents and permit limited-term social tenancies in place of lifelong security of tenure. In the long term, the coalition aims to drastically reduce social housing and to cut homelessness assistance, leaving the precarious and expensive private sector as the only option for most households. And in the short term, the public sector stands to save very little, as the £2 billion the government will save on the existing housing benefit bill risks being spent on emergency bed and breakfast accommodation for newly homeless families.
The housing cuts come to a sector that has already suffered from underinvestment. It has led to poor-quality and overcrowded housing, long waiting lists, harsh 'gate-keeping' practices at homeless persons' units, and a £20 billion housing benefit bill, which has increased by 50 per cent over the past ten years as a result of the housing shortage and rising rents.
The Department for Work and Pensions calculates that 936,960 households will lose an average £12 a week in housing benefit under the new regime, meaning that many people will be forced to cut back on basic necessities. In London itself, 82,000 families are vulnerable to losing their homes in what is effectively a bid to cleanse inner London boroughs of poorer households, placing a greater strain on homelessness provision in outer London. Even those in outer London boroughs could face a choice between cutting back on weekly expenditure or leaving their home, job, school, family, and support networks.
Members of the self-help Hackney Housing Group recognise that the fight needs to be for more social and affordable housing, not just against housing benefit cuts. Homelessness is not just caused by the cuts but by a lack of housing. Members of the group have been meeting regularly for the past two years and have supported each other to win housing from the council through a range of tactics, including marching down to the housing office and refusing to leave until demands are met.
One Hackney Housing Group member, Janinha, found herself locked out of her temporary accommodation and the locks changed while she was looking after a relative in hospital. She by-passed the council's official complaints procedure and, accompanied by a large group of supporters, took a letter down to the town hall. In response, she was told she had no grounds for complaint – but in the same envelope found an acceptance letter for social housing. By having the support of a group of people, rather than facing the council as an individual, she had managed to win her case.
Many of the people in Hackney Housing Group have taken direct action to resolve difficult housing or benefit problems. They have gone on to support other people, learning from their own struggles and continuing as part of the group. Through mutual support and wider campaigns, they have gained a political awareness that comes from understanding that ordinary people have the power to make changes. Moving from personal victories, group members have turned to wider campaigns for more social housing and rent controls and, of course, against the housing benefit cuts.
Being part of a sustainable support group is very important to members of the group. Morta was made homeless with a five‑day-old baby and failed to win her case because she did not have a 'right to reside' in the borough. She took advice from the group and managed to get permanently housed by gaining a right to reside through a part-time job and eventually winning a legal case. 'When I first came to the group I didn't take it very seriously,' she says. 'Now I think it is really important to support each other.' One year later, she is an active member of both the Hackney Housing Group and London Coalition Against Poverty.
Its experiences over the past few years means that Hackney Housing Group is well placed to know what people need and how to fight against the current cuts. As group member Ellie Sching puts it, 'If we can't stop the cuts then we need to stop the evictions. To get people involved we need to be campaigning to change our own situations, to defend our homes and to win housing for ourselves.' The group believes that any campaign must involve the people who are facing the housing benefit cuts and that the anti-cuts movement should not simply be about protests and lobbies but should help people change their own lives. In the case of housing, people need support to keep their homes, as well as participating in a bigger campaign.
The group is currently establishing an emergency phone tree with other existing groups and activist networks in Hackney to provide an emergency number for people worried about losing their home. Members hope that the phone tree will provide a way for people to stop evictions, through advice, information about group meetings and call-outs to stand in the way of evictions.
The group's approach combines mutual support and direct action with a local publicity campaign and is linked up with other groups that are more experienced at lobbying. Together with Defend Council Housing, the group are lobbying Hackney council to agree 'to campaign against cuts in housing benefit and refuse to implement cuts in housing benefit where this is under local control and to promise not to evict tenants who get behind with their rent as a result of the new cuts in housing benefit.' Defend Council Housing has already got Barking, Dagenham and Islington councils to sign up to this demand.
The lesson from past campaigns, such as that against the poll tax, is clear. The anti-poll tax movement gathered momentum on a 'Can't Pay, Won't Pay' basis, and included actions such as trying to keep non-payment court cases going as long as possible. Widespread involvement with the campaign only occurred because of the use of direct action by ordinary people to meet people's immediate, practical needs. It was this that finally won the battle.
Today, we need to recognise that the anti-cuts movement will remain limited to people with experience of political involvement if it does not attempt to help people address their immediate needs. While important, marches and rallies will neither build the movement far beyond 'the usual suspects' nor win the campaign against the cuts. As groups such as Hackney Housing Group have shown, by winning individual victories, people's personal struggles become a collective fight.
For more advice on starting an emergency housing group or running a sustainable group, taking direct action and campaigning locally against the housing cuts, get in touch with London Coalition Against Poverty (londoncoalitionagainstpoverty@gmail.com). Other groups that will offer useful advice include Defend Council Housing (info@defendcouncilhousing.org.uk), Advisory Service for Squatters for advice on how to stop evictions (advice@squatter.org.uk) and UK Uncut for wider direct action (www.ukuncut.org.uk)