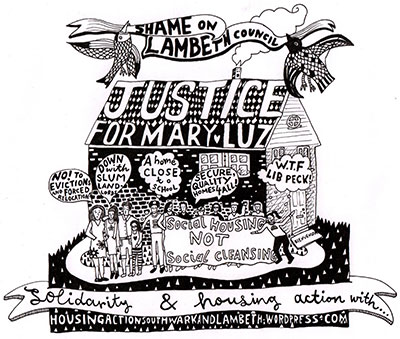 When Mary Luz first went to her local council's housing office for help, she, her husband and their two children were living in one, crowded bedroom, in a flat shared with several other families.
Legally, under the Housing Act, her family was homeless – the council had a duty to at least provide interim accommodation for them while their case was assessed. Yet Mary Luz was denied help from the housing office in Lambeth, south London, on that visit last May and on subsequent visits.
Mary Luz is one of an increasing number of people to come up against 'gatekeeping': the problem of housing offices and other services trying to avoid their legal duties by fobbing off people who walk through the door, inventing non-existent rules, deliberate misunderstandings and flimsy excuses.
Gatekeeping is a scandal in plain sight: homeless people, housing officers, lawyers and advisers have all know that it has become institutional. Last February, a High Court judge warned Southwark council 'to cease with immediate effect the policies and practices' that had resulted in homeless people being turned away without assistance.
According to Haringey Housing Action Group, one staff member – describing recent training he had received on assessing a person's vulnerability – said 'if it has a pulse, it's not vulnerable'. He added: 'If I referred everyone who presented as vulnerable to the homelessness team, I'd be out of my job within a day.'
By its nature, gatekeeping is not captured in the official homelessness statistics, as it keeps people 'off the books'. That means that the number of homeless people recorded – already at a seven-year high in England – is most definitely an underestimate.
Denied help
For Mary Luz this took the form of being passed around, from Lambeth to Westminster council (where an advice agency she had contacted is based) and back to Lambeth, who still refused to help. All the time, her and her family were forced to remain in their severely overcrowded, unsuitable housing. She also sought the help of local MP Kate Hoey, but instead of helping her, she says Hoey interrogated her about why she had come to Britain.
When Mary Luz next visited the Lambeth housing office, in December, it was with the support of Housing Action Southwark and Lambeth (HASL) and her English teacher from English for Action. The previous day, Mary Luz had been physically assaulted in the shared kitchen by someone from another household sharing the property. Had Lambeth council accepted their duty to the family when they first approached for housing help in May, this assault would never have happened. Mary Luz makes this point herself. At the housing office, staff again used gatekeeping tactics to avoid opening an application, first demanding evidence of the recent assault on Mary Luz and then claiming they did not have the staff to open an application that day.
'It has been very hard for me because they haven't helped like they should have,' explains Mary Luz. 'I have done everything I can, and my whole family have. Lambeth kept denying us help.'
After waiting the entire day, spending a night in an emergency hostel and coming back the next day – and a group visit from HASL in support of the family – interim housing was finally provided. However, like many homeless families in London, Mary Luz and her family were sent out of their home area, in their case to Lewisham.
Mary Luz, who has a visual impairment, now faces long, difficult journeys to visit her doctors and hospital, as well as a journey of up to two hours each way to take her children to school. 'It's my daughters who have suffered most,' says Mary Luz. 'It's made me feel really bad. I have only asked for my family to be safe and to have space.'
Demanding action
The family's campaign continues. A recent Twitter storm called on Lambeth council and its leader Lib Peck to provide #AnswersAndAction on their case, and a gathering of 30 people, including lots of kids on half term, joined Mary Luz and her family outside the council offices with colourful banners, chalking messages on the pavement and decorating a giant cardboard house.
Mary Luz's daughters had made their own signs: 'no more long journeys', 'I miss my after-school clubs' and 'new home, please'. Lambeth council are reviewing the case. Mary Luz is determined to continue to challenge the council until her family are brought home – and to highlight the growing problem of gatekeeping as part of the wider struggle to end homelessness.
Find out more about the problem of gatekeeping and join the campaign at the HASL website