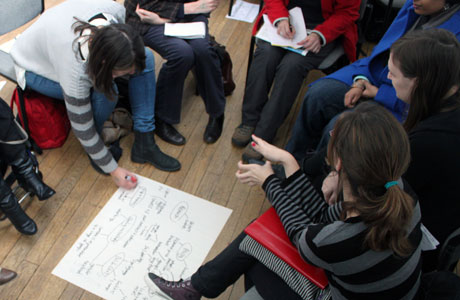 Photo: Carrie Bradin
Specifically designed to connect feminist activists, spark debate and showcase the diversity of the movement, the inaugural Go Feminist conference took place in London at the beginning of February. As the organisers stated in their F Word blog post:
'We do this as a response to feminism's most sustained critique: that it is not for all women. Although women from all backgrounds and communities identify with feminist beliefs, the movement still does not completely take into account their needs and realities. Too often in our feminist spaces, the voices of a few are privileged. Race is inadequately dealt with. Our spaces, both physical and virtual, are inaccessible to women living with disabilities. Trans women's involvement is actively discouraged.'
To that end, this was a conference that at its core was concerned with how to make the movement accessible to all. From the availability of speech-to-text and signers for the hearing impaired at every plenary session to the range of workshops on offer, the aim was to reflect the multiple faces of feminism today.
Attending other feminist conferences, I have often left feeling that my identity as a woman was deemed more important and treated separately from other important elements of who I am. For me, this has resulted in leaving my identity as a working-class black immigrant at the door. This lack of dialogue around how various forms of oppression act upon an individual, as well as how many of us, myself included, experience other areas of privilege we do not readily recognise, was something the morning workshop, 'Ensuring feminism is a movement for all women: the way forward – intersectionality', aimed to confront.
The workshop sought to tackle head on issues around oppression and privilege. One of the ice-breaker activities involved attendees stepping forward or back according to whether a particular statement applied to them: 'I grew up in a household with more than 50 books', 'My parents were professionals such as doctors, lawyers, teachers etc' and so on. The activity was a learning exercise for participants who had not previously considered themselves as having any privileges. It also demonstrated how assumptions about the makeup of an individual's identity are invariably two‑dimensional. We are all much more complex and share far more connections than we first believe.
The group discussion that followed allowed people to talk through ideas on how they could actively place intersectionality at the core of their feminism. Importantly, the facilitators were themselves challenged on how the workshop had not been entirely inclusive in relation to people from single‑parent households and with physical disabilities. This was something that they acknowledged and promised to rectify in future sessions. All of us can and do make mistakes, but we must, as a movement, provide a space and atmosphere in which such challenges are greeted not as antagonistic but as helpful and therefore acted upon.
One of the highlights of the conference was the penultimate plenary session on sexism in popular culture, chaired by the writer and broadcaster Bidisha, which looked at the skewed and sexist representation of women in this arena. Beginning with an analysis of women and sports, Bidisha succinctly stated that coverage invariably focused on 'boobs, bums and bikinis'. And a question from a young participant around how the movement can engage more with those who are not already converted was thought-provoking.
Panellist Kealy Hastick, from the women's organisation Platform 51 (formerly the YWCA), eloquently told us that young women find it difficult to identify as feminists because 'you can't be what you can't see'. This gave something of an answer as to how and why the movement seems to only speak to the same select and, often, privileged few. Despite the fact that feminist ideas and ideals are broadly supported by, dare I even say it, the majority of men and women I know, they would nevertheless be loath to label themselves feminists. Yet few would agree to championing violence against women.
It is apt, then, that the conference towards its close opened up a space to discuss this most important of issues: how do we engage people who are receptive to our ideas but outside our 'normal' feminist circles? It seems to me that we must go back to both the aims of the conference and Kealy Hastick's idea. We, feminists, have to show the wider public that the movement is made up of people exactly like them, and debunk the myth that a feminist looks and speaks in a particular way. We have to prove, through our inclusive practice, as bell hooks put it, that 'feminism is for everyone'.
Lola Okolosie is an English teacher and journalist