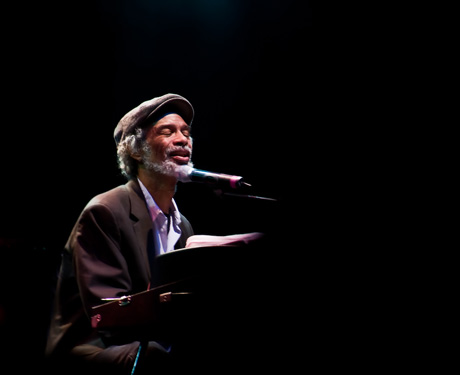 If Gil Scott-Heron, who died in New York on 27 May, rejected the media portrayal of him as the 'godfather of rap', it's perhaps easy to see why. Scott-Heron is best known for his groundbreaking spoken word piece The Revolution Will Not Be Televised, a three-minute call to action for the disenfranchised black youth of 1970s America. Saturated with contemporary political and pop cultural references and shot through with an acerbic wit, it sets out to wrench its audience from the cultural opiates of mass media news, sitcoms and, above all, advertising:
'You will not have to worry about a dove in your bedroom, a tiger in your tank, or the giant in your toilet bowl
The revolution will not go better with Coke
The revolution will not fight the germs that may cause bad breath
The revolution will put you in the driver's seat.'
So when the rapper KRS One re-wrote the lyrics for a 1995 Nike commercial – transposing the titular lyric to 'The revolution will not refrain from chest bumping … The revolution is about basketball, and basketball is the truth' – Scott-Heron must have felt things had come full circle. What started out as an anthem of Vietnam-era free-thinking had, in the hands of one of his supposed musical 'godchildren', become a vehicle for marketing 'made in Vietnam' trainers to black youth.
Yet for all the bling excess of much contemporary hip-hop and rap, musically and poetically it's easy to see why Gil Scott-Heron had such an extraordinary influence on the genres. Most of his first album, A New Black Poet – which includes an overtly homophobic track, 'The Subject Was Faggots' – is spoken word, almost as close to traditional poetry as to the soul and funk music with which he became associated later. When Scott-Heron introduces one of the rare melodic tracks, 'Enough', by saying 'A lot of people think it's a poem, and after they hear me sing it, they're sure it's a poem,' the message is clear: you listen to this for the lyrics.
Scott-Heron developed this blend of soulful funk and poetically personal and political lyrical writing in follow-up albums Pieces of Man and Winter in America. In Winter in America he binds together familiar subject matter – politics, urban deprivation, alcohol and drug abuse – with wider themes of pan‑Africanism, afrocentricity and black power.
It was during this period that Scott-Heron began to take a more active stance on key contemporary global justice issues. His 1975 single Johannesburg, with its chorus 'Tell me brother, have you heard/From Johannesburg?' was among the first pieces of American popular culture to deal with apartheid. With typical wit, Scott-Heron draws parallels between race relations in the US and South Africa.
He featured on the 1985 anti‑apartheid protest song 'Sun City'; and when, in May 2010, the Palestinian Campaign for the Academic and Cultural Boycott of Israel put to him that 'Your performance in Israel would be the equivalent to having performed in Sun City during South Africa's apartheid era,' he pulled the gig. In 1979 he also took an anti-nuclear stance, appearing at the No Nukes concert in Madison Square Garden where he sang 'We Almost Lost Detroit', written about the partial meltdown of Fermi 1 reactor in 1966.
The 1980s was a relatively fallow period for Scott-Heron. He released several albums, but none were especially well-received, and his record label Arista dropped him in 1985. He battled drug and alcohol dependency for much of this and the later period of his life and served two prison sentences for cocaine possession. It was shortly after completing the latter of these in 2007 that Scott-Heron recorded his first studio album for 16 years, and the one that was to be his last, I'm New Here.
Scott-Heron is perhaps the most esoteric of that tiny group of musicians who can claim to have changed not only the musical but the political landscape of the late 20th and early 21st centuries. Like Stevie Wonder, Bob Marley and Marvin Gaye, his music reached out to generations of disenfranchised youth through its combination of soulfulness, beats, raw emotional power and intelligent and thoughtful political message.
Scott-Heron's poetry, his spoken word rather than his music, may be what comes to define his influence. His 1993 track 'Message to the Messengers', an outspoken address to the rap artists of the 1990s who were claiming lyrical descendance from him, perhaps sums this up best:
'And I ain't comin' at you with no disrespect
All I'm sayin' is that you damn well got to be correct
Because if you're gonna be speakin' for a whole generation
And you know enough to try and handle their education
Make sure you know the real deal about past situations'
'Pop music doesn't necessarily have to be shit,' Scott-Heron said of the success of his single 'The Bottle'. And if there is one thing that defines Scott-Heron's legacy, this is surely it: pop music with the power to inspire a generation. n
Steve Pretty is a musician, writer and performer. He co-runs the Hackney Colliery Band and his one-man show Steve Pretty's Perfect Mixtape is at the Edinburgh Festival. www.stevepretty.com