As if our jobs weren't hard enough before, the coronavirus hits about six months into my retail experience. (Can't call it a career really. Only upwards move is to Supervisor – insanely early mornings or late nights. 5am starts are for younger people. I am a night owl.)
I never ever imagined I would be in fear for my life every time I started a shift.
Management were following emails and video calls from their bosses sometimes hourly. Our workload increased dramatically. Colleagues were advised to shield. We deep cleaned the store: baskets, trollies, cabinet handles, payment machines, self-checkouts, door handles – everywhere we could think of that might be an infection point.
All this while we were serving customers from the few tills we could have open due to the two-metre rule. Less people serving also meant longer queues, a one-way system around the store, limiting the number in store at a time. (I'm dreading going to the shops this Winter. Who wants to stand in the cold and rain instead of inside a nice warm shop?)
Customers were not happy. They didn't take out their frustration on management. They took it out on us – the people behind the checkouts. We should have had more management on the shop floor all the time we were open and not just drafted them in when we thought we would get busy.
When the panic sets in
We were definitely not prepared for the sheer greed of some of the local population – boosted, we sourly noticed, by the 'blow ins' of people with holiday homes in our area (yes, it is insanely beautiful around here).
Corona in your locale? Shift off to the holiday home and try and 'blend in'.
Quick tip – don't ever try and blend in. We can spot you a mile off. Dropping your Oyster card on the floor when you open your bulging wallet is a major clue.
The shop was stripped. Not just of the much-wanted toilet roll – still don't understand why toilet roll. Sniffles? Shits? Who knows.
Virtually everything purchasable went. Plenty of anchovies left though.
People went into full on panic. Fresh, frozen, tinned. Baby milk as fresh milk substitute – selfish, just selfish. Flour, cake mix. Forget getting near a loaf of bread if you picked the wrong hour of the morning to shop.
We started realising this was a national thing, not just us.
We started limiting items to multiples of two of each product. That's when the abuse started. There were at least two fights over food.
We looked after those who were shopping for multiple people due to shielding, families with children, the elderly in our community. We tried so hard. Worked every delivery as fast as we could. Took orders for vulnerable people. Nationally we set up a delivery service for people shielding, delivered by volunteers.
We were accused of hoarding for ourselves – no one ever did in my store. We were the devil's incarnate when we challenged multiple purchases. We had staff in tears due to the shouting, accusations, sheer nastiness of people we had to face with a smile and reassurance.
We reassured people we would not close completely. We reduced opening hours to protect staff and to give us time to get what limited stock we received onto the shelves, all the time trying desperately to make sure there was enough to go round. We worked long, long hours to cover for colleagues advised to stay away from the store because of their own health concerns.
Overlooked and mistreated
Did it ever cross the mind of the angry and only marginally inconvenienced customer that we were just as concerned and yes, scared shitless as they were?
When did we change how we treat others? People hark back to Thatcher and the self-first culture of the 1980s, but maybe this is inherent in humans.
One thing is certain: we can't go on like this.
The trade union which supports retail workers, USDAW, launched a petition hoping to gain the 100,000 signatures needed to spark a debate in parliament on the abuse faced by retail workers. Nearly 5,000 retail workers had previously responded to a USDAW survey regarding abuse between 14 March and 17 April 2020. Over 95 per cent of retail workers had suffered some form of abuse – either verbal, threats, or actual assaults. That amounts to 3,538 assaults of one form or another every day.
Unsurprisingly the government response was unsympathetic.
Will it take a retail worker turning to self-harm – or, worse, suicide – or even a fatal assault before the government wakes up to what is happening?
I spent a little time researching suicide rates for retail workers. The Office for National Statistics (ONS) data (see below) stops at 2017 – way before coronavirus.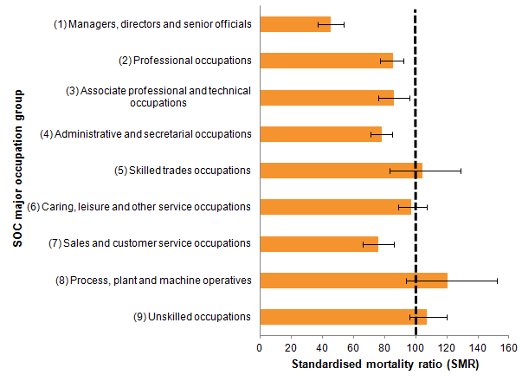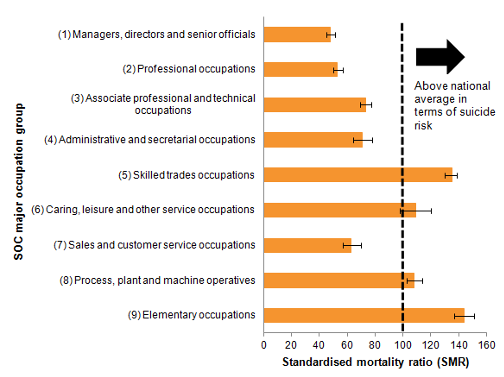 I'm guessing retail workers would be included in category (7). I'm also guessing that because the numbers don't fall beyond the magical 'above national average' cut off point, no one has taken much notice of them.
Last month was World Mental Health Day. These figures are sobering. Every single number represents a real live breathing human being, no longer here because of their employment. Someone's daughter, someone's son.
If a global pandemic didn't wake people up to the need for community and compassion, a realisation that without cooperation and care we will all go under, what will?
Some of the workers went over and above the first time round. I hope I did my bit. I hope I reassured people we would always be open, we would always be there, we would always care.
Do I fear another round of panic buying as we go into a second lockdown? Yes. Do I fear more abuse? Yes – every time I step out onto the shop floor.
Here's to round two, round three, round four.
We are in for a marathon, not a sprint (as my boss told us over six months ago).
I hope my trainers and stamina last!
With a smile and pleasant greeting from Tillie, Till Two.
The author is a member of USDAW. Tillie is a pseudonym