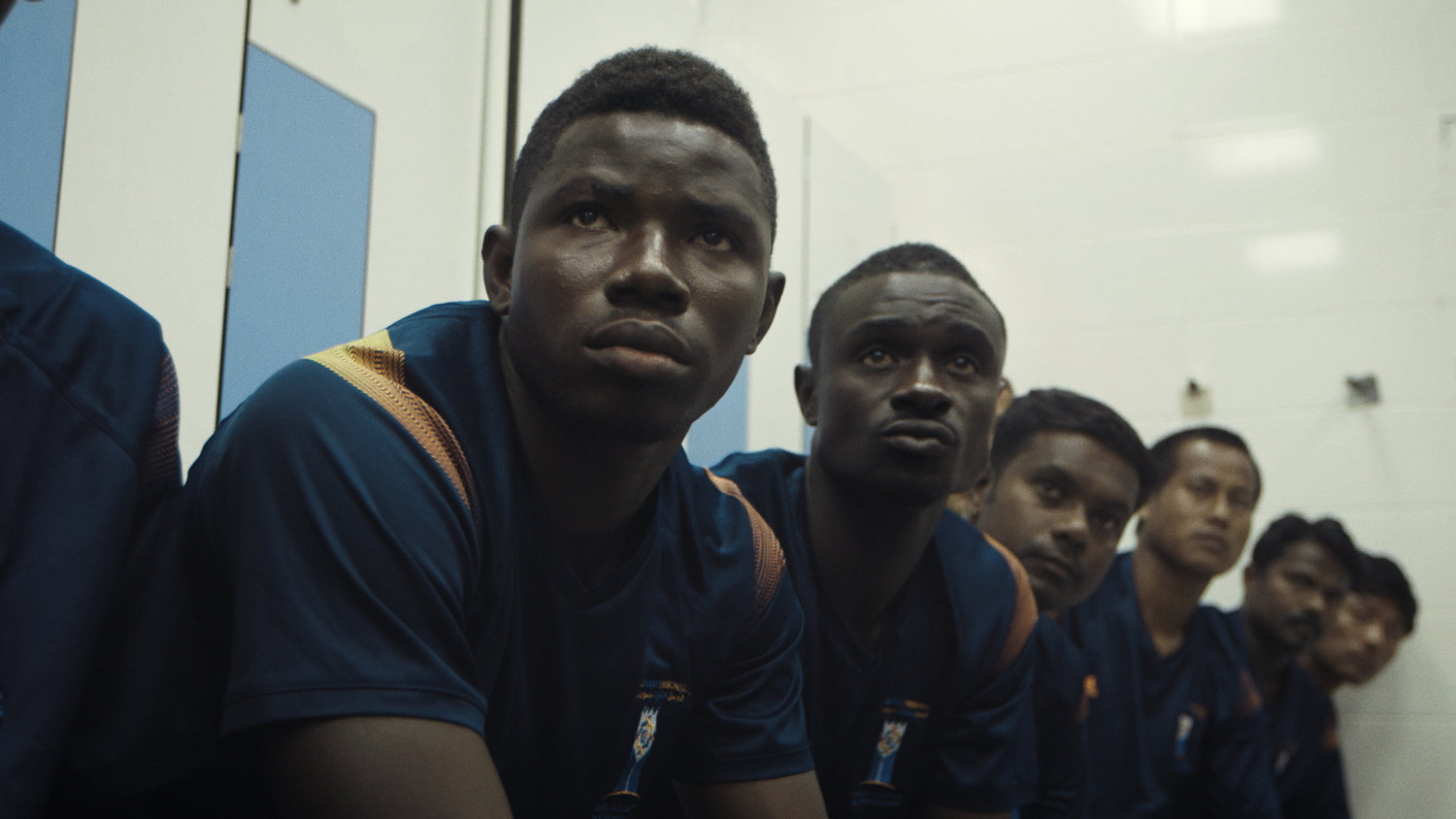 Before the 2018 World Cup in Russia, worries over racism, hooliganism and homophobia dominated news headlines, threatening to overshadow the event itself. In the end, the only disturbance to the well-ordered event was a pitchinvasion protest to highlight political oppression in Russia, organised by the activist art group Pussy Riot. As Masha Gessen wrote in the New Yorker, it was the only 'meaningful statement about Russian politics [made] during the world cup'.
While Russia 2018 has passed, the need for activism is far from over. Outside the public eye, thousands of migrant workers are building state-of-the-art stadiums for the 2022 World Cup in Qatar, often in abhorrent conditions. Theirs is an everyday reality shared by millions of low-wage migrant workers worldwide.
A documentary, The Workers Cup, from director Adam Sobel, closely follows a group of migrant workers from Ghana, India, Kenya and Nepal as they make sense of their new lives in one of Qatar's many labour camps. The 12-hour, seven-day working weeks of Kenneth, Padam, Umesh, Samuel, Calton and Paul are juxtaposed with their fervent participation in a company-sponsored 'workers' cup'. As we follow these protagonists from work to football practice and back to work again, the film reminds viewers that beyond moments for highly visible direct action – like the Pussy Riot protest – it is critical to keep the pressure up outside the spotlight if we are dismantle the deeply ingrained systems that make labour and migrant exploitation possible. Migrant labour camps Qatar's World Cup bid – like Russia's – has been marred by controversy from the outset. Organisers have faced allegations of sabotaging other potential host countries' bids, while damning reports by Human Rights Watch and Amnesty International have documented life-threatening conditions for workers in labour camps. The International Labor Organisation (ILO) pursued complaints in 2014, only to drop their investigation recently when Qatar announced that it would institute a minimum wage and phase out the controversial 'kafala' system. This system, which affects 32 million people across the Middle East, ties migrant workers' visas to their employers, creating dynamics ripe for exploitation. Despite Qatar's response to the ILO, and its recent announcement that exploited World Cup workers will receive compensation for their 'hardships', it is unclear how much has actually changed.
The Workers Cup interrogates these issues through the eyes of workers themselves. Some have experienced a decade of working on migrant visas, while for others it's the first time. Many are also talented football players. Kenneth, the 21-year-old team captain, explains how he was deceived by a recruiting agent in Ghana who promised participation in a professional football team in Qatar. He paid a £1,200 recruiting fee to get the job – a common, and often illegal, practice among placement agencies. 28 year old Padam has been trying for years to bring his wife from Nepal but does not qualify under immigration laws. Many of the workers, tied to their employers under kafala, cannot leave or change jobs; their movements are restricted, and abusive employers are excused. Umesh, a 36 year old from India, visits a friend in a different camp whose leg was severely mutilated by a roommate. He said that for his roommate, being deemed 'mentally ill' was the only way to get out.
Many of the protagonists desperately miss home, and in many cases, human contact. Under Qatari law, the labour camps, which are home to a staggering 60 per cent of the population, are segregated from residential areas. Umesh's supervisor told him not to visit the shopping mall because it was 'not built for people like him'. Paul, who left Nairobi after a 2013 terrorist attack, works in the company cafeteria, struggles with loneliness and dreams of having a romantic relationship, which is almost impossible under these working conditions.
Football fever
Despite the day-to-day drudgery of the camps, full-on football fever takes over as the workers' cup approaches. After the first loss, Kenneth brings on Paul as the assistant captain. The day before the semi-final, players are marching through the street in hand-made costumes, workers are busy memorising chants, and some are reflecting on what, if anything, they will have to look forward to after the tournament. The atmosphere is a mix of excitement and unease. The event is clearly a publicity stunt for investors and human rights groups, but it is also as close as workers will get to enjoying the fruits of their labour in the stadiums they built. Just as England's journey to the 2018 world cup semi-final ostensibly brought a sense of unity and relief, so too are the workers' cup players and fans united in their desire to win. But in Qatar, as in England, fleeting moments of football-infused unity do not undo decades of exploitation and demonisation targeted squarely at immigrants.
The knowledge that migrant labour exploitation is not limited to Qatar is both the tragedy and power of the film. Every day, worldwide, thousands of people leave their homes, seeking to escape environmental degradation, economic insecurity, and political violence. The ILO estimates that there are 244 million international migrants globally, more than two thirds of whom are migrant workers living and working in high-income countries. Like our protagonists in the film, many find themselves in low-wage construction and service sector jobs, working under strenuous conditions with limited protection. Meanwhile, the top-earning 1 per cent of the world's population holds over half the world's wealth and resources.
Twenty-five minutes into The Workers Cup, Paul poses a question to his colleagues over lunch: 'What is your imagination of freedom?' Kenneth, the first to respond, says, 'I think freedom means… not being under slavery. But having access for everything… movement… expression.' In this current political moment, our intertwined rights to cross borders and to live and work with safety and dignity are under threat. Kenneth and Paul, like the Pussy Riot protesters, beckon us to answer: are we willing to fight for our freedom?
More info: theworkerscupfilm.com