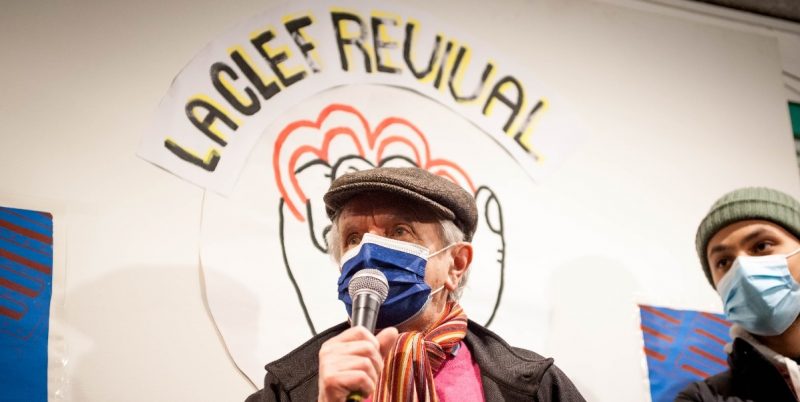 Credit: Claire-Emmanuelle Blot
Lisez cette histoire en français ici.
In the heart of Paris sits La Clef ('the key'), a cinema screening under-distributed films at accessible prices since the 1970s. When its existence was threatened in 2019, a collective formed to occupy it. They fought to keep the last community cinema in Paris open, whilst continuing to show a rich and diverse programme, affordable to all. 
From its beginning the cinema has been a space for radical film. When La Clef opened in 1973, owner Claude Frank-Forter championed new and under-represented creative talent, hired students to work at the reception and facilitated affordable access to the cinema. 
In 1981 a recession hit cinemas, forcing Frank-Forter to sell La Clef. The works council of Caisse d'Epargne bank bought the cinema, repurposing a screening room into a cultural centre and keeping two available to other projects. One of them, Images d'Ailleurs, set up by Togolese filmmaker Sanvi Panou, was dedicated to the promotion of works from black and underrepresented filmmakers.
Until the 2010s, Images d'Ailleurs screened films from African, Arabic and South American cinema, too seldom represented in mainstream distribution circuits and therefore hardly accessible to the French public anywhere else. This forged the cultural identity of La Clef.
The cinema came under threat in 2015 when Caisse d'Epargne announced they were putting it up for sale for 1.5 million euros. La Clef shut its doors in 2018 in what was supposed to be its final closure. 
The fight for a rich and diverse culture for all
A collective of film industry workers, squatters, cinephiles and local residents assembled to take matters into their own hands. They occupied the cinema and immediately reopened its doors. They 'gave the cinema back to the public' with a screening of Attica.
By choosing a film about a historical uprising, the Attica Prison Riot, the collective were establishing their radical foundation. From then on, anyone could partake in programming: different members of the collective would pick a film each evening, always introducing it themselves beforehand, and explaining their reasons for screening it. They invited filmmakers or members of the crew to discuss the film with the public afterwards. In keeping with La Clef's heritage, they showed under-distributed arthouse and foreign cinema, often by young filmmakers.
But their commitment to political struggle was not limited to just their programming – they extended it to their practice too. Visitors could pay what they could afford, in an effort to keep La Clef not only open, but affordable for all. 
The cinema had once again become a place where anyone could afford to see independent films, but also a place for workers to organise. The strikers from the Paris Opera met there for their famous 2019 Swan Lake action (where ballet dancers performed Swan Lake to protest against President Macron's proposed pension reforms). The project also became a training school. You could learn how to run a cinema financially, logistically and technically, how to screen films and even how to make them. La Clef also launched Studio 34, a residency program to help young filmmakers produce short films. 
During the first Covid-19 lockdown, the collective organised outdoor screenings. This proved a crucial moment, attracting the attention of the media and establishing La Clef as a symbol of resistance in the cultural world.
Meanwhile, a legal battle was raging: the owner wanted the collective out. They lost the first stage, but in the autumn of 2020, one year after the start of the occupation, the collective's appeal was successful. The fine they were given was lifted, and the judge gave them six months to find a sustainable solution with public authorities to keep the cinema open. 
By this stage, La Clef had gained enormous support from its many visitors and the film industry more broadly. Numerous unions, associations and celebrities came forward supporting the occupation, recognising the need to keep alive the last cinema in Paris with unique and independent programming, run by people for people, not profit.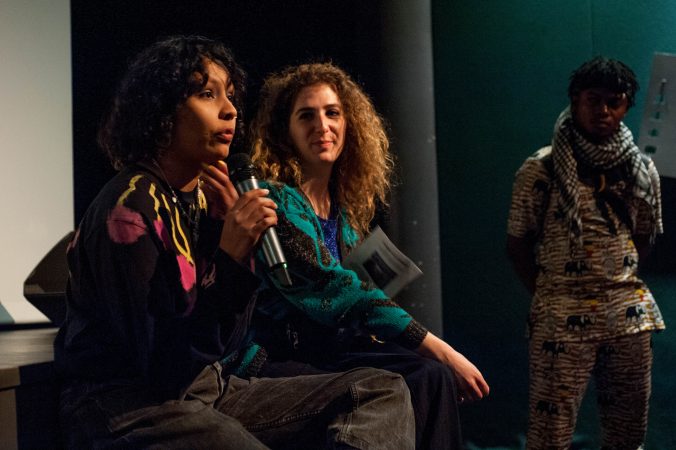 Credit: Claire-Emmanuelle Blot
The cultural world under threat
With the achievements of the occupation having gained huge attention, it came as no surprise that the first potential buyer for the cinema was the SOS group. They established a dialogue with the occupying collective, claiming they wanted to save La Clef. 
The occupiers were quickly warned against SOS. With an annual turnover of one billion euros, the SOS group is a 'social business' headed by a small Parisian board of only 11 people. It was founded and is still run by Jean-Marc Borello, an important member of La République en Marche! and a good friend of President Macron. 
SOS buys out organisations and charities from various fields (medical, social, educational, cultural) usually at the border between the private and public sectors. They aim to shift them into profit-making structures, often replacing existing jobs with more precarious ones. To top it all off, the sales contract made no commitment that SOS would keep the cinema open. The collective were determined not to leave La Clef to this fate.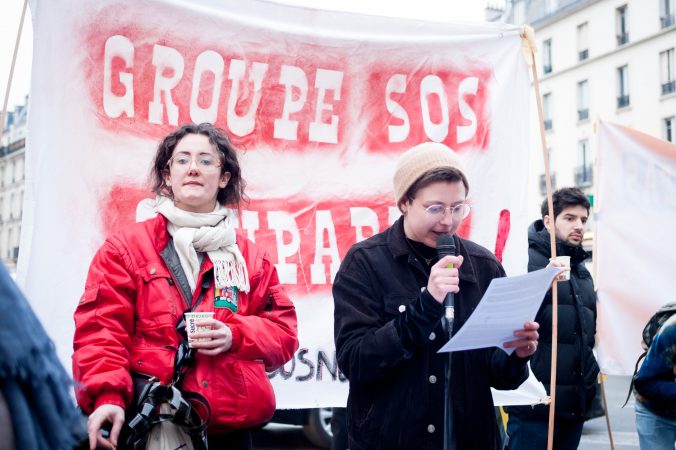 Credit: Claire-Emmanuelle Blot
The future of La Clef
In order to secure its future, the collective decided to try and buy the cinema themselves. They created an endowment fund, a tool previously used in the ZAD de Notre-Dame-des-Landes (an autonomous land squat). With a costed project and a team of volunteers, they hope this will allow them to keep La Clef open, without compromising on what they have achieved so far. This would also mean the building itself would no longer be at the whim of developers, but a common good.
Though the occupiers were evicted on the morning of 1 March 2022, there is hope for La Clef to remain a community cinema within the same walls, as well as hope for the continuation of the many projects that blossomed during its occupation. On the day of the eviction, the SOS group announced they were withdrawing from the sale. The current owner then, and for the first time, agreed to meet with the collective to discuss selling them the venue.
La Clef has proved that accessible cultural spaces do not have to be pushed outside of city centres or be turned into bland profit-making venues. Screening and making films does not have to be centred around profit:  it can be a place of endless possibilities, solidarity and creativity. 
You can read more about the La Clef endowment fund and donate here
Laetitia Bouhelier is a filmmaker and activist who lives in Paris